Biscuits Lefevre Utile
Giclee Print
Mucha, Alphonse
Buy at AllPosters.com

La Belle Cuisine - Index Cookie Recipes
Fine Cuisine with Art Infusion
"To cook is to create. And to create well...
is an act of integrity, and faith."

Gourmet Cookies and More Chocolate Gifts at Chocolate.com
"C is for Cookie. That's good enough for me."
~ Cookie Monster
---
Recipe of the Day Categories:
Recipe Home
Recipe Index
Recipe Search
Appetizers
Beef
Beverage
Bread
Breakfast
Cake
Chocolate
Fruit
Main Dish
Pasta
Pies
Pork
Poultry
Salad
Seafood
Side Dish
Soup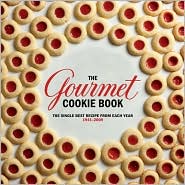 The Gourmet
Cookie Book:
The Single Best
Recipe from Each
Year 1941-2009

Cantucci Biscuits Piled
on a Coffee Cup
Photographic Print
Ellert, Luzia
Buy at AllPosters.com


Cookies, Stacked...
Francine Reculez
Buy This at Allposters.com


Christmas Cookies...

Buy This at Allposters.com


Chocolate Chip Cookie and Milk
Photographic Print
Buy at AllPosters.com


Lefevre Utile
Giclee Print
Mucha, Alphonse
Buy at AllPosters.com

Your patronage of our affiliate partners supports this web site.
We thank you! In other words, please shop at LBC Gift Galerie!

Christmas Cookies
Photographic Print
Clineff, Kindra
Buy at AllPosters.com

Have a heart! Help your fellow man...

Almond Brittle Cookies
Almond Cookies, Amazing, Two from Julia Child
Almond Bar Cookies
Almond Wafers: Tuiles aux Amandes
Amaretti Lutzoni
ANZAC Cookies
Applesauce Bars with Pecan Praline Topping
Apricot Bars, Margaret's
Banana Bars
Banana Bars, Black-Bottom, Gigi's
Banana-Nut Chocolate Chunks
Benne Cookies
Biscotti, Chocolate Chip and
Almond (Maida Heatter)
Biscotti, Cranberry Pistachio
Biscotti, Gingerbread
Biscotti, Hazelnut, Miniature (Quaresimale)
Biscotti, Holiday (Giada De Laurentis)
Biscotti, Orange Pine Nut
Biscotti Regina (The Sopranos)
Biscotti, Sambuca Almond
Biscotti, Spiced Almond, Michele's
Bittersweet Decadence Cookies
Bittersweet Hazelnut Bars
Black Gold Cookies
Black and White Cookies, Zabar's (New York)
Black & Whites
Black and White Squares
Blondies (Maida Heatter)
Blondies, Life with (Chocolatier)
Coconut and Caramel Blondies
Toffee Almond Blondies
Miniature Chocolate Chip and
Walnut Blondies
Blondies, Life with, Part Two
Double-Chip Butter Pecan Blondies
Peanut Butter Passion Blondies
Coconut Candy Chunk Blondies
Blondies, Peanut Butter
Brownie Bars, Rich Espresso
Brownie Bonanza
Katherine Hepburn's Brownies
Rich Fudge Brownies
Kahlua Fudge Brownies
Ruth Brewster's Chocolate Brownies
Mary Margaret's Walnut
Cream Cheese Brownies
Mary Margaret's Triple-Layer Brownies
Brownie Bonanza! (pg 2)
Perfect Brownies
Rich Fudge Brownies
Lee Bailey's White Chocolate Brownie
German Chocolate Cream Cheese Brownies
Blonde Brownies
Michele's Coffeehouse Cappuccino Brownies
Chocolate Peanut Butter Swirl Brownies
Chocolatier's Iced Espresso Brownies
Brownies, Cappuccino Cream Cheese
with Chocolate Glaze
Brownies, Chocolate Cheesecake (Chocolatier)
Brownies, Chocolate Chunk (Sheila Lukins)
Brownies, Espresso (Maida Heatter)
Brownies, Fudgy Peanut Butter Cup (Chocolatier)
Brownies, Outrageous (Barefoot Contessa)
Brownies, Palm Beach, with Chocolate-Covered
Mints (Maida Heatter)
Brownies, Raspberry Cheesecake
Brownies, Sour Cherry Cheesecake
Brownies, Super Fudgy Five Chocolate (Chocolatier)
Brownies, Supernatural, Nick's
Brownies, White Chocolate, with Chocolate Sauce
Brownies, White Chocolate and Macadamia Nut
with Hot Fudge Sauce
Brown Sugar Cookies (Paul Prudhomme)
Brown Sugar Ginger Crisps
Butterscotch Chip Oatmeal Cookies
Butterscotch Cookies, Schrafft's
Butterscotch-Pecan Bars with Caramel Drizzle
Butterscotch Pecan Cookies (Lee Bailey)
Candied Bacon Chocolate Chip Cookies
Cappuccino Swirls
Caramel Crunch Cookies
Cardamom Cookies (Craig Claiborne)
Carrot Cookies, Gigi's
Cashew Butter Cookies
Cheesecake Bars, Peach
Cheesecake Cookies, Savannah
Cherry Cookies, Double Chocolate
Cherry Nut Chocolate Chip Cookies
Chocolate Almond Balls, Gigi's
Chocolate, Bittersweet, Cookies (Mario Batali)
Chocolate Chip Cookies, Cnadies Bacon
Chocolate-Chip - Positively-the-Absolutely-Best
Chocolate Chip Peanut Butter Bars
Chocolate Chocolate-Chip Butter Balls
Chocolate Chubbies (Chocolatier)
Chocolate Chunk Caramel Cookies
Chocolate and Cinnamon Meringues
Chocolate Cookies, Pennsylvania
Dutch (Maida Heatter)
Chocolate Date Nut Squares
Chocolate Delights
Chocolate-Dipped Cappuccino Cookies
Chocolate, Double, Cherry Cookies
Chocolate-Espresso Cookies
Chocolate Kiss Cookies, Mammy's
Chocolate Macadamia Peanut Butter Chip Cookies
Chocolate Mint Sandwich Cookies
Chocolate Mocha Rum Nut Squares, Frosted
Chocolate-Orange Cookies
Chocolate-Peanut Butter Chip Bars
Chocolate Peanut Butter Volcanoes
Chocolate Peanut Chunky Cookies, Gigi's
Chocolate Pecan Chewies
Chocolate Pecan Pie Bars, Gigi's
Chocolate Rads
Chocolate and Raspberry Macaroon Bars
Chocolate Sambuca Crinkles
Chocolate Sugar Cookies (Chocolatier)
Chocolate Wafers (Laurie Colwin)
---
Christmas Cookie Collection
includes:
Christmas Butter Cookie Sampler:
Basic Butter Cookie Dough
Raspberry Hazelnut Triangles
Chocolate-Dipped Coconut Sticks
Orange Cranberry Oatmeal Cookies
Apricot Stars
Almond Butter Crisps
Spiced Icebox Butter Cookies
Spritz Wreaths
Mocha Butter Balls
Jelly Bowl Cookies
More Christmas Cookies
includes:
German Butter Cookies (Buttergebaeck)
Pecan Rum Balls
Gigi's Bourbon Yummies
Gigi's Chocolate Almond Balls
Alsatian Christmas Cookies
Apricot Walnut Rugelach
Martha's Vineyard Hermits
Pecan Diamonds
(Maida Heatter's Christmas Cookies)
Ah, There's Good News Tonight
My Mother's Gingersnaps
Espresso Brownies
Page 2
Blondies
Raisin Oatmeal Cookies
Pennsylvania Dutch Chocolate Cookies
Christmas Cookies, New Orleans
Mihn Duong's Gingerbread Cutout Cookies
Ann Dunbar's Chocolate Charlie
Christmas Cookies
La Spiga's Shortbread Cookies
Page 2
Joan and Anne's Double Chocolate
Bourbon Balls
---
Christmas Cookies, Big Boy (Emeril)
Christmas Cookies (Frank Brigtsen)
Chunky Cream Cheese and Macadamia
Nut Cookies
Cinnamon Stars (Zimtsterne)
Coconut Bars, Golden, Zulu
Coconut Blondies
Coconut Macadamia Bars, Chewy
Coconut Washboards
Cocoons (Marcelle Bienvenu)
Cocoons, Michele's
Cocoons, Mrs. Wright's
Coffee Cookies (Paul Prudhomme)
Cookie Mix
Cream Cheese Squares
Dark and White Chocolate Chip Squares
Date Bars Kristina's Bakery
Date-Nut Cookies, Holiday
Double Chocolate Peanut Butter
Icebox Cookies
First Dates
Fruitcake Cookies, Kaye's
Fudge Bars with Pecan-Graham Crust
Fudgie Wudgies
German Chocolate Lace Cookies
Ginger Biscuits, Irish
Gingerbread Cookie Cutouts (Keegan & Lisa)
Gingerbread Cookies, Old-Fashioned
Gingersnaps, Maida Heatter's Mother's
Harvest Mix-Ups
Hawaiian Coconut Bars
Hawkeye Cookies
Hazelnut Cookies
Hermits, Martha's Vineyard (Maida Heatter)
Honey-Dipped Cookies, Greek (Melomakarona)
Honey-Peanut Cookies, Lee Bailey's
Icebox Cookies, German Spice
Icebox Cookies, Minnie's
Irish Lace Cookies
Ischl Tartlets
Lemon Almond Cookies, Old-Fashioned
Lemon Bars Deluxe
Lemon Bars, Double
Lemon Bars - Two Different Twists
Chocolate Lemon Squares
Gingered Lemon Bars
Lemon Coconut Bars
Lemon Coconut Drops
Lemon Cooler Cookies
Lemon Love Notes, Lisa's
Lime Bars with Coconut Crust
Linzer Cookies, Anne Kearney's
Lemon Kisses, Lee Bailey's
Macadamia Nut-Bittersweet Chocolate-
Coconut Squares
Macaroons, Chocolate
Macaroons, Chocolate II
Macaroons, Coconut, Quick
Macaroons, Double-Chocolate Coconut
Macaroons, Double-Coconut
Madeleines (Chocolatier)
Chocolate Chip Madeleines
Bittersweet Chocolate Madeleines
More Madeleines (Chocolatier)
Brown Sugar-Pecan Madeleines
Lemon-Poppy Seed Madeleines
Chocolate-Dipped Orange Madeleines
Madeleines, Dark Chocolate, with Mint
Chocolate Glaze
Madeleines, Lemon Almond
Madeleines, Lemon-Thyme with
Lemon Vodka Syrup
Magic Cookie Bar Collection (Chocolatier)
Magic Cookie Bars
Black and White Squares
Chocolate-Peanut Butter Chip Bars
Glazed Macadamia Nut-Bittersweet
Chocolate-Coconut Squares
Butterscotch-Pecan Bars with Caramel Drizzle
Maple Walnut Chocolate Chunk Squares
Mexican Wedding Cookies, Chef Keegan's
Mexican Wedding Cookies (Greg
and Mary Sonnier)
Mocha Chocolate-Chip Cookies
Mocha Cookies The Bakery
Mocha Pecan Balls
Mocha Pecan Truffle Cookies George
Molasses Cookies, Mississippi
Monster Cookies (Paula Deen)
Oatmeal Cookies, Icebox, Mammy's
Oatmeal Cookies, Megan's Favorite
Oatmeal Cookies, Ultimate (Paula Deen)
Oatmeal Cranberry Cookies (Martha Stewart)
Oatmeal Chocolate Chip Cookies (Martha Stewart)
Oatmeal Raisin Cookies, Big Chewy
Oatmeal Trail Mix Cookies
Oatmeal-White Chocolate Chip Cookies, Fruity
Orange-Almond Snails
Orange Butter Cookies Conkey's Tavern 1776
Peanut Butter Blondies
Peanut Butter Cookies, Big Super-Nutty
Peanut Butter Cookies with Ganache!
Peanut Butter Kiss Cookies
Peanut Butter-Oatmeal Cookies, Jumbo
Peanut Butter Sandwiches
Pecan Bars, Williamsburg Inn
Pecan Coconut Squares The Altland House
Pecan Cookies, The Best, Sandwiched
with Fresh Peaches and Cream
Pecan Dreams, Gigi's
Pecan Pie Squares, Gigi's
Pecan Tassies
Pennies from Heaven (Maida Heatter)
Pfeffernuesse (Maida Heatter)
Pineapple, Coconut and Macadamia Nut Gems
Praline Butter Cookies
Pumpkin Bars (Paula Deen)
Quaresimale (Miniature Hazelnut Biscotti)
Ranger Cookies
Rocky Mountain-Chip Cookies
Rosemary and Pine Nut Bars, Tuscan
Shortbread, Chocolate Nut, Favorite
Shortbread, Chocolate Pecan Caramel
Shortbread, Classic (Laurie Colwin)
Shortbread Cookies with Amaretto
Cream Filling and Strawberries
Shortbread Cookies, Brown Sugar (NOLA)
Shortbread Cookies, Charleston
Snickerdoodles
Southern Chess Squares
Souvaroffs (Jam-Filled Butter Cookies)
Spice Balls (Ruth Moulton)
Spice Cookies, Dutch (Speculaas)
Spice Sugar Cookies (One of Gourmet's
"50 Baking Faovites")
Sugar Cookies (Chef Keegan)
Sugar Cookies, Chocolate (Chocolatier)
Sugar Cookies (Emeril Lagasse)
Sugar Cookies, Lemon, Mary Margaret's
Sugar Cookies, Pecan (Lee Bailey)
Sugar Cookies, Spice (One of Gourmet's
"50 Baking Faovites")
Super Chunky Cookies (Chocolatier)
Tea Cakes (5 recipes)
Edna's Tea Cakes
Mama's Teacakes
Nanny's Teacakes
Miss Kate Hanes' Tea Cakes
Coffee "Tea" Cakes
Tequila Bars
Trao-Mad with Peach Compote
(Daniel Boulud)
Tuiles aux Amandes (Julia Child)
Walnut Crescents
Walnut Fingers, Swiss
White Chocolate Chip Fudge Cookies (Chocolatier)
White Chocolate Chip Cookies (Jenny Saar)
White Chocolate Tropical Chunk Cookies
World's Greatest Cookie


Holiday Central!
Daily Recipe Index
Recipe Archives Index
Recipe Search