Recipe of the Day Categories:
Recipe Home
Recipe Index
Recipe Search
Fruit

Shop our new arrivals
of 90+ point rated
wines under $20

Close-Up of Different Types
of Pasta in Bowls

Buy This at Allposters.com


La Cucina Italiana
Holly Wojahn
Buy This at Allposters.com


Crimson Chef II
Jennifer Garant
Buy This at Allposters.com


Your patronage of our affiliate partners supports this web site.
We thank you! In other words, please shop at LBC Gift Galerie!

Buon Appetito
Jennifer Garant
Buy This at Allposters.com


Mario Batali's At-Home Comfort Food
Good Morning America Oct. 11, 2005
(All recipes courtesy of Mario Batali)
"Culinary superstar Mario Batali still likes to keep things simple in
his own kitchen, using ingredients people can actually pronounce.
In 'Molto Italiano: 327 Simple Italian Recipes to Cook at Home' (Ecco/HarperCollins, 2005),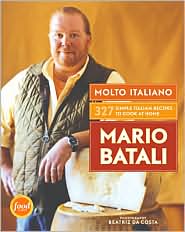 Molto Italiano:
327 Simple Italian
Recipes to Cook at Home
Batali presents delicious and easy-to-make dishes that are
sure to please everyone.
He served up some of his favorite recipes from the collection for
Good Morning America' on Wednesday – chicken with "cooked
wine," baked pasta with ricotta and ham, and Italian trifle."

Chicken with "Cooked Wine"
Pollo al Vin Cotto
"You can buy bottles of vin cotto (which translates as 'cooked wine') in
fancy specialty shops, but it is quite easy to make a version of it at home.
And it is a great way to use up those less-than-acceptable wine gifts."
Makes 4 servings
4 1/2 cups red wine
1/2 cup honey
2 cinnamon sticks
3 cloves
1/2 cup extra-virgin olive oil
plus more for drizzling
Salt
One (3-pound) chicken, cut into 8 serving
pieces, rinsed, and patted dry
1 large onion, cut into large dice
2 carrots, diced
1/2 cup green olives (such as Sicilian),
halved and pitted
3 tablespoons raisins
1 tablespoon capers, rinsed and drained
1 tablespoon pine nuts, toasted
3 tablespoons blanched almonds, toasted
1 cup red wine vinegar
1/2 cup sugar
Freshly ground black pepper
Cracked black pepper
1 tablespoon hot red pepper flakes
1/4 cup finely-chopped Italian parsley
1. To make the vin cotto, combine all the ingredients in a heavy-
bottomed saucepan and bring to a boil over high heat. Reduce
the heat and simmer, stirring occasionally, until reduced to 1 cup
(about 20 minutes). Remove from the heat and let cool; remove
the cinnamon sticks and cloves before using.
2. In a 10- to 12-inch sauté pan, heat 2 tablespoons of the olive oil over
high heat until very hot but not smoking. Season the chicken with
salt, add skin side down to the pan, and brown on both sides, about
4 minutes per side. Reduce the heat to medium, add the onion and
carrots, and cook, stirring, until deep golden brown. Add the olives,
raisins, capers, pine nuts and almonds to the pan, stirring well. Add
1/2 cup of the vin cotto to deglaze the pan, stirring up the browned
bits on the bottom, then boil until reduced by half. Add the remaining
1/2 cup vin cotto, and bring to a boil.
3. Meanwhile, in a small bowl, combine the vinegar and sugar. Add
to the pan and cook, stirring, until the liquid has reduced to a glaze.
Season to taste with salt and pepper.
4. Transfer the chicken to a warmed platter and drizzle with olive
oil. Sprinkle with cracked black pepper, the red pepper flakes and
parsley, and serve.


Baked Pasta with Ricotta and Ham
Pasticcio di Maccheroni
Makes 8 servings
3 tablespoons extra-virgin olive oil
1 pound Italian cooked ham, preferably
parmacotto, cut into 1/2-inch cubes
Salt and freshly ground black pepper
1 small carrot, cut into 1/4-inch dice
1 onion, cut into 1/4-inch dice
1 rib celery, thinly sliced
1 cup dry red wine
3 1/2 cups basic tomato sauce
(Recipe below)
1 1/2 pounds ziti
1 pound fresh ricotta
8 ounces caciotta or hard provolone,
cut into small dice
1/2 cup freshly-grated parmigiano-reggiano
1. In a Dutch oven, heat the oil over high heat until smoking. Add the
ham cubes and brown for 5 to 6 minutes. Add the carrot, onion
and celery and cook until the vegetables are golden brown, about
10 minutes.
2. Add the wine, bring to a boil, and cook until reduced by half, about
5 minutes. Add the tomato sauce, and bring to a boil, then reduce
the heat to low, cover the pan, and cook until the meat is just about
falling apart, about 50 minutes. Transfer the meat to a large bowl.
Keep the sauce warm.
3. Meanwhile, preheat the oven to 450 degrees F. Bring 6 quarts of
water to a boil in a large pot, and add 2 tablespoons salt.
4. Cook the ziti in the boiling water for 1 minutes less than the package directions, until still very al dente. While the pasta is cooking, place
the ricotta in a small bowl and stir in a ladle of the pasta cooking
water to "melt" it.
5. Drain the pasta and add it to the bowl with the meat. Add the ricotta
and caciotta and stir to combine.
6. Grease a 9-by-12-inch baking dish with extra-virgin olive oil. Place
a ladleful of sauce in the bottom of the casserole, followed by a
layer of the pasta and meat mixture. Sprinkle 2 to 3 tablespoons
of the parmigiano-reggiano over, then repeat with another layer of
sauce, then pasta and meat, and parmigiano. Continue until all
ingredients are used up.
7. Bake for 25 minutes, until bubbling and heated through. Serve in
warmed pasta bowls.
Basic Tomato Sauce
Makes 4 cups
1/4 cup extra virgin olive oil
1 Spanish onion, chopped in 1/4-inch dice
4 garlic cloves, peeled and thinly sliced
3 tablespoons chopped fresh thyme leaves,
or 1 tablespoon dried
1/2 medium carrot, finely-shredded
Two 28-ounce cans peeled whole tomatoes,
crushed by hand and juices reserved
Salt to taste
In a 3-quart saucepan, heat the olive oil over medium heat. Add the
onion and garlic and cook until soft and light golden brown, about 8 to
10 minutes. Add the thyme and carrot and cook 5 minutes more, until
the carrot is quite soft. Add the tomatoes and juice and bring to a boil,
stirring often. Lower the heat and simmer for 30 minutes until as thick
as hot cereal. Season with salt and serve. This sauce holds one week
in the refrigerator or up to six months in the freezer.
Italian Trifle
Zuppa Inglese
Makes 8 servings
3 1/4 cups whole milk
Grated zest of 1 lemon
1 vanilla bean, split
7 large egg yolks
1 cup sugar
1/2 cup all-purpose flour
Five tablespoons unsweetened
cocoa powder
1 3/4 ounces unsweetened chocolate
24 ladyfingers
1/4 cup Limoncello or other
sweet citrus liqueur
1. In a large heavy-bottomed saucepan, combine the milk and lemon
zest. Scrape the seeds from the vanilla bean, and add the seeds and
bean to the pan. Bring a very brisk simmer over medium-high heat;
do not allow to boil.
2. Meanwhile, in a large bowl, combine the egg yolks, flour and sugar
and whisk until the mixture is pale yellow and forms a ribbon when
the whisk is lifted from the bowl. Gradually pour 1/2 of the hot milk
into the egg mixture, whisking constantly. Return the mixture back
to the saucepan and cook over high heat, stirring constantly with a
wooden spoon, until the pastry cream coats the back of the spoon.
Pour half the cream into a stainless steel bowl and set in an ice bath
to cool. Stir the cocoa and chocolate into the remaining pastry cream,
making sure that the chocolate is completely melted. Then pour the
chocolate cream into another bowl and set over an ice bath to cool.
Whisk the creams occasionally as they cool.
3. Split each ladyfinger in half. Sprinkle the cut sides with the liqueur.
Place a layer of the soaked ladyfingers in a large glass serving
bowl. Top with a layer of the vanilla pastry cream, another layer
of ladyfingers, and a layer of the chocolate cream; repeating the
layering until all ingredients are used. Cover and refrigerate for
1 hour before serving.
Copyright © 2005 ABC News Internet Ventures

Featured Archive Recipes:
Comfort Food
Comfort Food for Times of Loss
Mario's Antipasti
Mario's Balsamic Glazed Chicken with
Grilled Radicchio
Mario's Bollito Misto (Babbo)
Mario's Cool Chicken Braciole Messinese
Mario's Chicken Tortellini in a Sweet Onion
Lambrusco Broth with Grana and Leeks
Pastitsio for a Crowd (James Beard)
Baked Pasta Shells with Spinach
and Ricotta (Nigella Lawson)
Creole Christmas Trifle
Tiramisu (Chocolatier)
Mario's Chocolate and Valpolicella Crema,
Bittersweet Chocolate Cookies

More Lagniappe Recipes
Index - Poultry Recipe Archives
Index - Pasta Recipe Archives
Index - Miscellaneous Dessert Recipes
Daily Recipe Index
Recipe Archives Index
Recipe Search