Your patronage of our affiliate partners supports this web site.
We thank you! In other words, please shop at LBC Gift Galerie!

Chocolate, Cream, Cinnamon
, Cabannes &...
Buy This Allposters.com


Recipe Source: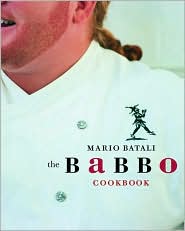 Babbo Cookbook

by Mario Batali, 2002, Clarkson Potter

Chocolate and Valpolicella Crema
"This is the most adult pudding you will ever encounter. The intensity of
the wine's fruit-and-acid combo makes each bite a serious experience."
Serves 8 to 12
1 cup red wine, preferably Valpolicella or
another medium-bodied, fruity red wine
1/2 cup plus 2 tablespoons sugar
12 ounces bittersweet chocolate,
finely chopped
8 ounces unsweetened chocolate,
finely chopped
8 egg yolks *
1 1/4 cups milk
2 cups heavy cream
1 tablespoon unsalted butter
1. Combine the red wine and 1/2 cup of the sugar in a small [nonreactive] saucepan. Bring to a boil, then reduce the heat and simmer until reduced
by two thirds, about 15 minutes. Remove from the heat and allow to cool.
2. Heat both chocolates in a large bowl over a double boiler until melted. Whisk in the red wine syrup, followed by the egg yolks.
3. In a medium saucepan, combine the milk, 1 cup of the cream, and 1/4
cup of the sugar. Heat until scalded, then whisk quickly into the chocolate mixture. Whisk in the butter. Divide the custard among individual custard
cups or wine glasses. Chill until completely set.
4. Just before serving, whip the remaining 1 cup of cream to soft peaks.
Add the remaining 2 tablespoons of sugar and whip to stiff peaks. Top
each serving of custard with a small dollop of whipped cream.
Bittersweet Chocolate Cookies
"When you need a chocolate fix, this will do the trick."
Makes about 32 cookies
1 cup (2 sticks) unsalted butter, softened
1/2 cup granulated sugar
1 egg
1 teaspoon pure vanilla extract
2 cups unbleached, all-purpose flour
1/3 cup Dutch-process cocoa powder
1/2 teaspoon baking powder
1/2 teaspoon kosher salt
5 ounces semisweet or bittersweet
chocolate, finely chopped
1/2 cup whole hazelnuts or sliced
almonds, finely chopped
1 1/2 cups confectioners' sugar
1. In the bowl of an electric mixer, cream the butter until very soft and creamy. Add the granulated sugar and beat until light and fluffy. Beat
in the egg, followed by the vanilla extract, scraping down the sides of
the bowl with a spatula occasionally. In a medium bowl, stir together
the flour, cocoa powder, baking powder, and salt. Beat the dry ingre-
dients into the butter mixture, followed by the chopped chocolate and
nuts. Wrap the dough tightly in plastic wrap and chill for 30 minutes,
or until firm.
2. Preheat the oven to 325 degrees F.
3. Divide the dough into 4 equal portions. Working with one piece at a
time, break off 1-inch pieces of the dough and roll each piece into a
ball. With your thumb, flatten each ball into a small disc and roll in
the confectioners' sugar to coat completely. Arrange the cookies on
greased baking sheets.
4. Bake the cookies for 8 to 10 minutes, or until they are just beginning
to puff and crack. Allow the cookies to cool, then re-roll them in the confectioners' sugar. Store in an airtight container.

Featured Archive Recipes:
Decadent Soft Chocolate Cream
Chez Panisse's Chocolate Espresso Custard
Jacques Torres's Chocolate Soup
Chocolate Coeur à la Crème
Mexican Chocolate Flan with Kahlúa


Index - Chocolate Recipe Archives
Index - Cookie Recipe Archives
Valentine's Day Recipes!
Index - Miscellaneous Desserts
Daily Recipe Index
Recipe Archives Index
Recipe Search