Your patronage of our affiliate partners supports this web site.
We thank you! In other words, please shop at LBC Gift Galerie!

Chocolates
Photographic Print
Kamp, Eric
Buy at AllPosters.com


" 'Twill make Old Women Young and Fresh;
Create New Motions of the Flesh.
And cause them long for you know what,
If they but taste of chocolate."
from "A History of the Nature and Quality of Chocolate",
James Wadworth (1768-1844)
It would be difficult to add anything significant to what Emeril has
to say about the synergy between chocolate and Valentine's Day:
"Valentine's Day is for lovers, and there's nothing better to enjoy
with your sweetheart than decadent chocolate desserts. [Amen!]
The Aztecs believed chocolate to be an aphrodisiac. They ended
their meals with it, and I'm with them."
♥ ♥ ♥ ♥ ♥ ♥ ♥ ♥ ♥ ♥ ♥ ♥ ♥
From La Belle Cuisine to you - a Chocolate Valentine
. But please
do not feel that this scrumptious dish is limited by the calendar. It
makes an excellent "I love you" dessert on anniversaries, significant
birthdays, and other romantic occasions as well.
♥ ♥ ♥ ♥ ♥ ♥ ♥ ♥ ♥ ♥ ♥ ♥ ♥

Recipe Source: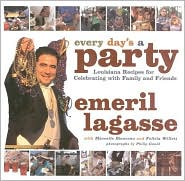 Every Day's a Party:
Louisiana Recipes for Celebrating
with Family and Friends

by Emeril Lagasse with Marcelle Bienvenu & Felicia Willett
1999, Williams Morrow and Company, Inc.
Chocolate Coeur à la Crème
"Without a doubt, the quintessential Valentine's dessert is Coeur
à la Crème, French for 'heart of cream'. And I can understand
why. A wonderfully rich mixture of heavy cream, cream cheese,
and chocolate is allowed to set overnight in heart-shaped molds
with perforated bottoms so the moisture drains off. The dessert
can be served with chocolate-dipped strawberries or sugar
cookies – maybe both!
You can use one large heart-shaped mold or individual ones,
as we did here. They can be found at specialty food stores
r kitchen shops."
For the Coeurs:
1 cup heavy cream
1/2 teaspoon pure vanilla extract
1/4 cup confectioners' sugar
1/2 pound cream cheese,
at room temperature
2 ounces semisweet chocolate,
chopped and melted
Six 6-inch squares cheesecloth
(or a 12-inch square for a large
mold), dampened with water
Six 4-inch coeur à la crème molds
(or one 8-inch mold)
For the Chocolate-dipped Strawberries:
4 ounces semisweet chocolate, chopped
12 fresh strawberries, rinsed and dried,
at room temperature
To serve:
1 recipe Sugar Cookies
For the Coeurs: Put the cream and vanilla in a medium-size mixing bowl
and beat at medium speed until soft peaks form. Add the confectioners'
sugar and continue beating until stiff peaks form. Set aside.
In another medium-size mixing bowl, beat the cream cheese at medium
speed until fluffy. Add the melted chocolate and beat until smooth, scraping down the sides as needed. Fold in the whipped cream.
Line each mold with a square of the dampened cheesecloth. Divide the
chocolate cream mixture evenly among the molds. Fold each overhanging
cheesecloth over the top. Place the molds on a wire rack set on a baking
sheet. Refrigerate overnight, or at least 8 hours.
Make the chocolate-dipped strawberries. Line a baking sheet with parch-
ment or waxed paper. Stir the chocolate in the top of a double boiler or in
a metal mixing bowl set over hot (but not simmering) water until melted
and smooth. Remove from the water. Holding a strawberry by the stem
or hull, dip two thirds of it into the chocolate. Shake gently to remove the
excess. Place the strawberry on the prepared baking sheet. Repeat with
the remaining strawberries. (Set the chocolate over the hot water to soften
if necessary while working.) Refrigerate the berries until the chocolate is
firm, about 30 minutes.
When ready to serve, carefully remove the hearts from the molds and
gently remove the cheesecloth. Serve the hearts on individual plates
with the chocolate-dipped strawberries and the cookies. You can make
this one day in advance. Makes 6 servings
♥ ♥ ♥ ♥ ♥ ♥ ♥ ♥ ♥ ♥ ♥ ♥ ♥
Classic non-chocolate Coeur à la Crème
♥ ♥ ♥ ♥ ♥ ♥ ♥ ♥ ♥ ♥ ♥ ♥ ♥
Three-Chocolate Bark with Spiced Pecans
and Dried Cherries
"Did you know that the Latin name of the tree that produces cacao beans,
from which we derive chocolate, is theobroma cacao and that theobroma
means food of the gods in Greek?
For this chocolate treat, use good-quality chocolate. This recipe makes a
lot, so you might want to give some to your sweetheart and take the rest
to friends to enjoy."
7 tablespoons unsalted butter
1/2 cup firmly packed light brown sugar
2 cups pecan pieces
1/4 teaspoon salt
1/8 teaspoon cayenne
1/8 teaspoon freshly grated nutmeg
1/8 teaspoon ground cinnamon
1 pound semisweet chocolate, chopped
1 pound milk chocolate, chopped
1 pound white chocolate, chopped
2 cups dried cherries
Preheat the oven to 400 degrees F. Line two baking sheets with
parchment paper.
In a medium-size sauté pan, melt 4 tablespoons of the butter over medium
heat. Add the brown sugar and stir until the sugar dissolves and the mixture
is bubbly, about 1 minute. Add the pecans, salt, cayenne, nutmeg, and cin- namon and cook, stirring constantly, until the sugar starts to caramelize and
coats the pecans evenly, about 3 minutes.
Remove the pan from the heat and spread the pecans over one of the
prepared baking sheets. Place the pan in the oven and roast for about
6 minutes. Remove from the oven and, using a fork, place the pecans
evenly on the parchment paper. Let cool completely.
Fill three small saucepans halfway with water. Place pans over medium
heat and bring to a simmer, then reduce heat to medium-low. Put each
type of chocolate into a separate stainless steel mixing bowl. Place each
bowl over a saucepan and stir until chocolates are completely melted.
Remove from the heat and stir 1 tablespoon of the remaining butter into
each bowl until completely melted.
Pour the semisweet chocolate onto the second prepared baking sheet and spread evenly with a rubber spatula. Then pour the milk chocolate over the semisweet layer and spread evenly with a rubber spatula. Repeat with the white chocolate. Sprinkle the pecans and cherries over the chocolate and
press gently but firmly into it. Place the baking sheet in the refrigerator
and chill until the bark sets, about 2 hours.
Break the bark into pieces and serve. The bark can be stored between
layers of parchment or waxed paper in airtight containers in the refrigerator
for up to 2 weeks. Makes about 4 pounds

Click for more chocolate ecstasy:
Cappuccino Torte
C'est si Bon Bons
Chocolate Temptation
Chocolate Torte, Black and White
Chocolate Bread Pudding with
Spiced Cream (Emeril)
Chocolate Mousse Trio
Chocolatier's Tiramisu
Deep Chocolate Pudding
Molten Chocolate Cake
Poached Pears with Chocolate Sauce
Ultimate Chocolate Cake Collection


Index - Chocolate Recipe Archives
Index - Miscellaneous Dessert Recipes
Index - Valentine's Day Recipe Archives
Daily Recipe Index
Recipe Archives Index
Recipe Search