Recipe of the Day Categories:
Recipe Home
Recipe Search
Fruit

Young Girl with Holly and
Lantern, Postcard, Early
20th Century

Buy This at Allposters.com


Misty Morning on Chartres St
Diane Millsap
Buy This at Allposters.com


Your patronage of our affiliate partners supports this web site.
We thank you! In other words, please shop at LBC Gift Galerie!

Floral Centerpiece with a Lit Christmas Tree in a Dining Room
Photographic Print
Buy at AllPosters.com


Tidewater Trifle

My Mother's Southern Desserts:
More than 200 Treasured Family Recipes
for Holiday and Everyday Celebrations
by James Villas with Martha Pearl Villas,
1998, William Morrow and Co., Inc.
"Perhaps reflecting her British-Southern heritage, Mother loves nothing more
than a great trifle, and she spent years searching for the perfect recipe till a
friend from Tidewater Virginia explained how her English mother used to
make hers. Once Mother had mastered the technique, the trifle became a major
feature at her elaborate New Year's Eve dinner, and when, just recently, one
of my friends, Lowell Judson, presented her with a crystal footed trifle bowl,
you would have thought he'd given her gold ingots. If you don't own a genuine
trifle bowl, (available in finer kitchen supply shops), a simple large glass one
works fine."
1/4 pound macaroons
One 13 x 9-inch Sponge Cake (recipe follows)
1 cup apricot jam
3 cups sweet Sherry
2 tablespoons plus 1 teaspoon brandy
1 cup Boiled Custard (recipe follows)
1 pint heavy cream
1 teaspoon pure vanilla extract
2 teaspoons granulated sugar
2 ounces slivered almonds
Maraschino cherries for garnish
Arrange the macaroons over the bottom of a trifle bowl. Cut the sponge
cake into thin slices, then spread each slice with jam and arrange the slices
evenly over the macaroons. Pour the Sherry and 2 tablespoons of the
randy over the top and let the layers soak for about 1 hour.
Pour the custard evenly over the soaked layers. In a medium-size mixing
bowl, beat the cream with an electric mixer till thick (not stiff or it won't
pipe correctly), then add the vanilla, sugar, and the remaining teaspoon of
brandy and beat till well blended. Scrape the whipped cream into a pastry
bag and pipe over the top of the trifle in a decorative manner. Garnish the
top with the almonds and cherries and chill the trifle for about 2 hours
before serving with a large spoon.
Yield: 8 to 10 servings
Sponge Cake
1 cup cake flour
1 teaspoon baking powder
1/4 teaspoon salt
1/2 cup milk
1/4 cup (1/2 stick) butter
6 large egg yolks
1 cup granulated sugar
1/2 teaspoon pure vanilla extract
Preheat the oven to 350 degrees F. Line a 13x9x2-inch baking pan with
waxed paper and set aside.
Into a small mixing bowl, sift together the flour, baking powder, and salt
and set aside. In a small saucepan, heat the milk and butter together over
moderate heat till the butter melts; keep hot over low heat.
In a large mixing bowl, beat the egg yolks with an electric mixer till thick,
then gradually add the sugar, beating constantly. Add the vanilla and beat
till well blended. Add the flour mixture and stir just till mixed, then gently
stir in the hot milk mixture till well blended. Scrape the batter into the
prepared pan and bake till a cake tester or straw inserted in the center
comes out clean, 30 to 35 minutes. Let the cake cool in the pan for 5
minutes, then invert onto a wire rack, peel off the waxed paper, and let
cool completely.
Yield: One 13x9-inch cake
Martha's Sweet Note: Cake flour gives cakes… a lighter texture than all-
purpose flour, but if a recipe calls for cake flour and you don't have any, you
can sift and resift all-purpose flour eight to ten times and get the same results.
Boiled Custard
"This classic custard… is not only the perfect comfort dish for shut-ins unable
to digest most foods easily but also the base of many of Mother's Bavarians,
trifles, and puddings. The custard may seem ridiculously simple, but if you're
not extremely careful adding the hot milk to the egg mixture, stirring
constantly, you can end up with a curdled mess."
1 quart [4 cups] milk
4 large eggs
1 cup granulated sugar
1 teaspoon pure vanilla extract
In the top of a double boiler set over simmering (not boiling) water, heat
the milk till hot. In a medium-size mixing bowl, beat the eggs and sugar
together till frothy, the, stirring constantly, add about 1/4 cup of the hot
milk to the egg mixture. Stirring constantly, pour the egg mixture into the
milk and cook till it thickens slightly and coats the back of a spoon, about
5 minutes. Remove the custard from the heat, scrape into a bowl, stir in
the vanilla, and let cool before serving, whisking gently from time to time.

Or, how about a jazzed up trifle?

Creole Christmas Trifle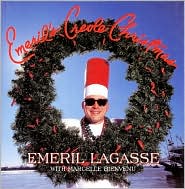 Emeril's Creole Christmas

Emeril Lagasse with Marcelle Bienvenu, 1997,
William Morrow and Company
Makes 10 servings
For the macaroons
(Makes 6 dozen)
10 2/3 cups sweetened flaked coconut
(two 14-ounce bags)
4 teaspoons pure vanilla extract
Two 14-ounce cans sweetened condensed
milk [such as Eagle Brand]
For the Filling
(Makes 8 cups)
1 quart [4 cups] milk
2 cups granulated sugar
1 teaspoon pure vanilla extract
10 large egg yolks, beaten
1/2 cup cornstarch
1/2 cup water
2 cups sweetened flaked coconut
2 tablespoons unsalted butter
To assemble the Trifle
1 quart [4 cups] heavy cream
1/4 cup granulated sugar
1 cup Grand Marnier or other
orange-flavored liqueur
6 pints fresh raspberries, rinsed
and patted dry
Preheat the oven to 350 degrees F.
For the Macaroons: Thoroughly combine the coconut, vanilla, and
condensed milk in a large mixing bowl. Spoon the mixture, by tablespoon,
onto parchment- or waxed-paper-lined baking sheets about 1/2 inch apart.
Bake until lightly toasted and golden, about 15 minutes.
Remove the macaroons from the oven and transfer them to a wire rack.
Let cool completely. Leave them out, lightly covered with parchment or
waxed paper, for about 12 hours.
For the Filling: Combine the milk, sugar, and vanilla in a large heavy-bottomed or nonstick saucepan over medium-high heat. Whisk to dissolve
the sugar. When the mixture comes to a gentle boil or simmer after about
5 minutes, take 1 cup of the milk and sugar mixture and add it to the yolks.
Whisk to blend well. Slowly add the yolks to the milk and sugar mixture in
the saucepan, whisking constantly. Cook over medium heat until it thickens slightly, 4 to 5 minutes, whisking occasionally.
Dissolve the cornstarch in the water. Over medium heat, slowly add this
to the saucepan, whisking constantly for 1 minute. Using a wooden spoon,
continue stirring for about 2 minutes. Add the coconut and continue stirring
for 2 mote minutes. Add the butter and stir until it is completely melted and
the mixture has thickened to a custard, about 2 minutes.
Pour the mixture into a glass bowl. Cover with plastic wrap, pressing the
wrap down on the surface of the custard to prevent a skin from forming.
Cool completely and chill for at least 4 hours.
To assemble the Trifle: Beat the cream with an electric mixer on high
speed for about 2 minutes. Add the sugar and beat until the mixture is
thick and forms soft peaks, 1 to 2 minutes. Set aside.
Beat the coconut cream [custard] with a wire whisk until it is smooth.
Set aside.
Pour the Grand Marnier into a small bowl. Dip each macaroon in the
liqueur, submerging for 2 to 3 seconds, then transfer them to a sheet of
parchment or waxed paper.
Spread 1 cup of the coconut cream filling on the bottom of a large, deep
glass trifle bowl. Top the cream filling with 8 to 10 macaroons, placing
them snugly against each other. Arrange 2 pints of the raspberries on top
of the macaroons. Spread 2 cups of the coconut cream on top of the
raspberries. Top with more macaroons, then 2 pints of raspberries.
Spread another 2 cups of the coconut cream and top with the remaining macaroons and raspberries. Spread the remaining coconut cream on top
of the raspberries. Mound the whipped cream evenly over the top.
Serve immediately or keep chilled until ready to serve.
Christmas Bread Pudding
with Amaretto Sauce
Food and Wine Holiday Cookbook
Food & Wine Books, Editorial Director: Judith Hill,
1995, American Express Publishing Corp.
"Made with panettone, the traditional Italian Christmas bread, and a baked-on Amaretto sauce, this bread pudding is an inspired finale to holiday dinners. If
you can't get panettone, substitute a similar fruit-studded sweet bread."
Serves 12
One 1-pound panettone, cut into 1-inch slices
1 quart [4 cups] light cream
3 large eggs
1 cup granulated sugar
1 tablespoon plus 2 teaspoons vanilla extract
1 teaspoon almond extract
1/4 pound unsalted butter, cut into pieces
1 cup confectioners' sugar
3 tablespoons Amaretto
2 large egg yolks
1. Heat the broiler. Put the bread slices on two baking sheets and toast,
turning once, until lightly browned. Set aside to dry for at least one hour.
2.Tear the toasted panettone into 1 1/2-inch pieces and put them in a large bowl. Add the cream and toss to moisten all the pieces. Let sit until all
the cream is absorbed, about 1 hour.
3. Heat the oven to 325 degrees [F.] Butter a 9 by 13-inch baking dish.
In a medium bowl, whisk the whole eggs, the granulated sugar, and the
vanilla and almond extracts until thoroughly combined. Stir into the
cream-soaked bread. Transfer the mixture to the prepared baking dish.
4. Bake the pudding in the middle of the preheated oven until it is just set
and the bread is golden brown, about 1 hour. Let cool.
5. In a medium bowl set over a saucepan of simmering water, melt the
butter. Whisk in the confectioners' sugar, 1/4 cup at a time. Continue
whisking until the mixture is creamy, about 30 seconds. Add the Amaretto
and then the egg yolks, one at a time, whisking constantly. Cook, whisking constantly, until the sauce is the consistency of honey, about 4 minutes.
A candy thermometer should register 160 degrees [F.] Let cool.
6. Heat the broiler. Shortly before serving, spoon the Amaretto sauce
over the pudding and broil until bubbling and lightly browned, about 2
minutes. Serve warm.
- Sheila Lukins

Featured Archive Recipes:
Chocolate Bread Pudding with Spiced Cream
Chocolate and Cherry Trifle
Chocolate, Cranberry and Ginger Trifle
Christmas Goodies
Christmas Pudding with Brandied Butter
Christmas Trifles
Favorite Holiday Desserts
More Christmas Delicacies
Trifle with Me!

More Lagniappe Recipes!

Index - Miscellaneous Desserts
Holiday Central!
Daily Recipe Index
Recipe Archives Index
Recipe Search