Your patronage of our affiliate partners supports this web site.
We thank you! In other words, please shop at LBC Gift Galerie!

Old Books I
Art Print
Belkovskij, Igor
Buy at AllPosters.com

Our goal is to present a recipe from one of our newest cookbooks
on a regular basis. In addition, we are preparing a list of our all-time
favorite cookbooks (many of which are now out-of-print) and in time
will present recipes from those as well.

The Kitchen Table
Giclee Print
Chardin,...
Buy at AllPosters.com

Our current feature: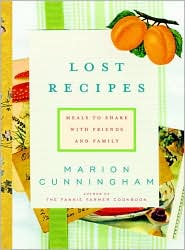 Lost Recipes: Meals
to Share with Friends
and Family
© 2003 by Marion Cunningham
A Borzoi Book published by Alfred A, Knopf
"...Home cooking is a catalyst that brings people together. We are losing the
daily ritual of sitting down around the table (without the intrusion of tele-
vision), of having hte opportunity to interact, to share our experiences and
concerns, to listen to others. Home kitchens, despite the increase in designer
appliances and cabinetry, are mostly quiet and empty today. Strangers are
preparing much of our food. And our supermarkets, which once considered
restaurants and fast food places the enemy, have joined the trend by enlarging
their delis and offering ready-to-eat food they call 'home-replacement meals'.
But bringing ready-cooked meals home is not the same as cooking something
in your own kitchen, where you are in control of the ingredients you use,
where you fill the house with good cooking smells, and where you all share
in a single dish, taking a helping and passing the platter on to your neighbor.
Nothing can replace that."

Our 'Lost Recipes' Feature continues:
Applesauce
Makes 3 cups
"This is a recipe that really calls for your own taste judgment. If your
apples are very tart, you won't need as much lemon juice as suggested
here, and you may need more sugar. So taste, taste, taste."
4 large, firm, tasty apples, peeled,
cored, and cut into eighths
1/2 cup water
Sugar to taste
3 tablespoons lemon juice
Put the apples and water into a sauté pan. Turn the heat to medium and
cook, stirring often, until the apples become tender, 5 to 6 minutes. Add
sugar to taste and the lemon juice, and stir to blend well. Cook another
1 to 2 minutes. Remove from the heat and mash with a fork.


"In the childhood memories of every good cook, there's a
large kitchen, a warm stove, a simmering pot and a mom."
~ Barbara Costikyan


Truman Ozark Pudding
Serves 6
"President Harry Truman loved Ozark Pudding, which his wife, Bess,
often made for him. It was called 'Bess Truman's Ozark Pudding' and
was especially popular with all the Democrats."
[Harry S. Truman, the 33rd U.S. president, served from 1945 to 1953.]
1 egg
3/4 cup sugar
2 tablespoons all-purpose flour
1 1/4 teaspoons baking powder
1/4 teaspoon salt
1/2 cup chopped peeled apples
1/2 cup chopped nuts
1 teaspoon vanilla
Whipped cream (with a touch of rum,
if desired) or vanilla ice cream
Preheat the oven to 350 degrees F. Grease a 10-inch pie pan.
Beat the egg and sugar together until smooth. Add the flour, baking
powder, and salt. Blend well. Fold in the apples, nuts, and vanilla. Pour
into the prepared pie pan and bake for 30 to 35 minutes. Remove from
the oven. The pudding will fall, but it is supposed to. Serve warm with
whipped cream or ice cream.
Lemon Pudding Cake
Serves 6
"This lovely, light dessert is an old favorite of mine from days past.
[It is a favorite heirloom recipe in our family as well. Our version is
called Great-Grandmother's Lemon Pudding.] The batter is mixed
together in one bowl and the magic transformation happens in the
oven - a creamy lemon pudding forms on the bottom and a light
sponge cake emerges on top."
1 cup sugar
1/8 teaspoon salt
1/4 cup all-purpose flour
4 tablespoons (1/2 stick) butter, melted
1/3 cup freshly squeezed lemon juice
Grated peel [zest] of 1 lemon
3 eggs, separated
1 1/2 cups milk
Heavy cream (optional)
Preheat the oven to 350 degrees F. Butter a 1 1/2-quart baking dish or
an 8-inch square baking pan.
Mix 3/4 cup of the sugar, the salt, and the flour together in a bowl. Add
the melted butter, lemon juice, lemon peel [zest], and egg yolks, and stir
until thoroughly blended. Stir in the milk.
In a separate bowl, beat the egg whites with the remaining 1/4 cup sugar
until they are stiff but remain moist. Fold the beaten whites into the lemon mixture, then pour the batter into the prepared baking dish. Bake for
about 45 minutes, or until the top is lightly browned.
Serve warm or chilled, with heavy cream, if you wish,
Hoosier Cake with Gravy Icing
Makes one 2-layer cake
"A very sweet and fine-grained chocolate cake, with the lightest,
creamiest, and fluffiest frosting imaginable - a dream of a cake
recipe given to me by a fine Oregon cook, Florine Hudspeth,"
1 cup granulated sugar
1 cup light brown sugar
8 tablespoons (1 stick) butter
2 eggs
1/2 cup unsweetened cocoa
1/2 cup boiling water
1 3/4 cups all-purpose flour
1 cup cold strong coffee
1 teaspoon baking soda
1 1/2 teaspoons vanilla
Gravy Icing (recipe follows)
Preheat the oven to 350 degrees F. Grease and lightly flour two 8- or
9-inch round cake pans,
Put the granulated sugar, brown sugar, and butter in a large mixing bowl
and beat until blended. Add the eggs and beat for 2 minutes, or until the
mixture is smooth and creamy.
Combine the cocoa and boiling water in a small bowl and stir to blend into
a creamy, thick paste. Add the cocoa mixture to the butter-sugar mixture
and beat until thoroughly blended. Sprinkle on the flour and beat only until
it is incorporated. Add the coffee, baking soda, and vanilla, and beat until
the batter is smooth and well blended.
Divide the batter evenly between the prepared cake pans. Bake 8-inch layers for 20 to 30 minutes, 9-inch layers for about 20 minutes, or until a toothpick inserted in the center of a layer comes out clean. Remove from the oven and let the layers cool in the pans for 5 minutes, then turn out onto racks to cool completely. Frost with Gravy Icing.

Gravy Icing
Makes 3 cups
1 cup milk
1/3 cup all-purpose flour
1/2 pound (2 sticks) butter, softened
1 1/2 cups sugar
1 teaspoon vanilla
1 cup chopped walnuts (optional)
Put the milk and flour in a small, heavy-bottomed saucepan, and whisk vigorously until perfectly smooth. Bring to a boil over medium heat and
boil for 1 minute, stirring constantly. The mixture will be very stiff. Re-
move from the heat and let stand until cool. With an electric mixer, beat
the butter, sugar, and vanilla together until light and fluffy, about 5 min-
utes. Add the cooled milk-and-flour mixture, and continue beating until
the frosting is soft, light, and fluffy, about 5 minutes more. Add the wal-
nuts if using. You will have enough to fill and frost an 8- or 9-inch
2-layer cake. Refrigerate if you are not using it that day,

Back to Page 1 of our 'Lost Recipes' Feature


Featured Archive Recipes: (work in progress...)
(primarily from our cookbook collection, of course!)
Bacon-Wrapped Meatloaf
Cabbage Loaf
Chicken Country Captain
Chicken Grand-mère Francine (Daniel Boulud)
Chicken, Sausage, Potatoes and
Peppers in the Oven
Chicken Soup with Bread and Vegetable Dumplings
(Soupe aux Caillettes, Façon Nicole Conte)
German Goulash Soup
Gigi's Garbure au Gratin
Gigi's Old-Fashioned Chicken and Dumplings
Matzoh Ball Soup
Soups from Patricia Wells at Home in Provence
Soups from the Union Square Cafe Cookbook
Ultimate Chocolate Cake Collection


Our all-time favorite cookbooks
Food and Art (Artist's Cookbooks)
Recipes from out-of-print (or hard to find) cookbooks

Index - Cookbook Features
Daily Recipe Index
Favorite Recipe Index
Recipe Archives Index
Recipe Search