Antique Bookcase I
Art Print
Buy at AllPosters.com

La Belle Cuisine - Cookbooks
Fine Cuisine with Art Infusion
"To cook is to create. And to create well...
is an act of integrity, and faith."
"No one who cooks, cooks alone. Even at her most solitary, a cook
in the kitchen is surrounded by generations of cooks past, the advice
and menus of cooks present, the wisdom of cookbook writers."
~ Laurie Colwin

Books You Thought You'd Never Find
Buy new, used, and hard-to-find books at Alibris!
---
Recipe of the Day Categories:
Recipe Home
Recipe Search
Appetizers
Beef
Beverage
Bread
Breakfast
Cake
Chocolate
Fruit
Main Dish
Pasta
Pies
Pork
Poultry
Salad
Seafood
Side Dish
Soup
My Mother's Bouquet
Art Print
Dyf, Marcel
Buy at AllPosters.com

A Piece of Blue Cheese
Photographic Print
Braun, Stefan
Buy at AllPosters.com

Hen
Art Print
Morrow, Anthony
Buy at AllPosters.com


Savoy Cabbages
in the Field
Photographic Print
Deluca, Sara
Buy at AllPosters.com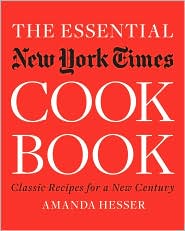 The Essential
New York Times Cookbook:
Classic Recipes for
a New Century

Your patronage of our affiliate partners supports this web site.
We thank you! In other words, please shop at LBC Gift Galerie!

Old Books I
Art Print
Belkovskij, Igor
Buy at AllPosters.com


Our goal is to present a recipe from one of our newest cookbooks
on a regular basis. In addition, we are preparing a list of our all-time
favorite cookbooks (many of which are now out-of-print) and in time
will present recipes from those as well.

Farmhouse Kitchen
Art Print
Chabrian, Deborah
Buy at AllPosters.com

Our current feature: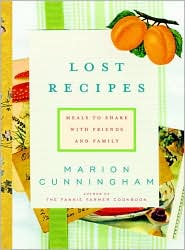 Lost Recipes: Meals
to Share with Friends
and Family
© 2003 by Marion Cunningham
A Borzoi Book published by Alfred A, Knopf
"...Home cooking is a catalyst that brings people together. We are losing the
daily ritual of sitting down around the table (without the intrusion of tele-
vision), of having hte opportunity to interact, to share our experiences and
concerns, to listen to others. Home kitchens, despite the increase in designer
appliances and cabinetry, are mostly quiet and empty today. Strangers are
preparing much of our food. And our supermarkets, which once considered
restaurants and fast food places the enemy, have joined the trend by enlarging
their delis and offering ready-to-eat food they call 'home-replacement meals'.
But bringing ready-cooked meals home is not the same as cooking something
in your own kitchen, where you are in control of the ingredients you use,
where you fill the house with good cooking smells, and where you all share
in a single dish, taking a helping and passing the platter on to your neighbor.
Nothing can replace that."
Oregon Blue Cheese Crumble
Serves 8
"This recipe, a winner about 25 years ago in the Mercer Island Reporter
recipe contest, has become on of the most popular hors d'oeuvres I serve.
It's also delicious on grilled steaks or hamburgers and as a topping for
salads. Or serve the crumble with sliced Granny Smith apples and wheat
crackers as the fruit-and-cheese course at dinner."
8 ounces blue cheese, crumbled (about 1 1/3 cup)
2 cloves garlic, minced
1/3 cup olive oil
2 tablespoons red wine vinegar
1 tablespoon lemon juice
1/2 cup chopped red onions
(or chopped green onions)
1/2 cup minced fresh parsley
Black pepper to taste
Sprinkle the cheese into a shallow 6- to 8-inch dish. Mix together the
garlic and olive oil, and drizzle over the cheese, Combine the vinegar,
lemon juice, onions, and parsley, and pour over the cheese. Refriger-
ate for1 hour. Sprinkle pepper on top and serve,

"In the childhood memories of every good cook, there's a
large kitchen, a warm stove, a simmering pot and a mom."
~ Barbara Costikyan


Chicken and Dumpling Soup
Serves 6
"Most Americans have memories of some relative preparing chicken
and dumplings for them, either for a family gathering or for when
they were under the weather. However, many people today have for-
gotten this timeless recipe. This version is full of flavor and very
easy to prepare, so put it back in your recipe box and it will quickly
become a family favorite again!"
Soup
One 3- to 4-pound chicken, in 8 pieces
2 carrots, peeled and sliced thin
2 ribs celery with leaves, sliced thin
1 large onion, chopped
2 teaspoons salt
1 1/2 teaspoons crumbled dried thyme
1/2 teaspoon crumbled dried rosemary
1/2 teaspoon black pepper
Feather Dumplings
1 cup all-purpose flour
1/2 cup fresh bread crumbs
2 teaspoons baking powder
3.4 teaspoon salt
1/3 cup milk
1/4 cup finely chopped onion
1 egg, well beaten
2 tablespoons butter, melted
1 tablespoon finely minced fresh parsley
black pepper to taste
To make the soup, rinse the chicken pieces, put them in a large pot, and
add enough water to cover the chicken, Add the carrots, celery, onion,
salt, thyme, rosemary and pepper. Bring to a boil and reduce the heat
to a simmer.
To make the feather dumplings, stir the flour, bread crumbs, baking
powder and salt in a mixing bowl. In another bowl, lightly beat the milk,
onion, egg, and melted butter together, then stir into the dry ingredients
to make a stiff batter. Add the parsley and pepper to taste and mix well.
When the chicken has simmered for 20 minutes, drop spoonfuls of the
dough on top of the bubbling broth. Cover and steam for 20 minutes
without lifting the lid. Taste the soup and add more salt and pepper if
necessary. To serve, place a piece of chicken and a few dumplings in
each soup bow;, the add enough broth to cover.
Stuffed Cabbage Rolls
Serves 4
"On a chilly night, there can't be a nicer supper than cabbage rolls
with a little sour cream, warm homemade applesauce, and good rye
crackers. Since it is simple to make twice as much, double the recipe
and freeze the extra cabbage rolls for another night."
1 large head Savoy cabbage, halved and cored
3 tablespoons butter
1 medium onion, chopped (about 3/4 cup)
2 cloves garlic, finely chopped
2 cups tomato sauce
1/2 cup water [or beef broth]
1 teaspoon ground allspice
Salt and pepper to taste
1/4 cup packed light brown sugar
1 1/2 cups cooked white rice (see Note)
1 pound lean ground beef
Applesauce (recipe follows)
1 cup sour cream
Bring a large pot of salted water to a boil. Put the cabbage into the boil-
ing water, cover, and let boil gently for 4 to 5 minutes. Drain well.
Melt the butter in a saucepan, add the onion and garlic, and cook, stir-
ring, only until the onion is soft, not browned. Add the tomato sauce,
water, allspice, and salt and pepper to taste. Reduce the heat and let the
sauce simmer for about 15 minutes. Taste and correct the seasoning.
The sauce should be thickened, but not so thick that it 'plops' when
poured from a spoon.
Gently remove the tough outer leaves from the cabbage and reserve.
Remove 12 more leaves to make the rolls. Chop the remaining cabbage
coarsely and s[read over the bottom of a 13 by 9-inch oiled baking dish.
Sprinkle the brown sugar over the chopped cabbage, then sprinkle lightly
with salt and pepper.
Preheat the oven to 350 degrees F.
Combine three-quarters of the sauce with the rice and beef, and mix well. Divide the filling into approximately equal parts and spoon each portion
onto a cabbage leaf. Starting from the stem end, roll up each leaf, tucking
in the sides, and place the roll on the chopped cabbage, seam side down. Spoon a little of the remaining sauce on top of each roll. Cover the top
with the reserved outer leaves. Bake for 1 hour in the preheated oven.
Discard the topping of outer leaves and serve the rolls with sour cream
and warm applesauce.
Note: To cook rice, use a deep. heavy-bottomed pot, bring 1 1/2 cups water to a
boil, and add 1/4 teaspoon of salt. Slowly stir in 1/2 cup of long-grained white
rice so that the boiling does not stop. Cover, reduce heat to low, and simmer
for 20 minutes. Do not remove the lid during this time. After 20 minutes, all
the water should be absorbed and the rice should be soft and fluffy.

Featured Archive Recipes: (work in progress...)
(primarily from our cookbook collection, of course!)
Bacon-Wrapped Meatloaf
Cabbage Loaf
Chicken Country Captain
Chicken Grand-mère Francine (Daniel Boulud)
Chicken, Sausage, Potatoes and
Peppers in the Oven
Chicken Soup with Bread and Vegetable Dumplings
Soupe aux Caillettes, Façon Nicole Conte)
German Goulash Soup
Gigi's Garbure au Gratin
Gigi's Old-Fashioned Chicken and Dumplings
Matzoh Ball Soup
Soups from Patricia Wells at Home in Provence
Soups from the Union Square Cafe Cookbook
Ultimate Chocolate Cake Collection

Our all-time favorite cookbooks
Food and Art (Artist's Cookbooks)
Recipes from out-of-print (or hard to find) cookbooks


Index - Cookbook Features
Daily Recipe Index
Favorite Recipe Index
Recipe Archives Index
Recipe Search