Recipe of the Day Categories:
Recipe Home
Recipe Search
Fruit

Farmhouse Near...
Michael Busselle
Buy This at Allposters.com



Tender is the Night
Art Print
Archambault,...
Buy at AllPosters.com


Touch of Blue
Art Print
Archambault,...
Buy at AllPosters.com


Lunchtime
Art Print
Archambault,...
Buy at AllPosters.com


Academia Barilla 100% Italian Unfiltered Extra-Virgin Olive Oil

Going Down to the Market
Gilles ...
Buy This at Allposters.com


Village Laneway and House Walls, Roquebrune, Provence-Alpes-Cote d'Azur, France
David Tomlinson
Buy This at Allposters.com


Your patronage of our affiliate partners supports this web site.
We thank you! In other words, please shop at LBC Gift Galerie!

Provence
Liliane Fournier
Buy This at Allposters.com



Recipe Source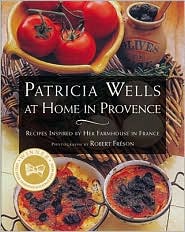 Patricia Wells at Home
in Provence: Recipes
Inspired by Her Farmhouse
in France

(James Beard Foundation Award Winner)
by Patricia Wells, 1996, Scribner
Soups from
Patricia Wells at Home in Provence
"Soup is one of the world's greatest communal dishes. Nothing can replace
the warmth of a steaming soup tureen, placed at the edge of the table, ready
to serve a gathering of hungry family and friends. …Main-course soups fit
to feed a crowd have become a signature at our farmhouse, where gather-
ings of fifteen or twenty are common affairs. So year-round, the Provençal
aromas of fennel, saffron, anise, and tomato waft from my kitchen, as I con-
coct another batch of Monkfish Bouillabaisse, a colorful pot of Summer (or
Winter) Pistou, or a warming rendition of Maggie's Vegetable Potage."
Monkfish Bouillabaisse with Aïoli
"I created this vibrant golden soup one summer afternoon after the local
fishmonger, Eliane Berenger, presented me with a plump, glistening
monk fish fresh from the Mediterranean. Chunks of mild-flavored, firm-
textured monkfish are bathed in a tomato-rich broth punctuated with
the sharp, lively flavors of fennel, saffron, garlic, and orange zest. A dab
of garlic-rich aïoli adds a crowning touch to this modern bouillabaisse."
2 pounds (1 kg) very fresh monkfish, bone-in, or
substitute tilefish, grouper, striped bass, or cod
3 tablespoons extra-virgin olive oil
1 head plump, fresh garlic, cloves separated and peeled
1 teaspoon fennel seeds
Bouquet garni: a generous bunch of flat-leaf parsley,
celery leaves, fresh bay leaves, and sprigs of thyme
tied in a bundle with household twine
2 teaspoons sea salt, or to taste
2 tablespoons tomato paste
2 tablespoons pastis, or anise liqueur
1 small can (14 1/2 ounces; 400g) imported
whole plum tomatoes in juice
6 plump, ripe tomatoes, peeled and quartered
1 1/2 quarts (1 1/2 l) water
1/4 teaspoon cayenne pepper, or to taste (optional)
4 small, firm, fresh fennel bulbs (about 1 1/2 pounds; 750g),
trimmed, quartered lengthwise, and cut into bite-size pieces
A small pinch (about 1/4 teaspoon) of saffron threads
Grated zest of 1 orange
3 tablespoons minced fennel fronds or leaves
1 recipe Aïoli (follows)
1. Fillet the fish: With a fillet knife, cut away the thin membrane cover-
ing the outside of the fish. Cut along one side of the central bone to
remove the fillet. Repeat with the other side. Cut the monkfish fillet
at an angle into 3-inch (7.5-cm) escalopes (or ask your fishmonger
to do this for you). Place the escalopes on a large platter, cover,
and refrigerate until serving time. Reserve the bone and crack
slightly.
2. In a large, heavy-bottomed stockpot, heat the oil over moderate
heat until hot. Add the garlic, fennel seeds, bouquet garni, salt
and monkfish bone. Sweat – cook gently without browning –
for 8 to 10 minutes. This will create a condensed, flavorful soup
base. Add the tomato paste, anise liqueur, canned tomatoes,
fresh tomatoes, water and cayenne pepper, if using. Cover and
bring to a boil over high heat. Lower the heat and simmer for
45 minutes. Remove and discard the bouquet garni and monk-
fish bone. Using an immersion mixer, roughly purée the liquid
in the casserole. (Alternatively, pass the liquid through the coarse
blade of a food mill and return it to the casserole.) Taste for
seasoning. Add the fennel bulbs, cover, and simmer gently until
soft, 15 to 20 minutes more. (The dish can be prepared several
hours in advance up to this point and reheated when adding
the monkfish.)
3. At serving time, bring the liquid to a very gentle simmer to assure
that the soup will be thoroughly heated. Add the saffron and
monkfish. Lower the heat and cook the fish gently just until
tender, 3 to 4 minutes more. Taste for seasoning.
4. To serve, transfer portions of the fish and fennel to warmed shal-
low soup bowls. Spoon the broth over the fish. Sprinkle with
the orange zest and fennel fronds. Pass the aïoli, allowing the
guests to swirl a teaspoon or two into their soup. Serve with
plenty of toasted homemade bread.
Four to six servings.
Aïoli: Garlic Mayonnaise
6 plump, fresh garlic cloves, peeled and minced
1/2 teaspoon fine sea salt
2 large egg yolks*, at room temperature *
1 cup (25 cl) extra-virgin olive oil
"Aïoli intoxicates gently, fills the body with warmth, and the soul
with enthusiasm. In its essence it concentrates the strength, the
gaiety of Provence: sunshine."
~ Frederic Mistral
1. Pour boiling water into a large mortar to warm it; discard the water
and dry the mortar. Place the garlic and salt in the mortar and mash
together with a pestle to form as smooth a paste as possible. The
fresher the garlic, the easier it will be to crush.
2. Add the egg yolks. Stir, pressing slowly and evenly with the pestle,
always in the same direction, to thoroughly blend the garlic and
yolks. Continue stirring and gradually add just a few drops of the
oil. Whisk until thoroughly incorporated. Do not add too much oil
in the beginning, or the mixture will not emulsify. As soon as the
mixture begins to thicken, add the remaining oil in a slow, steady
stream, whisking constantly. Taste for seasoning. Transfer to a
bowl and serve immediately. The sauce can be refrigerated, well
sealed, for up to 2 days. To serve, bring to room temperature
and stir once again. About one cup (25cl) sauce.
Winter Pistou
"Like a symphony of winter flavors, colors, and fragrances, this soup plays
a warming tune: The squash and carrots add a brilliant tone, the beans
an earthy note, while the turnips play percussion, waking the palate like
the sound of a cymbal. Anointed with a touch of wither summerlike pis-
tou sauce or all-season aïoli, it's the soup I make on Saturdays while
puttering about the kitchen with a warming fire nearby."
8 ounces (250 g) dried small white beans
8 ounces (250 g) dried cranberry beans
1/2 cup (12.5 cl) extra-virgin olive oil
Bouquet garni: several fresh bay leaves and
several sprigs of summer savory and thyme,
tied securely with household twine
2 medium leeks, white and tender green
parts only, cut into thin rings
2 medium onions, peeled and cut
into thin half-moons
1 head plump, fresh garlic, peeled
and quartered lengthwise
Sea salt to taste
1 pound (500 g) Hubbard, or pumpkin squash,
seeded, peeled and diced
4 medium carrots, peeled and cut
into thick half-moons
1 pound (500 g) potatoes, peeled and cubed
8 ounces (250 g) turnips or parsnips,
peeled and cubed
1 small can (14 1/2 ounces; 400 g) imported
whole plum tomatoes in juice
3/4 cup (60 g) angel's hair pasta, broken
into small pieces
1 recipe Pistou (recipe follows)
1 cup (4 ounces; 125 g) freshly grated
imported Gruyère cheese
1. Rinse the white beans and cranberry beans, picking over them to
remove any pebbles. Place the beans in a large bowl, adding boiling
water to cover, and set aside for 1 hour. Drain the beans, discarding
the water.
2. In a 10-quart (10 l) stockpot, combine the oil, bouquet garni, leeks,
onions, garlic, and 1 teaspoon of salt. Soften over medium heat,
stirring regularly for about 10 minutes. Add the drained beans, stir
to blend, and cook for 2 minutes more. Add the squash, carrots,
potatoes, turnips, and tomatoes; stir to blend, and cook 5 minutes
more. Add 5 quarts (5 l) of water, season with salt, and simmer
gently, uncovered, until the beans are tender, 1 1/2 to 2 hours.
(Cooking time will vary according to the freshness of the beans.)
Taste for seasoning. Add the pasta and boil until pasta is cooked,
about 10 minutes more.
3. Serve the soup hot, passing the Pistou or Aïoli and cheese to blend
into the soup. Six to eight servings.
Pistou: Olive Oil, Basil & Garlic Sauce
"Pistou comes from the Provençal word pista, which means to grind, pound,
and crush, which is what one does with this universally loved garden-fresh
sauce. Pistou is an essential accompaniment to the Provençal vegetable soup
of the same name and does double duty as a perfect sauce for homemade
fettuccine or as a sauce for flavoring whole roasted fish. Unlike the Italian
pesto, this sauce does not contain pine nuts or cheese. Each summer I make
sure that my garden's basil crop is abundant, and to bottle that summertime
flavor, I always keep small containers of this simple sauce in the freezer.
Pistou can be prepared in the food processor, but the sauce will be superior
in texture and flavor if prepared by hand."
4 plump, fresh garlic cloves, peeled and minced
Fine sea salt to taste
2 cups (50 cl) loosely packed fresh
basil leaves and flowers
1/2 cup (12.5 cl) extra-virgin olive oil
1. By hand: Place the garlic and salt in a mortar and mash with a pestle
to form a paste. Add the basil, little by little, pounding and turning the
pestle with a grinding motion to form a paste. Slowly add the oil, drop
by drop, until all the oil has been used and the paste is homogenous.
Taste for seasoning. Stir again before serving.
2. In a food processor: Place the minced garlic, salt, and basil in the bowl
of a food processor and process to a paste. Add the oil and process
again. Taste for seasoning. Stir again before serving.
3. Transfer to a small bowl. Serve immediately. The sauce can be stored, covered and refrigerated, for 1 day, or frozen for up to 6 months. Bring
to room temperature and stir again before serving.
About one cup (25 cl) sauce
Amazing Sorrel Soup
"While traveling around Germany one summer, I sampled many versions of
sorrel soup – a flavor I truly adore – and was astonished and puzzled to find
that the soups were all a brilliant, healthy-looking green. One common prob-
lem with cooking sorrel is that the herb loses its happy green color, turning
sort of a dull military drab when it is heated. It was chef Dieter Müller who
shared his secret: Blend the sorrel with butter, adding it at the end of the
cooking time. Even after the soup has been sitting for a while, it remains
green. I love this soup hot or cold and have also prepared it with fresh
watercress leaves, a worthy substitute."
3 ounces (90 g) fresh sorrel leaves,
stemmed, thoroughly washed, and
spun dry, or substitute watercress
3 tablespoons (1 1/2 ounces; 45 g)
unsalted butter, at room temperature
2 tablespoons extra-virgin olive oil
1/2 small onion, peeled and sliced into thin rounds
6 ounces (180 g) starchy potatoes, peeled and diced
1 quart (1 l) homemade chicken stock or
potager [vegetable] stock
1 cup (25 cl) heavy cream
Sea salt and freshly ground white pepper to taste
1. In a food processor, purée the sorrel, pulsing on and off for 30 to 45 seconds. Add the butter and purée. Transfer to a small bowl, cover,
and set aside in a cool area of the kitchen. (Do not refrigerate, or the
sorrel butter is likely to be too cold to add to the soup at the end.)
2. In a large saucepan, heat the oil until it is hot but not smoking. Add
the onion and sweat over low heat until soft, 3 to 4 minutes. Add
the potatoes and cook over low heat until golden, 10 to 15 minutes.
Remember not to cook over too high a heat, or they will burn in-
stead of coloring a beautiful golden brown.
3. Add the stock and simmer for about 20 minutes or until the potatoes
are fully cooked. Stir in the heavy cream. Using an immersion mixer,
purée the soup directly in the stockpot. (Alternatively, pass the soup
through the coarse blade of a food mill or use a blender. Return it to
the stockpot.) The potatoes will give thickness and body to the soup
without detracting from the sorrel. Taste for seasoning. Just before
serving, whisk the sorrel butter into the hot soup, taking care to mix
thoroughly and quickly. Serve in heated soup bowls.
Four to six servings

Featured Archive Recipes:
Favorite Soup Recipes
Soups from "The Union Square
Cafe Cookbook"
JR's Gratin Dauphinois
Maggie's Roasted Red Peppers
Oysters and Spicy Sausages from the
Happy Oyster Restaurant
Pan Bagna



More Lagniappe Recipes!
Index - Soup Recipe Archives
Favorite Soups
Basic Stock Recipes
Daily Recipe Index
Recipe Archives Index
Recipe Search