Recipe of the Day Categories:
Recipe Home
Recipe Index
Recipe Search
Fruit

Bright New Year,
Embossed Gold Bell
Art Print
Buy at AllPosters.com


Exploding Champagne
John Gillmoure
Buy This at Allposters.com

L'Instant Taittinger
Art Print
Buy at AllPosters.com


Your patronage of our affiliate partners supports this web site.
We thank you! In other words, please shop at LBC Gift Galerie!

Happy New Year, Waking up the Moon
Art Print
Buy at AllPosters.com


Nigella's New Year's Lunch for Eight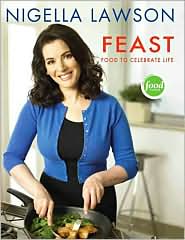 Feast: Food to
Celebrate Life

Copyright © Nigella Lawson 2004, Hyperion
"There is something about New Year's Eve, all that enforced jollity, that tense hopefulness, that induces an ineluctable melancholy in me. [Amen, Sister!]
New Year's Day, however, seems for once a date that lives up to its significance
on the calendar. I feel like it's starting anew; my optimism returns, give or take,
of its own accord, rather than having to be stoked up in the name of sentimental
camaraderie. I want to see people, to eat with them…
And once you start inviting people for lunch, you can find it turns into a
mopping-up exercise. Be prepared for large numbers/ Not that you have to
do anything fancy.
You might want to – within reason – but it's not a bad idea to go for the
comfort food option: a tureen of soup, a bowl of something starchy, a dessert
you can really dive into…
The difficulty is, that it's easy to start thinking one is up to much more in the
way of social activity than turns out to be the case. The New Year does not
make a new you, even though renewed hope and an optimistic belief in the
perfectibility of self induces a confidence that all will be well, and all manner
of things will be well…"
Rolled Loin of Pork Cinghiale
Grandmother's Apple Horseradish Sauce
Lentils Braised in Red Wine
Bitter Endive Salad
Easy Holiday Trifle
Bitter Endive Salad
"I love the cool sharpness of the endive leaves against the earthiness of the lentils and rich meatiness of the pork (or indeed sausages). I think it's important, too,
as a recognition at the beginning of a new year, that life has its sweet and bitter moments, but maybe that's because I've been reading a lot of history of Jewish customs where finger-wagging to warm against glorying only in the good is a recurring theme.
But as for the practicalities of the salad itself: it's scarcely a recipe really, just
the way I make it, give or take a change of mood and fridge content. Add any
other bitter leaves you want [we cannot resist radicchio].
I think this is all you need here. Certainly, because of the lentils, I wouldn't
think of serving potatoes, but if you really want to, then bake some in the
oven alongside the pork if there's room (or in another oven if you've got a
double one), bearing in mind that they'll take a lot longer in a cluttered oven
(and the liquid in the marinade will stop them getting crunchy-skinned). The
appley horseradish cream would be lovely spooned into baked potatoes, maybe
with some chopped chives thrown in, so if you're going all out for potatoes,
make sure to increase quantities of sauce. [Pardon us, but we think this meal
absolutely cries out for garlic bread!]
I'm going through a pink-peppercorn phase, at least a time of writing, and
since I've included them on the pork marinade, I am presuming you might
have some in the house to use over the pale jade, sword-leafed salad. If you
do, lovely, but if you are using ordinary peppercorns, well, that's fine too."
Serves 8
3 - 4 heads Belgian endive
For the dressing
1 teaspoon grainy mustard
Few drops honey
3 tablespoons extra-virgin olive oil
1 teaspoon Sherry vinegar
Trim the rooty ends of the endive and pull off the leaves. Arrange these, strewn as they are, in a large flat dish (or cut them into rings if you want a more chopped salad). Mix the dressing ingredients together in a cup with
some salt and pepper, check to see if you're pleased with how it tastes and
drizzle over the waiting leaves.
Note: This is also very good when you replace the olive oil with 2 tablespoons vegetable oil and 1 tablespoon walnut oil. If you're not serving the endive salad
as part of this meal, but as a course in itself, you could add some walnut pieces
and even some crumbled soft goat cheese.
Easy Holiday Trifle
"There is something about a trifle which signifies an Occasion. It never feels
just like dessert. This one, though, is somewhat fraudulent. I suspect the trifle became the marker of specialness in most homes precisely because it is such a
fiddly, process-heavy rigmarole, despite its name. I use slices of 'pandoro', the
unfruited version of the Italian Christmas cake (you could use panettone in its
place if you prefer). In between the layers of sweet, yeasted 'pandoro', the golden bread, I added dried apricots poached with cardamom, orange and lemon juice
and sugar. You could, I'd have thought, substitute canned apricots, using the
syrup in place of the reduced poaching liquid, but sticking some dried apricots
in a pan, then cooking and cooling them isn't hard [and no doubt well worth
the minimal effort involved.
The cake and fruit arrangement you can deal with a good day or two in advance, then just before serving all you need to do is add a layer of heavy cream whipped
with Greek yogurt, then on top, drizzle honey and scatter over pistachios and
slivered almonds.
What I love particularly is the gold-coin look of all the plumped-up, poached
apricots which, like the lentils, are there to signify the wish for a prosperous
year ahead.
This will stretch to more than eight people easily, but it is also the generous size
of the trifle that makes it so festive. This is, besides, no time for holding back."
Serves 8 generously
4 1/2 cups dried apricots
6 cups water [or perhaps white wine]
3/4 cup superfine sugar
Juice of 1 lemon
Juice of 1/2 orange or 1 tangerine
6 cardamom pods
1/2 pandoro or a 1-pound piece
pandoro or panettone
1 cup heavy cream
1 cup Greek or whole-milk yogurt
3 tablespoons honey
1/4 cup pistachios
1/4 cup slivered almonds
Put the dried apricots into a saucepan with the water [or wine!], and add
the sugar and juices from the lemon and tangerine or arrange. Bruise the cardamom pods with the back of a knife to release the seeds, and add to the pan, giving a stir as you do. Bring to the boil, then turn the heat down and simmer for 30 minutes. Or, if it makes life easier, you can just bring the pan
to the boil, turn it off immediately and let the pan stand, cooling, overnight.
Drain the apricots (discarding the cardamom seeds and husks as much as possible) and put the cooking liquid back into the saucepan, then boil over a high heat for 15-20 minutes to reduce to a syrupy consistency. I stop when I've reduced the liquid to about 1 1/2 cups. Leave to cool slightly before
you go on to the next stage.
Cut the pandoro into 1/2-inch slices; this should give you about eight long stripy slices in total. Line a wide and not-too-deep glass bowl [photograph included in cookbook] with four of the slices of pandoro, and then spread
half of the warm apricots over the cake. Pour half of the syrupy liquid over the pandoro and apricot base.
Do the same thing with the other slices, except lay them the opposite way in the bowl so that the dish is evenly covered in pandoro. Add the remaining
half of apricots and then the syrup, and leave to one side and let the cake absorb the liquid. I like to leave this overnight or for a day, covered with plastic wrap in the fridge.
To make the trifle topping, whisk the heavy cream until soft peaks form – be careful not to overwhip it – and then add the yogurt and beat or stir together just to combine. It should be soft and light enough to spread easily over the top of the trifle in a not-too-thick layer.
Drizzle the honey over the top with a teaspoon, chop the pistachios into splinters and mix them with the slivered almonds, then scatter both over
the top of the trifle.

Nigella's New Year's Lunch for Eight, page 1

Featured Archive Recipes:
F & W's New Year's Day Brunch
New Year's Day Buffet
New Year's Celebration
New Year's Day Comfort
James Beard's Leg of Pork to Taste
Like Wild Boar
Nigella's Char Siu
Nigella's Marinated Pork Loin
Daniel Boulud's Braised Pork Shoulder with
Endives and Green Lentils
Lee Bailey's Endive Salads
Apple, Celery Root and Endive Salad
Endive, Orange, Avocado and Bacon Salad
Nigella's Grandmother's Ginger-Jam
Bread and Butter Pudding
Tidewater Trifle
Trifle with Me

More Lagniappe Recipes
Holiday Central!
Party Central!
Daily Recipe Index
Recipe Archives Index
Recipe Search