Recipe of the Day Categories:
Recipe Home
Recipe Index
Recipe Search
Fruit

Ireland, Kinsale, County Cork
Photographic Print
Levit, Keith
Buy at AllPosters.com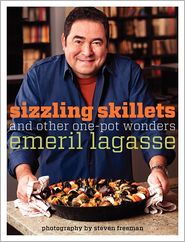 Sizzling Skillets and Other One-Pot Wonders

Saint Patrick Postcard
Commemorating His Coming to
Ireland 1500 Years Previously
Giclee Print
Buy at AllPosters.com


Your patronage of our affiliate partners supports this web site.
We thank you! In other words, please shop at LBC Gift Galerie!

Sheep Grazing Near Farmhouses, Munster, Ireland
Photographic Print
Banagan, John
Buy at AllPosters.com


Ballymaloe Irish Stew
Recipe courtesy Chef Keegan
2 to 3 pounds lamb chops, not less
than 1-inch thick
5 medium or 12 baby carrots
5 medium or 12 baby onions
8 potatoes
3 to 3 3/4 cups stock (lamb stock
if possible) or water
1 sprig fresh thyme
1 tablespoon plus 1 teaspoon roux,
optional, recipe follows
Garnish:
1 tablespoon plus 1 teaspoon
freshly chopped parsley
1 tablespoon plus 1 teaspoon
freshly chopped chives
Roux:
1 stick butter
Scant 1 cup flour

Preheat the oven to 350 degrees F.
Cut the chops in 1/2 and trim off some of the excess fat. Set aside.
Render down the fat on a gentle heat in a heavy pan (discard the
rendered-down pieces).
Peel the onions and scrape or thinly peel the carrots (if they are young
you could leave some of the green stalk on the onion and carrot). Cut the
carrots into large chunks, or if they are young leave them whole. If the
onions are large, cut them small, if they are small they are best left whole.
Toss the meat in the hot fat in a saucepan until it is slightly brown. Transfer
the meat into a casserole, then quickly toss the onions and carrots in the fat.
Build the meat, carrots and onions up in layers in the casserole, carefully
season each layer with freshly ground pepper and salt. Deglaze the pan with
lamb stock and pour it into the casserole. Peel the potatoes and lay them on
top of the casserole, so they will steam while the stew cooks. Season the potatoes. Add a sprig of thyme, bring to a boil on top of the stove, cover
and transfer to a moderate oven or allow to simmer on top of the stove
until the stew is cooked, 1 to 1 1/2 hours.
When the stew is cooked, pour off the cooking liquid, degrease and reheat
in another saucepan. Slightly thicken it with a little roux if you like. Check
seasoning, then add chopped parsley and chives and pour it back over the stew. Bring it back up to boiling point and serve from the pot or in a large pottery dish.
For the roux: Melt the butter and cook the flour in it for 2 minutes on a
low heat, stirring occasionally. Use as required. Roux can be stored in a
cool place and used as required or it can be made up on the spot if pre-
ferred. It will keep 2 weeks in the refrigerator.
Lamb Stew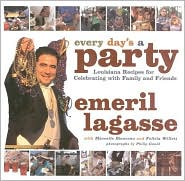 Every Day's a Party:
Louisiana Recipes for
Celebrating with Family
and Friends

by Emeril Lagasse with Marcelle Bienvenu
and Felicia Willett, © 1999, William Morrow and Co.
"I never seem to get a straight answer as to what goes into an authentic
Irish stew. Some say it can be made with with either pork or lamb. The
purists tell me that carrots might not have been in the original Irish stew.
Well, I listened to all my Irish friends and let them each have their say,
then came up with this version, which I think is absolutely outstanding,
even if I do say so myself. I wish you could have seen Marcelle and
Felicia clean out the pot when we had it for supper after the St. Patrick's
Day Parade!"
Does it surprise you to know that New Orleans is a
Very Big Fan of St. Patrick's Day? Well, after all, it
IS a party, is it not? And the Irish love to party!
Emeril says they have been celebrating St. Patrick's
Day in New Orleans "since way back in 1809". In
addition to which, we have the Irish to thank for the
that great gastronomical dynasty, the Brennans...
2 pounds lamb shanks
1 teaspoon salt
3/4 teaspoon freshly ground black pepper
3 tablespoons bleached all-purpose flour
2 tablespoons olive oil
2 medium-size yellow onions, quartered
3 ribs celery, cut into 1/2-inch-thick slices
3 carrots, cut into 1/2-inch-thick slices
2 sprigs fresh thyme
4 bay leaves
2 tablespoons tomato paste
10 cups beef broth [or homemade stock]
10 small red potatoes (about 1 pound),
peeled and halved
1 large turnip (about 8 ounces),
peeled and cubed
2 parsnips (about 4 ounces total),
peeled and cubed
1/4 cup water
Season the lamb with 1/2 teaspoon of the salt and 1/4 teaspoon of the
black pepper and dust with 1 tablespoon of the flour. Heat the olive oil
in a large, heavy, deep pot or Dutch oven over medium-high heat. Add
the shanks and cook, turning to brown evenly, about 10 minutes.
Add the onions, celery, carrots, the remaining 1/2 teaspoon salt, and the
remaining 1/2 teaspoon black pepper and cook for 2 minutes. Add the
thyme, bay leaves, and tomato paste, stirring to mix. Bring to a boil,
reduce the heat to medium, cover, and cook until the meat is very
tender, about 1 1/2 hours.
Add the potatoes, turnips, and parsnips, and cook, uncovered, until the
vegetables are fork-tender, about 30 minutes. Dissolve the remaining 2
tablespoons flour in the water and add to the stew, stirring to blend.
Simmer for 30 minutes. Remove from the heat. Using a fork, remove
the meat from the bones and discard the bones. Remove bay leaves.
Serve the stew in deep bowls and accompany with Irish Soda Bread.
[Emeril's unique recipe for Irish Soda Bread is included in
"Every Day's a Party."]

Featured Archive Recipes:
Bubble and Squeak with Wow-Wow Sauce
Butterflied Leg of Lamb
Irish Beef Stew with Guinness Stout
Lobster Stew
Rack of Spring Lamb Marinated in Garlic...



Index - Main Dish Recipe Archives
Index - St. Patrick's Day Recipes
Do you know what it means
to miss New Orleans?
Daily Recipe Index
Recipe Archives Index
Recipe Search