Recipe of the Day Categories:
Recipe Search
Fruit
Rain on Royal Street
Giclee Print
Millsap, Diane
Buy at AllPosters.com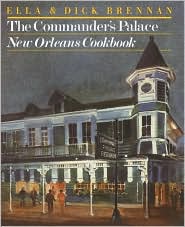 The Commander's Palace New Orleans Cookbook
Garden District Fancy
Giclee Print
Millsap, Diane
Buy at AllPosters.com

French Quarter Twilight
Giclee Print
Millsap, Diane
Buy at AllPosters.com

Warm Welcome in the Big Easy
Giclee Print
Millsap, Diane
Buy at AllPosters.com


Your patronage of our affiliate partners supports this web site.
We thank you! In other words, please shop at LBC Gift Galerie!

Jackson Square - New Orleans
Giclee Print
Millsap, Diane
Buy at AllPosters.com


Remembering The Brennans
A New Orleans Reverie
by Michele W. Gerhard (1995)
Among my many blessings I count the privilege of having spent a large part
of my childhood in New Orleans at a time when a child could feel much more welcome in the French Quarter than today. Because my mother was a woman of discriminating taste, she introduced me to some of the finer things in life at
a very early age. I literally grew up with the venerable Brennans, generally considered to be the First Family of New Orleans cuisine.
All of the Brennan's establishments, each in its own way, have a special place in my heart, as each has played an important part in defining my tastes and molding my culinary identity. As a youngster, I was totally enchanted by the romance and mystique of the French Quarter environment. The moist, heavy air was not at all oppressive to me then. It fused with the lush tropical vege- tation and enhanced the magical aura of the old city. The very mention of
the Quarter still floods my memory with the heady fragrance of jasmine, honeysuckle and clematis, and with visions of gas lamps flickering in patios verdant with elephant ears and banana trees, bamboo and palmetto. My memories of leisurely weekends spent strolling through the narrow streets
and mysterious alleys remain vivid to this day. Many a languid Saturday
afternoon was spent lolling away the dreamy hours at Pat O'Brien's. I recall feeling very much at home there, sipping my "mint julep", or sometimes
even a Baby Hurricane. I'm still not quite sure of the ingredients, but my
drinks looked very authentic, tasted like paradise in a glass, and made me
feel ever so grown-up and worldly wise. The grass which then surrounded
the patio fountain has long since given way to more solid table space, but Pat O'Brien's patio remained a sentimental favorite.
One of my fondest New Orleans memories is of dinner with my mother at Brennan's Vieux Carré, which was the very first culinary enterprise of the incomparable Brennans clan. Just walking through the door was enough to
take my breath away. I felt as though I had been transported to a luxurious fairyland, resplendent with candlelight, plush carpeting, and impeccably
dressed guests. The elegant atmosphere, my mother's demeanor, as well as that of "her waiter", and Owen Brennan himself, actualized a miraculous, instantaneous internal impression of maturity in my six-year-old body. I felt
as though I belonged! In my ingenuousness, I found the entire experience to
be the ultimate word in elegance and sophistication.
Owen very often came to the table to greet us, and usually served my
special "Shirley Temple" drink himself. It was a spectacularly colorful
(no doubt grenadine-loaded) concoction overflowing with maraschino
cherries, slices of assorted citrus fruit, Japanese umbrellas and other
such whimsical items of tremendous child appeal. I recall being partic-
ularly fascinated by the abundance of multi-colored straws. Actually,
the drink was the "virgin" version of Owen Brennan's imaginative con-
tribution to a long list of New Orleans originals, called "Pirate's Dream."
No doubt the name was inspired by the fact that he got his start in the gastronomic world of the French Quarter when he bought what he re-
ferred to as a "saloon" - the Old Absinthe House. Legend has it that
the building contained a secret chamber which was the meeting place
of Andrew Jackson and Jean Lafitte. Myths linking Lafitte and his band
of pirates to the Old Absinthe House abound, so why not capitalize on
the mystique? My childhood fascination with this mystique continues to
this day. The booming success of Owen's "saloon" venture led indirectly
to the birth of Brennan's Vieux Carré, directly opposite the Old Absinthe
House on Bourbon Street.
Although the menu at the Vieux Carré was quite varied and intriguing, I never strayed from my favorite meal. I resisted all maternal coaxing to be somewhat more adventurous in my selection. In my mind nothing could possibly surpass my standard fare of Filet Mignon (medium-rare, if you please), which was always broiled to perfection, accompanied by either broccoli or asparagus Hollandaise and Potatoes Duchesse, as I recall. I was in heaven, longing for
the evening to go on forever. There was always an abundance of delicious garlic bread to go with our meal, apparently the precursor of that served at Commander's Palace today. I am extremely grateful that there are still a few things which haven't changed over the years! My only requirement for des-
sert was that it be presented aflame. Whether it be Crepes Suzette, Cherries
Jubilee (my favorite), Bananas Foster (one of Owen's special creations in
honor of his friend, Dick Foster), or another equally flamboyant creation, I
was never disappointed.
Alas, the original Brennan's Vieux Carré is no more, and Owen Brennan left
us far too soon. How ironic that he was not to live to experience the extra- ordinary success of Brennan's in its current location at 417 Royal Street, or
to see his vision of "Breakfast at Brennan's" become an international phe- nomenon. Fortunately for Epicureans the world over, the legacy remains.
The official opening of Brennan's in its present location took place in May 1956. The family has since branched out into other equally successful endeavors. A trip to New Orleans would not be complete without a visit
to Commander's Palace, in the magnificent Garden District. In the French
Quarter, Mr. B's Bistro, just one block off Canal St. on Royal, provides excellent cuisine in a somewhat more relaxed atmosphere. Their Shrimp Chippewa (unfortunately no longer on the menu) was incomparable, and
remains one of my favorite dishes anywhere. As fate would have it, Dickie Brennan opened his Bourbon House Seafood and Oyster Bar not so long
ago, and saw fit to put Shrimp Chippewa on the menu. Not quite the same,
of course, but hey... I'm not complaining!
Other members of the Brennan Family Restaurants are Palace Café, (Canal Street), Dickie Brennan's Steakhouse (on Iberville), Ralph Brennan's Bacco (on Chartres), Ralph Brennan's Red Fish Grill (on Bourbon). Outside the
Quarter are Ralph's on the Park and Cafe Adelaide situated in the down-
town Warehouse District's recently debuted Loews New Orleans Hotel.
The kitchen of Commander's Palace has produced some of America's finest chefs. Paul Prudhomme, who appears to have single-handedly brought about the Cajun revolution in food, and Emeril Lagasse, who now has three very successful New Orleans restaurants of his own: Emeril's, NOLA and Emeril's Delmonico. Go here to check out Emeril's other restaurants... quite frankly
we can't keep up with the list!
In its twenty-second year, Commander's Palace received the James Beard Outstanding Restaurant Award. The fact that the restaurant has been able
to sustain its reputation for unwavering excellence since 1974 is amazing
enough. Even more commendable is the fact that Ella and Dick Brennan
have maintained Commander's distinction while assuring it stay abreast of
the times. Under their devoted leadership and expertise, the ever-increasing
demand for lighter, healthier, food has been met without sacrificing the
quality of Commander's uniquely delicious, Creole cuisine. [Update 2008 -
Managing Partners: Lally Brennan, Ti Adelaide Martin; Executive Chef:
Tory McPhail]
In the fall of 1995, my younger son, his girlfriend and I were delighted to
have an excuse to make a short-notice combination business and pleasure
trip to the Crescent City. The girlfriend in particular was thrilled at the
prospect and proudly announced that she had her heart set on dinner at
Commander's Palace on Friday night. I advised her not to hold her breath;
this was, after all, Tuesday afternoon, and our chances of getting a reser-
vation for Friday evening seemed slim indeed.
But with all the unbridled optimism and certitude of the young, she called
and was very quick to inform me that we did, indeed, have reservations.
We were offered either 6:30 or 9:30 p.m. She chose 6:30. I expressed my enthusiasm and gratitude and thought to myself that I supposed a 6:30 reservation was better than none at all.
All the way to New Orleans there was a constant barrage of questions about
Commander's, the most frequently recurring of which was, "Do you suppose
we just might be able to eat in the Garden Room?" Once again, I humored
her as best I could, and tried to explain in my most patient, motherly fashion,
that practically everyone wanted to eat in the Garden Room. We could hardly
expect it to be available to those with last-minute reservations. Well, okay, but she would call anyway! And call she did, but to no avail. She consoled herself
with the fact that at least we were assured of getting in the door, and maybe,
just maybe, once we got there? Hope springs eternal...
As our day of shopping, eating, window-shopping, eating, sight-seeing and more eating wore on, it became increasingly obvious to me that we hadn't a prayer of keeping a 6:30 reservation at Commander's. We crossed our fingers and called - was there a chance... might it just be possible that they still had
an opening for 9:30? Well, yes, they supposed they could accommodate us.
In the Garden Room? The answer was cordially negative.
One thing led to another, as it usually does in the Quarter, and it became apparent to us that even 9:30 was going to be difficult. We finally arrived shortly after 9:45, tense and breathless, fearing that we wouldn't be seated
at all. We were greeted by a friendly and gracious host whose enthusiasm
quickly erased all sense of trepidation. He scanned his chart and said,
"Folks, you're in luck! The best table in the house just opened up."
Right, I thought to myself, I'll just bet it did. Looking back, I wonder how I could have become so cynical. What had happened to my child-like faith in
the impossible? Not only were we seated in the glass-walled Garden Room, with its splendid view of the luxuriant New Orleans patio of my fantasies,
but we were actually seated at the very best table in the house. The dream table. The one I'd always wanted, but had never before been fortunate
enough to get, the one whose favored occupants are treated to a view of
the "garden" (patio extraordinaire) looking out through the branches of a magnificent 200-year-old oak tree.
Our excitement had reached such a peak by this time that chances are we could have been served mediocre food and still been satisfied. That was certainly not the case that evening, nor has it ever been my experience in
any Brennan's establishment since my first meal at Brennan's Vieux Carré
in the late 1940's.
The highlights of the meal were Commander's rich, thick, incomparable Crawfish Bisque, an excellent sautéed redfish served in an exquisite wine
sauce with artichokes and mushrooms, a Creole version of Veal Oscar
with a marvelous topping of fresh lump crab meat and Hollandaise, and Panéed Mississippi Rabbit. The veal dishes at Commander's are always
melt-in-your-mouth delicious, and the Brennans still work magic with
their various filet entrées.
It has always been a problem for me to save room for dessert at Com- mander's, but their dessert menu usually tempts me beyond all reason.
Although the Bananas Foster Shortcake is rich and delicious, I must admit
my preference is the original flaming Bananas Foster served over vanilla
ice cream. In addition to being a luscious dessert, it has tremendous senti-mental appeal to me, having been created by Owen Brennan. That's all it
takes to transport me back the the French Quarter of my youth...
Such sublime offerings as Bread Pudding Soufflé with Whiskey Sauce, Chocolate Fudge Sheba, or Kahlúa Mousse Cake may well entice you to succumb to the temptations of the dessert gods. Should you decide to opt
for something less decadent, indulge yourself a bit with a velvety smooth Chocolate Mousse.
For me, dessert is not dessert unless it's accompanied by a steaming hot cup
of New Orleans' special chicory-blend coffee, aromatic, rich and full-bodied. (The tradition of adding chicory is a carry-over from the Napoleonic era in France during a period of shipping blockade.) Commander's has their own special coffee blend, which you can enjoy noir (black), au lait, or flamed
with spices and liqueurs. As the saying goes, Creoles prefer their coffee
'Noir comme le Diable
Fort comme la Mort
Doux comme l'Amour
Et chaud comme l'Enfer'
'black as the devil, strong as death, sweet as love, and hot as hell'! My
personal preference is au lait, but you may want to treat yourself to a
festive, dramatic, presentation of a famous New Orleans specialty: flaming
Café Brûlot. It is an intoxicating combination of coffee, brandy and Triple
Sec, aromatically enhanced by the addition of lemon, orange, cloves and cinnamon. Or perhaps an even more intoxicating concoction of coffee,
brandy, Kahlúa, Galliano and whipped cream - Café Pierre, created by
one of Commander's captains, a delectable dessert in itself.
Our superb meal was enhanced by the excellent service of Commander's eminently competent, always amiable staff. I am very favorably impressed
by the lack of what has come to be known these days as an "Attitude". Unfortunately, many restaurants having reached the stature enjoyed by Commander's, have developed a certain degree of hauteur to go along with
it. They take themselves SO seriously. How fortunate for us that along
with the consistent excellence of cuisine, Commander's has also come to
be known for its cordial hospitality and an atmosphere of comfortable ease,
its joviality. One never has that humiliating feeling of being evaluated. The
wait staff is friendly, but not too friendly; the guest is pampered, but
unobtrusively, which is exactly as it should be.
For me, the ultimate atmosphere of pure merriment is to be found at Commander's renowned Sunday Jazz Brunch. Along with excellent food, including a myriad of scrumptious egg dishes: Eggs Creole, Hussarde,
Soubise and Basin Street, among others, you'll be treated to strolling jazz bands, a multitude of colored balloons, and a relaxed, carefree, convivial environment. A celebration of the senses. Seductive, like New Orleans
itself. You'll be coaxed to "Enjoy, chere Madame! Enjoy!" In short, you
can experience the epitome of the very heart and soul of this exquisite
city. And when you take your leave, you will truly know what it means
to miss New Orleans.....but that's another story!

Commander's Palace Recipes!
Cookbook Feature -
Commander's Kitchen
Do you know what it means
to miss New Orleans?
Article Archives Index
Daily Recipe Index
Recipe Archives Index
Recipe Search