Misty Morning On Chartres St.
[New Orleans LA, USA]
Giclee Print
Millsap, Diane
Buy at AllPosters.com
La Belle Cuisine - More Seafood Recipes
Fine Cuisine with Art Infusion
"To cook is to create. And to create well...
is an act of integrity, and faith."
Chef Paul Prudhomme's
Crawfish Enchiladas con Queso
"New Orleans food is as delicious as the less criminal forms of sin."
~ Mark Twain, 1884
---
Recipe of the Day Categories:
Recipe Home
Recipe Search
Fruit

Chef Paul Prudhomme's
Louisiana Tastes:
Exciting Flavors from
the State That Cooks

Your patronage of our affiliate partners supports this web site.
We thank you! In other words, please shop at LBC Gift Galerie!

Jazz in the Quarter
Art Print
Mitchell, Dean
Buy at AllPosters.com


Crawfish Enchiladas con Queso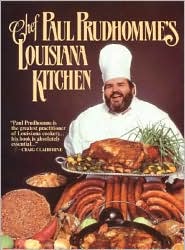 Chef Prudhomme's
Louisiana Kitchen

by Paul Prudhomme, 1984,
William Morrow and Co., Inc..
Makes 10 servings
"This recipe works equally well substituting 3 pounds of
peeled medium-size shrimp for the crawfish. The sauce is
also great over spaghetti or rice."
1/2 pound (2 sticks) unsalted butter, in all
1 cup finely chopped onions
1 cup canned green chilies, drained and chopped
3/4 cup finely chopped green bell peppers
2 3/4 teaspoons salt, in all
2 3/4 teaspoons white pepper, in all
1 1/2 teaspoons, in all, ground red pepper
(preferably cayenne)
3/4 teaspoon dried oregano leaves, in all
1/2 teaspoon minced garlic
3 cups heavy cream
1 cup dairy sour cream
8 cups, in all, grated Monterey Jack cheese or
other white (nonprocessed) cheese, 2 pounds
2 pounds peeled crawfish tails
2/3 cup very finely chopped green onions
1/2 cup vegetable oil
20 (6-inch) corn tortillas
In a large skillet melt 1 stick [1/2 cup] of the butter. Add the onions, green chilies, bell peppers, 1 1/4 teaspoons of the salt, 3/4 teaspoon of the white pepper, 1/2 teaspoon of the red pepper, 1/4 teaspoon of the oregano and
the garlic. Sauté over medium hear for 10 minutes, stirring often. Stir in
the heavy cream and bring mixture to a rapid boil; then reduce the heat and simmer uncovered 10 minutes, stirring constantly. Add the sour cream; with
a metal whisk, beat continuously until the sour cream is dissolved, about 3 minutes. Add 3 cups of the cheese and stir until melted. Set the sauce aside.
In a 4-quart saucepan melt the remaining 1 stick [1/2 cup] butter. Add the crawfish, green onions and the remaining 11/2 teaspoons salt, 2 teaspoons white pepper, 1 teaspoon red pepper and 1/2 teaspoon oregano. Sauté over medium heat for about 6 minutes, stirring occasionally. Add the cheese
sauce to the crawfish mixture and stir well. Simmer until the flavors are
well blended, about 6 to 10 minutes, stirring occasionally. Set aside.
In a small skillet heat the oil to about 325 degrees F. Holding tortillas one
at a time with metal tongs, dip each into the hot oil just long enough to
soften, about 1 second on each side; drain on paper towels. Spoon about
1/3 cup crawfish sauce on each tortilla and roll up tortilla.
For the prettiest presentation, broil the enchiladas: Put them all, seam
side down, in a flameproof baking dish; or place two on each individual (flameproof) serving plate. Cover each enchilada from end to end with a generous amount of additional sauce, then sprinkle each with 1/4 cup
cheese. Place the baking dish (or two or three individual plates at a time) under a broiler near the flame until the cheese melts and begins to brown, about 2 minutes. Or, bake the enchiladas in a 350 degrees F. oven until
the cheese melts, about 5 to 8 minutes. Serve immediately. Note: If you choose to finish the enchiladas in one large baking dish, serve them on
heated plates.

More from Chef Paul Prudhomme:
Blackened Redfish
Cajun Popcorn
Oysters Florentine
Seafood Dirty Rice
Featured Archive Recipes:
Beef and Cheese Enchilada Casserole
Shrimp and Cheese Enchiladas



Index - Seafood Recipe Archives
Do you know what it means
to miss New Orleans?
Recipe Archives Index
Recipe Search