Recipe of the Day Categories:
Recipe Home
Recipe Search
Fruit

Absinthe
Leonetto ...
Buy This at Allposters.com


Antoine's Restaurant in
the French Quarter
Diane Millsap
Buy This at Allposters.com


Navigational Astrolade II
Martin Figlinski
Buy This at Allposters.com

Bitter Campari
Art Print
Buy at AllPosters.com

Love New Orleans?
This book's for you!

My New Orleans:
The Cookbook:
200 of My Favorite Recipes and Stories from My Hometown

Your patronage of our affiliate partners supports this web site.
We thank you! In other words, please shop at LBC Gift Galerie!

Oyster Gatherers of Cancale, 1878
Art Print
Sargent, John...
Buy at AllPosters.com

Oysters Rockefeller
American Classics
by the Editors of Cook's Illustrated Magazine,
2002, Boston Common Press
"Abundant and inexpensive, oysters have long been the fancy of chefs developing recipes for the American dining public. Oysters Rockefeller – which was first
served at Antoine's Restaurant in New Orleans in 1899 – is probably the most
famous of these recipes. Although the original concoction is still a 'secret',
according to Antoine's, most recipes call for oysters on a half-shell dolloped
with spinach puree, topped with bacon, and run under the broiler. Very often
these recipes suffocate the sweet, ethereal flavor of the oyster with a heavy,
dense spinach mixture and overly smoky bacon. Looking to enhance the
oyster's gentle flavor, we set out to develop a recipe for Oyster Rockefeller
that would live up to its elegant namesake…
"With the oysters fresh out of the oven, tasters eagerly gathered around and simultaneously burned their mouths. After allowing the oysters to cool for
several minutes, we agreed that they tasted rich and refined, with multiple
layers of complex flavor. Finally, a dish able to live up to the
name Rockefeller."
Serves 4
"We found that the oysters were easy to manage and looked attractive when
broiled in two 9-inch pie plates. They can also be cooked all together in a
shallow dish large enough to hold the 12 oysters with ample space between
(roughly 9 by 13 inches). Depending on your broiler, cooking times may vary."
3 cups rock salt
12 large oysters, well scrubbed
(preferably Atlantic or Pacific oysters)
2 tablespoons unsalted butter
2 large shallots, minced (about 1/4 cup)
1/4 teaspoon salt
1/8 teaspoon ground black pepper
Pinch hot red pepper flakes
2 medium cloves garlic, minced
4 ounces baby spinach (5 cups loosely packed)
1 slice high-quality white sandwich bread,
such as Pepperidge Farm, crusts removed,
torn into 4 pieces
1/4 cup loosely packed fresh parsley leaves
2 tablespoons Pernod
2 tablespoons grated Gruyère cheese
1 lemon, cut into wedges
1. Adjust one oven rack so that it is 6 inches from the broiler element.
Spread 1/2 inch of rock salt into two 9-inch pie plates or cake pans or
other appropriate dish. [Illustrations included in cookbook] shuck the
oysters, reserving the oyster liquor in a small bowl. Gently nestle 12
half-shells holding one oyster each into the rock salt.
2. Heat the butter in a large nonstick skillet over medium heat until the
foaming subsides. Add the shallots, salt, pepper, and red pepper flakes
and sauté until the shallots soften, about 2 minutes. Add the garlic and
sauté until fragrant, about 30 seconds. Add the spinach and sauté,
tossing occasionally, until the spinach has fully wilted, about 1 1/2
minutes. Remove the pan from the heat and set aside.
3. Pulse the bread in the workbowl of a food processor fitted with a steel
blade until it turns to coarse crumbs (resembling Grape-Nuts), about
ten 1-second pulses. Add the reserved spinach mixture, the reserved
oyster liquor, parsley, Pernod, and Gruyère. Pulse, scraping the sides
of the workbowl down as necessary, until the mixture forms a smooth
paste, about ten 1-second pulses. Spoon 1 tablespoon of the spinach
mixture on top of each oyster.
4. Broil the oysters until spotty brown, about 10 minutes. Allow the
oysters to cool for several minutes before serving them straight from
the hot, salted dish with lemon wedges.

You need to know the rest of the story, from...

Antoine's Cookbook:
Antoine's Restaurant since 1840 Cookbook
by Roy F. Guste, Jr., Reissue 1989, W. W. Norton & Co.
(our copy - Roy F. Guste, Jr., 1979, Carbery-Guste, Legacy Publishing)
"Oysters Rockefeller was created in 1899 by my great-grandfather Jules Alciatore.
At that time there was a shortage of snails coming in from Europe to the United States and Jules was looking for a replacement. He wanted this replacement to be local in order to avoid any difficulty in procuring the product. He chose oysters.
Jules was a pioneer in the art of cooked oysters, as they were rarely cooked before
this time. He created a sauce with available green vegetable products, producing
such a richness that he named it after one of the wealthiest men in the United
States, John D. Rockefeller.
I have estimated that we have served over three million, five hundred thousand
orders – quite a large number, considering that they have all been served in a
single gourmet restaurant.
The original recipe is still a secret that I will not divulge. As many times as I
have seen recipes printed in books and articles, I can honestly say that I have
never found the original outside of Antoine's. If you care to concoct your
version, I would tell you only that the sauce is a puree of a number of green
vegetables other than spinach. Bonne Chance!"

Mon Dieu! Knowing that, where do we turn?
Why to Tom Fitzmorris, of course...

Oysters Rockefeller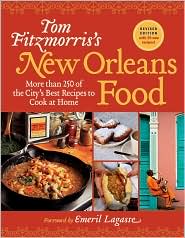 Tom Fitzmorris's
New Orleans Food:
More Than 250 of the
City's Best Recipes
to Cook at Home

© 2006 by Tom Fitzmorris
(Stewart, Tabori & Chang)
Serves eight
"Perhaps the strangest request for a recipe I've ever received came from
Bernard Guste, the fifth-generation proprietor of Antoine's. He wanted
my recipe for oysters Rockefeller. His reason was that since Antoine's
own recipe (remember, they invented the dish) is a secret, they needed
something to give the many people who ask for it. He told me that my
recipe is embarrassingly close to the real thing. I'm flattered. And if I
say so myself, he's right. It took me about 50 tries to create a match for
the flavor of Antoine's great specialty.
Oysters Rockefeller never did include either spinach or Mornay (white
cheese) sauce, which most recipes call for. It does include green food
coloring - an atrocity now but common a century ago, when this dish
was created. The Peychaud's bitters, a New Orleans specialty, can be
ordered from the Sazerac Company (www.sazerac.com/bitters.html).
Oysters Rockefeller has always been among my favorite Creole-French
dishes and one that creates its own special occasion whenever you
make it."
4 dozen fresh, shucked oysters,
with their liquor
2 cups chopped celery
2 cups chopped flat-leaf parsley leaves
1 1/2 cups chopped green onion,
green parts only
1 cup chopped fresh fennel
1 cup chopped watercress
1/2 teaspoon chopped fresh garlic
3 anchovy fillets
1/4 cup ketchup
1 tablespoon Worcestershire sauce
1 teaspoon sugar
1 teaspoon salt
1 teaspoon ground white pepper
1/2 teaspoon cayenne
2 dashes of Peychaud's bitters
(optional; see headnote)
2 drops of green food coloring
(optional, but authentic)
2 sticks (16 tablespoons butter
1 cup flour
1 1/2 cups very fine, fresh bread crumbs
1. Preheat the oven to 450 degrees [F]. Drain the oysters, reserving the
liquor. Pour the oyster liquor into a 2-cup measuring cup, add enough
water to make 2 cups, and set aside.
2. Working in small batches, process the vegetables and anchovies to-
gether in a food processor to a near-puree, using the oyster water to
help things along.
3. Combine the vegetable puree and any remaining oyster water in a
saucepan and cook over low heat, stirring occasionally, until the
excess water has evaporated but the greens remain very moist. Stir
in the ketchup, Worcestershire sauce, sugar, salt, pepper, cayenne,
bitters, and food coloring.
4. Make a blond roux by heating the butter in a medium saucepan over medium-low heat. Add the flour and cook, stirring often, until the
mixture just begins to brown. Add the roux to the greens and stir
until the sauce takes on a different, lighter texture. Then mix in the
bread crumbs.
5. Place the oysters on individual half shells or in small ovenproof rame-
kins or gratin dishes. Top each oyster with a generous tablespoon
(or more) of the sauce. Bake until sauce just begins to brown, about
15 minutes. Serve immediately.
If you are using oyster shells, serve on a bed of rock salt or on a
napkin to keep the shells from rocking.
Serves eight.

Featured Archive Recipes:
Antoine's Oysters Bonne Femme
Emeril's Oyster Rockefeller Soup,
Garnished with Crispy Bacon and
Fried Oysters
New Orleans Oysters Polo
Paul Prudhomme's Oysters Florentine
Veal Rockefeller

Index - Seafood Recipe Archives
Index - Appetizer Recipe Archives
Do you know what it means
to miss New Orleans?
Daily Recipe Index
Recipe Archives Index
Recipe Search