New Orleans
Rainy Day
Giclee Print
Millsap, Diane
Buy at AllPosters.com

La Belle Cuisine - More Pasta Recipes
Fine Cuisine with Art Infusion
"To cook is to create. And to create well...
is an act of integrity, and faith."
Louisiana Seafood Pasta
"Life is a combination of magic and pasta."
~ Federico Fellini
---
Recipe of the Day Categories:
Recipe Home
Recipe Index
Recipe Search
Fruit

Variety of Seafood
Photographic Print
Sokol, Howard
Buy at AllPosters.com


Your patronage of our affiliate partners supports this web site.
We thank you! In other words, please shop at LBC Gift Galerie!
New Orleans from Space - ©Spaceshots

Art Print
Buy at AllPosters.com

Louisiana Seafood Pasta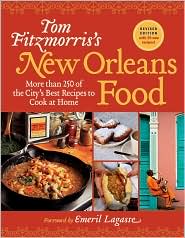 Tom Fitzmorris's
New Orleans Food:
More Than 250 of the
City's Best Recipes
to Cook at Home

Copyright 2006 by Tom Fitzmorris
Stewart Tabori & Chang 2006
"Here's my take on the very rich, Creole-seasoned,
chock-full-of-seafood pasta dish that became popular
in the early 1980s and remains so today. When craw-
fish are in season, use them instead of the scallops."
Serves eight.
2 tablespoons butter
1/2 cup chopped green onions
1 tablespoon chopped shallots
1/4 cup dry white wine
2 cups heavy whipping cream
Pinch of saffron threads
1/2 teaspoon salt, plus more to taste
1/4 teaspoon ground white pepper
Pinch of cayenne
Pinch of ground ginger
1 pound sea scallops, cut in half crosswise
1 pound medium (20 - 25 count) shrimp,
peeled and deveined
2 dozen fresh, shucked oysters
1/2 teaspoon fresh tarragon (or 1/4 teaspoon dried)
1 pound lump crabmeat
2 pounds farfalle pasta, cooked al dente
1. Melt the butter in a large skillet over medium heat. Add the green onion
and shallots and cook until they're limp. Add the wine and reduce until
most of the liquid is gone. Add the cream, saffron, salt, pepper, cayenne
and ginger, and bring to a light boil. (Also add tarragon at this point if
using dried.)
2. Add the scallops and shrimp and cook for 4 minutes. Add the oysters
and fresh tarragon, if using. Cook until the edges of the oysters are curly,
then add the crabmeat. Throughout the process, shake the skillet to slosh
the sauce over the seafood.
3. Taste the sauce and add salt if necessary. You can also spice it up with
a bit of Tabasco or crushed red pepper. Remove from the heat. Add
the cooked and drained pasta to the pan and toss until well combined.

Featured Archive Recipes:
Cajun Seafood Pasta
Lee Bailey's Crawfish Fettuccine
John Folse's Crawfish and Andouille Pasta
Linguine with Shrimp, Scallops and
Macadamia Pesto


Index - Pasta Recipe Archives
Index - Seafood Recipe Archives
Do you know what it means
to miss New Orleans?
Daily Recipe Index
Recipe Archives Index
Recipe Search