Redfish Still Life
Giclee Print
Ong, Diana
Buy at AllPosters.com

La Belle Cuisine - More Fish Recipes
Fine Cuisine with Art Infusion
"To cook is to create. And to create well...
is an act of integrity, and faith."
Paul Prudhomme's Blackened Redfish
"When the taste changes with every bite and the last bite is as good as
the first, that's Cajun! I'm a Cajun and that's Louisiana cooking."
~ Paul Prudhomme, "Louisiana Kitchen"
---
Recipe of the Day Categories:
Recipe Search
Fruit

Blue Jazz
Art Print
Lourenco, Didier
Buy at AllPosters.com


St. Louis Cathedral in French Quarter at Jackson Square, New Orleans, Louisiana, USA
Photographic Print
Jones, Adam
Buy at AllPosters.com


Your patronage of our affiliate partners supports this web site.
We thank you! In other words, please shop at LBC Gift Galerie!

K. Pauls Restaurant in the French Quarter, New Orleans LA, USA
Alison Wright
Buy This at Allposters.com



Blackened Redfish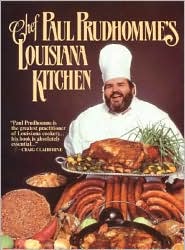 Chef Paul Prudhomme's
Louisiana Kitchen

by Paul Prudhomme, 1984,
William Morrow and Co., Inc.
Makes 6 servings
3/4 pound (3 sticks) unsalted butter,
melted in a skillet

Seasoning mix:
1 tablespoon sweet paprika
2 1/2 teaspoons salt
1 teaspoon onion powder
1 teaspoon garlic powder
1 teaspoon ground red pepper
(preferably cayenne)
3/4 teaspoon white pepper
3/4 teaspoon black pepper
1/2 teaspoon dried thyme leaves
1/2 teaspoon dried oregano leaves

6 (8- to 10-ounce) fish fillets (preferably redfish,
pompano or tilefish), cut about 1/2 inch thick
Note: Redfish and pompano are ideal for this method of cooking. If tilefish is
used, you may have to split the fillets in half horizontally to have the proper thickness. If you can't get any of these fish, salmon steaks or red snapper
fillets can be substituted. In any case, the fillets or steaks must not be more
than 3/4 inch thick.
Heat a large cast-iron skillet over very high heat until it is beyond the
smoking stage and you see white ash in the skillet bottom (the skillet can-
not be too hot for this dish), at least 10 minutes. [Believe me, this will set
off your smoke alarm. We always do this outside. MG]
Meanwhile, pour 2 tablespoons melted butter in each of 6 small ramekins;
set aside and keep warm. Reserve the remaining butter in its skillet. Heat
the serving plates in a 250-degree [F.] oven.
Thoroughly combine the seasoning mix ingredients in a small bowl. Dip
each fillet in the reserved melted butter so that both sides are well coated; them sprinkle seasoning mix generously and evenly on both sides of the
fillets, patting it in by hand. Place in the hot skillet and pour 1 teaspoon
melted butter on top of each fillet (be careful, as the butter may flame up). Cook, uncovered, over the same high heat until the underside looks
charred, about 2 minutes (the time will vary according to the fillet's thick-
ness and the heat of the skillet). Turn the fish over and again pour 1 tea-
spoon butter on top; cook until fish is done, about 2 minutes more. Repeat with remaining fillets. Serve each fillet while piping hot. To serve, place
one fillet and a ramekin of butter on each heated serving plate.

K-Paul's Louisiana Kitchen Reopens!

Chef Paul Prudhomme looks on, right, while a couple dances,
left, to the 'Storyville Stompers Brass Band' playing outside
'K-Paul's Louisiana Kitchen', Tuesday, October 18, 2005
[Hurricane Katrina struck New Orleans August 29, 2005]
Photo by Mel Evans, courtesy of NOLA
(from Bon Appétit November 2006)
Bon Appetit - One Year Subscription
The Bon Appétit American Food & Entertaining Awards 2006
Humanitarian Award:
Chef Paul Prudhomme
"After Hurricane Katrina hit the Gulf Coast, people across the nation reached
out to help the stricken area. But few were as early or an ardent as Louisiana's
own Chef Paul Prudhomme. In the storm's wake, Prudhomme - the man behind
K-Paul's Louisiana Kitchen and Magic Seasoning Blends - rushed into action
from Arkansas, where he was staying temporarily. He went to the nearest Wal-
Mart and packed six trailers full of supplies, including generators, gasoline,
and medical equipment, much at his own expense. Once back in New Orleans, Prudhomme and Shawn McBride, Magic Seasoning Blends' president and
CEO, got to work, feeding more than 35,000 troops. Many of their employees
were left homeless, but Prudhomme reopened the businesses quickly, ensuring
that the staff had a place to earn a paycheck, eat three meals a day, and even
sleep. 'He did what he thought was the right thing to do,' says McBride. 'Action
is the most positive pill you can take.' "
We salute you, Chef Prudhomme!

Featured Archive Recipes:
Spicy Blackened Catfish
Chef Paul's Cajun Popcorn
Chef Paul's Chicken and Andouille Gumbo
Chef Paul's Eggplant Bayou Teche
Chef Paul's Seafood Dirty Rice
Redfish Creole
Sautéed Louisiana Redfish
(Ralph Brennan's Red Fish Grill)


Index - Fish Recipe Archives
Index - Seafood Recipe Archives
Do you know what it means
to miss New Orleans?
Daily Recipe Index
Recipe Archives Index
Recipe Search