Recipe of the Day Categories:
Recipe Home
Recipe Index
Recipe Search
Fruit

Jesus in the Garden of
Gethsemane, from the Trebon
Altarpiece, circa 1380
Giclee Print
, Master of the...
Buy at AllPosters.com


The Resurrection, circa 1480
Giclee Print
Buy at AllPosters.com


Altarpiece of Sainte-Chapelle,
of the Resurrection, Enamelled by Leonard Limosin (1505-76) 1553
Giclee Print
Abate, Nicolò...
Buy at AllPosters.com


Hydrangea, Violas, Easter Lilies, Cincinnati, Ohio, USA
Photographic Print
Jones, Adam
Buy at AllPosters.com


Your patronage of our affiliate partners supports this web site.
We thank you! In other words, please shop at LBC Gift Galerie!

The Women at the Sepulchre; or the Angel at the Tomb of Christ
Giclee Print
West, Benjamin
Buy at AllPosters.com


The Paschal Lamb
Recipe Source: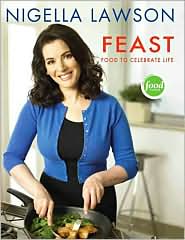 Feast: Food to
Celebrate Life

Copyright Nigella Lawson 2004
Hyperion Books
"Neither of the lamb recipes that follow have weights beside the joints specified. This is for a reason: you can only find the size of lamb that's available. So there's
no point requiring you to cook a 5lb leg of lamb, if the lambs that are gamboling about, or have recently been gamboling about, are not of sufficient stature to
have legs that weigh more than 4 lbs each.
Anyway, I think that generally, unless you are feeding six people or under, you
would probably have to cook two legs anyway. I know there'll be leftovers, but
there is nothing worse than carving and desperately worrying, after you've handed
out the plates to four of your friends or family, that you won't have enough to feed
the next four.
In most good-sized roasting pans you can squeeze in two legs, fitted like shoes
in a box, the narrow end up on one and down on the other. Bear in mind, how-
ever, that the more crowded the oven, the longer the meat will take to cook. Or
that's how it is with my oven, but then I abominate a fan."

Slow-Cooked Lamb with Beans
"If Easter's early and the wind still chill, then this is the sort of lamb you'll
want for our Easter lunch: homey, warming, comforting. Oh, and very good.
I like this kind of old-fashioned food; how the French cooked before 'la crise,'
when the tradition of cooking local produce, 'la cuisine du terroir,' started
going belly-up.
If you want to use leg in place of shoulder here, you can but just remember
(as with the braised lamb that follows) you don't end up with restaurant
rareness, but soft strands of dark, melting meat.
This doesn't take quite as long as the slow-cooked lamb salad with mint and
pomegranate of one of my earlier books ['Nigella Bites'], but you do stash it
out of sight in the oven for quite a long time. I find that makes my life easier:
the less I do when I've got people hovering about, the more I enjoy both the
cooking and the people."
Serves 6 - 8; at the top end, there's not a lot of meat for each
person, but that doesn't really seem to matter
6 cups dried white beans
4 onions (about 1 1/2 pounds), quartered
6 cloves garlic, peeled
1 carrot, peeled and cut into chunks
1 shoulder of lamb
1 tablespoon vegetable oil
[we prefer olive oil]
1 cup white wine
3 large sprigs rosemary
Sea salt
3 tablespoons chopped parsley
Put the beans into a large bowl of cold water, and soak them overnight.
You need to pre-cook the beans, for all that they linger in the oven for
hours and hours later, so put them in a large saucepan and cover them
generously with cold water, bring to the boil and cook them for 20
minutes. Then drain but reserve the liquid.
Preheat the oven to 325 degrees F. Either finely chop the onions, garlic,
and carrot or bung them all in a processor and blitz. Sear the lamb in a
deep roasting pan, fat-and-skin-side down, over a fairly high heat on
top of the stove until it takes on some color, and then remove.
Add the onion mush to the roasting pan, adding only a spoonful of oil as the lamb should have rendered some fat, and turn down the heat to fry gently, stirring every now and again, for about 5 minutes. Add the beans, stirring them in well, and then pour in the wine and 4 cups of the reserved bean
liquid. Tuck the rosemary sprigs into the pan, then place the lamb back
on top of the beans (right way up this time), season with plenty of sea salt
(about 1 1/2 tablespoons or half that of table salt if you must) and bring it
to the boil. When it begins to bubble, cover the pan with foil, baggily but
with tightly sealed edges, and place in the oven for 4 hours. Or turn down
to 275 degrees F after 3 hours and leave for up to 8 hours; it'll be fine to
eat after 3.
Remove the tented pan from the oven and let sit for 10 minutes, then
remove the foil, and transfer the lamb - momentarily - to a board. Stir the
beans well in the roasting tin and taste for seasoning. Spoon them into a
large dish and then carve the lamb into shreds and chunks and arrange on
top. Sprinkle a little more salt over, if you think the lamb needs it, scatter
over the chopped parsley and let people dig in. I wouldn't claim this to be
elegant, but it's wonderful.
Saffron Roast Lamb with
Sticky Garlic Potatoes
"Although the saffron makes its appearance at the end of the cooking time,
as you deglaze the roasting pan, its taste is so pronounced that it defines
the dish, enhancing the intense lemoniness that infuses this sweetest
of meats.
And mint and lamb, for all that the French ridicule us, are born to be
together; I wouldn't be above serving some sweet mint jelly alongside
either."
Note: Read the sticky garlic potato recipe now so you can coordinate
your movements.
And to go with, I'd want no more than a bowl of green, green peas,
turned in some butter with some blanched snow peas.

1 leg of lamb
1/3 cup olive oil
3 cloves garlic, bruised
6 scallions
2 bay leaves
Juice of 1 lemon
Small bunch mint, 1 1/2 ounces including
stalks, torn roughly makes 1 cup
1/2 teaspoon saffron threads, soaked in 1 cup
water from recently boiled kettle
1 teaspoon redcurrant jelly, optional
Put the lamb in a large freezer bag, pour over the olive oil and then throw
in the garlic, trimmed scallions and bay leaves, squeeze in the lemon juice,
and throw in the squeezed lemon halves too, then add the torn-up bunch
of mint. Seal the bag and marinate in the fridge overnight.
Bring the lamb to room temperature before you even think of putting it in
the oven, and preheat that to 425 degrees F when you take the lamb out
of the fridge.
Pour the entire contents of the freezer bag into a roasting tin and roast for about 15 minutes a pound, or until the lamb is cooked a perfect, 'à point'
pink; you will just have to pierce it with a knife to see. Just before the lamb
is due to come out of the oven, put the saffron strands in a measuring cup
and pour over the hot water - from a recently boiled kettle - so that it can
get on with steeping.
Remove the lamb to a wooden carving board to rest. Pick out the scallions and the lemon rinds, and then put the roasting pan on the stove over med-
ium heat, and stir until it starts bubbling. I think most gravies are better
with a little redcurrant jelly in them, but I don't necessarily expect you to
share that view. But if you want to go with me, stir in the jelly, and then
the saffron in its water and add more water - tasting for seasoning as you
go - as needed to let this bubble into a small amount of ungloopy gravy.
I would more accurately call it 'a jus' if I wouldn't hate myself for it.
Carve the lamb on to a large warmed plate and strain the saffrony juices, stirring in any liquid first from the carving board, over the pink meat.

Sticky Garlic Potatoes
"I suppose this is my take on those Italian roast potatoes, the ones that are
roughly cubed and thrown into a pan of olive oil strewn with the odd sprig
of rosemary. Only, these are rougher-hewn and much more intense; the
potatoes are boiled, drained, and roughly bashed in the pan, splitting and
squashing some, and then tumbled with garlic until it's time to cook the
whole lot in some hot oil. The potatoes are somewhere between mashed
and roasted, though nearer the latter, and the garlic caramelizes stickily
in the heat."
Serves 6
1 1/2 pounds little new potatoes
8 cloves garlic (more if you like)
1/2 cup olive oil or other vegetable oil [no!]
Bring a saucepan of water to the boil and add some salt, add the potatoes,
and cook for 30 minutes. Drain, and put back into the dry pan.
Peel the garlic cloves by squishing with the flat of a knife so that they bruise slightly and the skins slip off. Put them in the dry pan with the potatoes and then bash the potatoes and garlic with the end off a rolling pin so they are
cracked and split. You can do this ahead and leave them in the pan - though
with the lid off, so that they don't get watery - until you want to roast them.
Preheat the oven to 425 degrees F (or, if you're cooking with the lamb
above, you will already have it on) and slip a roasting pan in to heat up at
the same time. Once the oven's hot, pour in the oil and let it, in turn, heat
up for 10 minutes.
Carefully tip the potatoes and garlic into the hot oil and cook 15 minutes.
Turn the potatoes over and then give them another 15 minutes. You will
thank me. Or you will if there's any justice in this world.

Featured Archive Recipes:
Butterflied Leg of Lamb
Nigella's Crispy Lamb Chops
Nigella's Ham in Coca-Cola
Nigella's Spring Lunch to Life the Spirits
Peppered Lamb Loin with Polenta,
Ratatouille, and... (Charlie Trotter)
Provençal Leg of Lamb with Fennel
and Scallions (Alain Ducasse)
Rack of Spring Lamb Marinated in Garlic...


Index - Main Dish Recipe Archives
Rites of Spring Recipe Index
Daily Recipe Index
Recipe Archives Index
Recipe Search