Recipe of the Day Categories:
Recipe Home
Recipe Index
Recipe Search
Fruit

Have a heart for
the Gulf Coast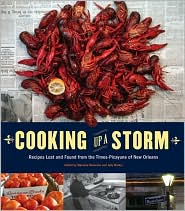 Cooking Up a Storm: New Orleans Recipes for Recovery

Save on Clearance
at Target.com

Sunset Casts an Orange Glow and Silhouettes a Waterside Shack
Photographic Print
Buy at AllPosters.com


Your patronage of our affiliate partners supports this web site.
We thank you! In other words, please shop at LBC Gift Galerie!

Crawfish Boil - Louisiana Style
Photographic Print
Williams, Cynthia...
Buy at AllPosters.com


Crawfish Crazy
"At last! It looks like a good year to eat mudbugs."
The Times-Picayune, New Orleans, Thursday March 06, 2003
By Marcelle Bienvenu
"There are lots of smiley faces on crawfish farmers these days. This year the
crawfish industry is looking forward to one of the best seasons in quite a
while. 'And it's about time,' says one local farmer.
Two years ago crawfish were so scarce that the people in Breaux Bridge feared
they wouldn't have enough to go around at their annual Crawfish Festival,
held every first full weekend in May. Last year there were crawfish, but not
nearly enough to satisfy the market. Thus, the price was sky high.
'But this year should be a good season for both pond crawfish and Atchafalaya
Basin crawfish,' says Darrel Rivere, chairman of the Louisiana Seafood Pro-
motion Board.
According to Rivere, who was a crawfisherman for 23 years in Pierre Part, the
ponds have been a little sluggish but are getting better. "And what with all the
snow in the Ohio Valley, we should be getting a good amount of water in the
Basin in the next two weeks. In January, the Mississippi River was very low,
but now the waters are rising, a good sign for deep-water crawfish. When you
have lots of water, then you can have a grand season for both pond and deep-
water crawfish," Rivere said. Prices are holding pretty steady, he said, and will
probably drop when the season peaks.
I did some checking around St. Martinville and found peeled tails selling for
$8.99 a pound and a 12-ounce bag priced at $6.88. Live crawfish are a little
scarce, but after Mardi Gras and when the bad weather is behind us, they
should be abundant.
During Lent, the 40-day fasting and abstinence season for the Catholic com-
munity, crawfish will be in high demand. When Holy Week (the week before
Easter Sunday) arrives, prices may go up only because so many families tradi-
tionally have a crawfish boil on Good Friday. It's that old supply and demand
thing.
There once was a time when crawfish season ran from March to July, but now consumers begin looking for crawfish in November. 'Hopefully the season will
last until July,' Rivere said of this year.
With this glowing report, I look forward to a crawfish-eating marathon! In
January I had my first batch of boiled crawfish, prepared by Victor Huckaby,
owner of Victor's Cafeteria in New Iberia. Victor prepared them at his duck
camp near Gueydon, where several of us gathered for the final goose hunt
of the season. It was a chilly night, but we huddled under the shelter in
back of the camp, drank a few beers and watched Victor do his magic.
There were five of us at the table and we easily did in the 40 pounds of crawfish,
but you can usually figure about five pounds of boiled crawfish per person.
Victor's Boiled Crawfish
Serves 8
8 gallons water
14 ounces liquid crab boil
2 cups cayenne pepper
12 lemons, halved
12 medium-size red potatoes
12 medium-size yellow onions
40 pounds live crawfish, washed
down and drained
Seasoning blend, such as Tony Chachere's
Original Creole Seasoning
Salt
Combine the water, six ounces of the liquid boil, 1 cup of the cayenne,
half of the lemons, all of the potatoes and half of the onions in a large
boiling pot. Bring to a boil and cook until the potatoes and onions are
tender. Remove them and set aside.
Add the remaining cup of cayenne and the remaining lemons. Quarter
the remaining onions and add to the pot. Bring to a boil. Add the craw-
fish, cover, and at the first sign of steam rising from the pot, time the
cooking for three minutes, then remove from the heat. Drain. Layer
the crawfish with generous amounts of salt and seasoning blend in an
ice chest. Shake the ice chest to disperse the seasonings evenly. Let sit
for 5 to 10 minutes. DO NOT CLOSE THE LID OF THE ICE CHEST
AS THE CRAWFISH WILL CONTINUE TO COOK. Serve with the
reserved potatoes and onions, and lots of cold beer.

"A couple of mornings ago, I found myself having a 'big girl' breakfast
(two eggs over easy, buttered grits, toast and bacon) at Victor's. He joined
me and told me about his crawfish stuffed bell peppers."
Victor's Crawfish-Stuffed Bell Peppers
Makes 10
10 medium-size green bell peppers
1 1/2 pounds small shrimp, peeled and deveined
1 stick butter or margarine
1 cup chopped onions
1 cup chopped celery
1 cup chopped green bell peppers
1/4 cup chopped red bell peppers
1 1/2 pounds peeled crawfish tails
2 teaspoons cornstarch dissolved in
1/2 cup reserved stock
Creole seasoning mix, to taste
1/4 teaspoon sweet paprika
2 cups (about) cooked long-grain white rice
1 tablespoon chopped fresh parsley
1 tablespoon chopped green onion tops
Dried fine bread crumbs
Cut about one-half inch off the stem end of the peppers. Blanch them
in boiling, salted water until slightly soft, one to two minutes.
Remove from the heat, drain and set aside to cool. Boil the shrimp in
one quart of boiling, salted water until they turn pink, about one minute.
Strain and reserve the stock.
Puree the shrimp in a food processor and return to the stock. Set aside.
Heat the butter in a large, heavy pot over medium heat. Add the onions,
celery, green bell peppers and red bell peppers. Cook, stirring, until they
are soft and lightly golden, six to seven minutes. Add the crawfish and
cook, stirring occasionally, for about three minutes. Add the cornstarch
mixture and stir until the mixture thickens slightly. (You can add another teaspoon of cornstarch if you want a thicker mixture.) Add the paprika
and season to taste with the Creole seasoning mix.
Remove from the heat and mix with the rice. Add more of the of the re-
served shrimp stock to make a moist dressing. Add the parsley and green
onion tops.
Stuff the bell peppers with the mixture and sprinkle the tops with a few
bread crumbs, and more paprika if you wish. The peppers can be heated
in a large baking pan in an oven that has been preheated to 350 degrees
for about 15 minutes. Serve warm.

"And here is my sister-in-law's prize-winning
recipe for crawfish cornbread."
Crawfish Cornbread
Makes 8 to 10 servings
2 large eggs
1 teaspoon salt
1 teaspoon baking soda
1 cup chopped yellow onions
1/2 cup vegetable oil
1 cup yellow cornmeal
1 cup shredded mild cheddar cheese
1/4 cup chopped pickled jalapeños
1 cup cream-style corn
1 pound peeled crawfish tails, coarsely chopped
Preheat the oven to 375 degrees F. Lightly grease a baking pan. Combine
all the ingredients together in a large bowl. Pour into the prepared pan and
bake until lightly browned, about 30 minutes.
Remove from the oven and let sit for several minutes before cutting into
squares to serve.
©2003 NOLA.com. Used with permission.

Who's Your Mama, Are You Catholic,
and Can You Make a Roux? (Book 1):
A Cajun/Creole Family Album Cookbook

Featured Archive Recipes:
Crawfish Beignets with Spicy Tartar Sauce
Crawfish Boil (Emeril)
Crawfish Bread (Emeril)
Crawfish Enchiladas con Queso
(Paul Prudhomme)
Crawfish Étouffée (Emeril)
Crawfish Fettuccine (Lee Bailey)
Crawfish Maque Choux (Commander's Palace)
Crawfish Pie (Emeril)
Crawfish and Sausage Jambalaya(Emeril)
Creole Crawfish
Eggplant and Seafood au Gratin (Emeril)


Index - Seafood Recipe Archives
Do you know what it means
to miss New Orleans?
Daily Recipe Index
Recipe Archives Index
Recipe Search