Recipe of the Day Categories:
Recipe Home
Recipe Search
Appetizers
Beef
Beverage
Bread
Breakfast
Cake
Chocolate
Fruit
Main Dish
Pasta
Pies
Pork
Poultry
Salad
Seafood
Side Dish
Soup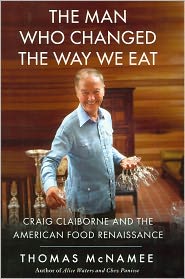 The Man Who
Changed the Way
We Eat: Craig Claiborne and the American Food Renaissance

Your patronage of our affiliate partners supports this web site.
We thank you! In other words, please shop at LBC Gift Galerie!
Craig Claiborne, in his New York apartment in 1990
(courtesy AP)
from the introduction to Southern Cooking:
"Nothing rekindles my spirits, gives comfort to my heart and mind,
more than a visit to Mississippi... and to be regaled as I often have
been, with a platter of fried chicken, field peas, collard greens, fresh
corn on the cob, sliced tomatoes with French dressing... and to top it
all off with a wedge of freshly baked pecan pie."
Craig Claiborne's Mother's
Chicken Spaghetti

Craig Claiborne's
Southern Cooking

by Craig Claiborne, 1987, Times Books/
2007 Univ. of Georgia Press

"This recipe has been printed on many occasions, for it, more than any other
dish, was my favorite as a child, and I still prepare it. I have no idea of the
origin of the dish, but find it notably akin to certain authentic Italian
sauces, notably a ragł bolognese made with ground meat in a tomato and
cream sauce. I believe it was strictly my mother's own creation, and she was
famous for it up and down the Mississippi Delta. One of the stipulations in
the original recipe is that the spaghetti, including all the ingredients, be
combined at least 4 hours before baking."

1 whole chicken (3 1/2 pounds)
Chicken broth to cover
3 cups canned Italian peeled tomatoes
7 tablespoons butter
3 tablespoons flour
1/2 cup heavy cream
1/8 teaspoon grated nutmeg
freshly ground black pepper
1/2 pound fresh mushrooms
2 cups chopped onions
1 1/2 cups chopped celery
1 1/2 cups chopped green and red bell peppers
1 tablespoon or more finely minced garlic
1/4 pound ground beef
1/4 pound ground pork
1 bay leaf
1 pound spaghettini
1/2 pound Cheddar, grated, and Parmesan Place chicken, with giblets, in kettle. Add chicken broth to cover and
salt to taste. Bring to boil and simmer until chicken is tender without
being dry, 35 to 45 minutes. Let cool. Remove chicken from broth
and take meat from bones. Shred meat, cover, and set aside. Return
skin and bones to kettle and cook broth down 30 minutes or longer.
There should be 4 to 6 cups broth. Strain and reserve broth. Discard
the skin and bones.
Meanwhile, put tomatoes in saucepan and cook down to half original volume, stirring. There should be 1 1/2 cups.
Melt 3 tablespoons butter in saucepan, add flour, stirring to blend
with wire whisk. When blended and smooth, add 1 cup of reserved
hot broth and the cream, stirring rapidly with the whisk. When thick-
ened and smooth, add nutmeg, salt and pepper to taste. Continue
cooking, stirring occasionally, about 10 minutes. Set aside.
If the mushrooms are small or button, leave them whole. Otherwise,
cut them in half or quarter them. Heat 1 tablespoon butter in small skillet
and add mushrooms. Cook, shaking the skillet occasionally, and stirring
mushrooms until golden brown. Set aside. Heat the remaining 3 table-
spoons butter in deep skillet and add onions. Cook, stirring, until wilted.
Add celery and bell peppers. Cook, stirring, about 5 minutes. Do not
overcook. Vegetables should remain crisp-tender. Add garlic, beef and
pork. Cook, stirring, breaking up the meat. Cook just until the meat
loses it red color. Add bay leaf. Add the tomatoes and the white sauce
made with chicken broth. Add the mushrooms.
Cook spaghettini in boiling salted water until just tender. Do not over-
cook. Remember that it will cook again when blended with chicken and
meat sauce. Drain spaghettini and run under cold running water. Spoon
enough of the meat sauce over the bottom of a 5- to 6-quart casserole
to cover it lightly. Add about 1/3 of the spaghettini. Add about 1/3 of
the shredded chicken, a layer of meat sauce, a layer of grated Cheddar
cheese and another layer of spaghettini. Continue making layers, ending
with a layer of spaghettini topped with a thin layer of meat sauce and
grated Cheddar cheese. Pour in up to 2 cups reserved chicken broth,
or enough to almost but not quite cover the top layer of spaghettini.
Cover and let casserole stand 4 hours or longer. If liquid is absorbed
as the dish stands, add a little more chicken broth. When the dish is
baked and served, sauce will be just a little soupy rather than thick
and clinging.
Preheat oven to 350 degrees F. Place casserole on top of stove and
bring it just to boiling. Cover and place it in the oven. Bake 15 min-
utes and uncover. Bake 15 minutes longer or until the casserole is
hot and bubbling throughout, and starting to brown on top. Serve
immediately with grated Parmesan on the side.


"…I have learned that nothing can equal the universal appeal
of the food of one's childhood and early youth."
~ Craig Claiborne

The latest edition (1990) of Craig Claiborne's renowned
New York Times Cookbook, published by HarperTrade:

The original 1961 edition of The New York Times Cook Book is
now out of print, but can be obtained from used book dealers.
More Craig Claiborne recipes!
Index - Main Dish Recipe Archives
Index - Pasta Recipe Archives
Daily Recipe Index
Recipe Archives Index
Recipe Search