Recipe of the Day Categories:
Recipe Search
Fruit

Leek Stalks
Photographic Print
Baxter, Steve
Buy at AllPosters.com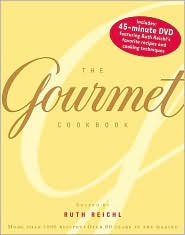 The Gourmet Cookbook: More
than 1000 recipes

Garlic
Photographic Print
Ardito, Peter
Buy at AllPosters.com


The Pantry
Neil Faulkner
Buy This at Allposters.com


Your patronage of our affiliate partners supports this web site.
We thank you! In other words, please shop at LBC Gift Galerie!

Lauch
Art Print
Meisen, Michael
Buy at AllPosters.com


Soupe à L'Oignon Gratinée
A Treasury of Great Recipes:
Famous Specialties of the World's Foremost
Restaurants Adapted for the American Kitchen

by Mary and Vincent Price, 1980, Grosset & Dunlap

3 tablespoons bacon drippings [or butter]
4 large onions, chopped
2 tablespoons flour
1/2 teaspoon salt
1/8 teaspoon pepper
1 cloves garlic, minced
A sprig of parsley
A pinch of thyme
1 quart good chicken or beef stock
1 cup dry white wine
1 tablespoon Cognac
One slice French bread, toasted, for each serving
Grated Gruyère [or other good Swiss] cheese
Grated Parmesan cheese

In a deep saucepan, heat the bacon drippings [or butter]. Sauté the onions
in the drippings. Cook over medium heat until onions are soft. Add the
flour, salt, pepper and minced garlic. Cook until mixture is golden brown
but not burned. Add parsley, thyme, chicken or beef stock, and wine,
and simmer for 3/4 hour. Add the Cognac.
Serve in individual ovenproof bowls with 1 slice toasted French bread in each. Top bread with grated cheese (Gruyère, Swiss, etc.) and top that
with grated Parmesan. Place in a very hot oven until cheese melts and
forms a brown crust.

(How many servings? It will vary according to the size of the soup bowls
you use. In our house, this makes 6 scrumptious servings.)

Belgian Leek Soup The 1913 Room
Gourmet Archives

1/2 pound bacon, cut into 1/2-inch pieces
White part of 6 leeks, halved lengthwise,
washed well, cut into julienne strips
2 tablespoons minced shallots
1/4 teaspoon freshly grated nutmeg
1 bay leaf
1 cup dry white wine
3 cups heavy cream
1/2 cup unsalted butter
1/2 cup flour
6 cups chicken stock
10 slices French bread, toasted
3/4 cup grated Gruyère

In a kettle cook the bacon over moderate heat, stirring, for 5 minutes,
or until crisp. Add the leeks, shallots, nutmeg, and bay leaf and cook
mixture, covered, over moderate heat, stirring occasionally, for 10
minutes or until leeks are tender. Add wine and cream, bring liquid
to a boil, and simmer soup 10 minutes.
In a saucepan melt butter, add flour and cook roux, stirring, 3 minutes. Remove pan from heat, stir in the stock, heated, and cook mixture until thickened. Add mixture to leek mixture, simmer the soup, stirring, for 20 minutes. Season with salt and pepper. Discard the bay leaf. Ladle into
10 flameproof bowls. Top with bread, top bread with Gruyère. Put the
bowls under preheated broiler about 3 inches from heat for 30 seconds
or until cheese is melted.

Cream of Leek and Mushroom Soup
La Belle Helene
Gourmet Archives

1 onion, chopped
White part of 1 pound leeks,
washed well, chopped
3/4 cup unsalted butter
1 pound mushrooms, sliced
1 cup dry white wine
2 bay leaves
8 cups chicken stock
1/4 teaspoon salt, white pepper
2 cups heavy cream

In kettle cook onion and leeks in butter over moderate heat, stirring, 10 minutes or until softened. Add mushrooms, and cook mixture, stirring,
10 minutes. Add wine, bay leaves, stock, salt, pepper and simmer 30 minutes. Discard bay leaves.
In blender or food processor blend soup in batches until smooth and
return it to kettle. Add the cream, heat soup over moderately low heat
until it is hot. Correct seasoning. Makes 12 cups.

Old Salzburg Garlic Soup
Hotel Schloss Fuschl
Gourmet Archives

1 1/2 cups thinly sliced onion
1/2 cup chopped garlic
1/4 cup unsalted butter
1/2 cup flour
6 1/3 cups brown stock or
tinned beef broth
1 cup dry white wine
1/2 teaspoon salt
1/2 cup sour cream
Grated nutmeg, salt and pepper to taste
Croutons
Minced fresh parsley leaves

In a stainless steel or enameled kettle cook 1 1/2 cups thinly sliced onion
and 1/2 cup chopped garlic in 1/4 cup unsalted butter over moderate heat until vegetables are golden. Add 1/2 cup flour and cook mixture, stirring, 3 minutes. Add 6 1/3 cups brown stock or tinned beef broth, 1 cup dry white wine, and 1/2 teaspoon salt, bring liquid to a boil and simmer mixture 20 minutes. Strain the mixture through a sieve lined with rinsed and squeezed cheesecloth into another stainless steel or enameled kettle. Stir in 1/2 cup sour cream and freshly grated nutmeg, salt and pepper to taste. Ladle the soup into heated bowls and garnish it with croutons and minced fresh
parsley leaves. Serves 6.

Five Onion Soup
Riverfront Hotel, St. Louis
Bon Appetit
Archives
Bon Appetit - One Year Subscription
1/4 cup butter
3 shallots, (3 ounces), thinly sliced
1 yellow onion (5 ounces), thinly sliced
1 small red onion, thinly sliced
2 scallions, chopped
1 leek (white and pale green only), chopped
1 tablespoon minced garlic
1/8 teaspoon ground cloves
4 cups beef broth
2/3 cup dry Sherry
2 tablespoons butter, melted
1 teaspoon minced garlic
4 slices French bread
1/2 cup grated Parmesan
4 slices Swiss cheese
4 slices mozzarella

Melt 1/4 cup butter in heavy large Dutch oven over medium-high heat.
Add shallots, all onions and leek. Sauté until golden, about 15 minutes.
Add 1 tablespoon garlic and cloves. Sauté 1 minute. Stir in broth and
Sherry. Bring to boil. Reduce heat to medium-low, cover and simmer
30 minutes. (Can be prepared 1 day ahead. Cover and refrigerate. Bring
to simmer before continuing.)
Preheat broiler. Combine 2 tablespoons melted butter and 1 teaspoon garlic
in a small bowl. Place bread on baking sheet and brush with half of garlic butter. Broil bread until lightly toasted, about 2 minutes. Turn bread over
and brush with remaining garlic butter. Broil until lightly toasted, about 2 minutes. Sprinkle bread with Parmesan cheese.
Preheat oven to 500 degrees F. Ladle soup into bowls. Top each bowl
with 1 crouton. Place 1 slice of Swiss cheese and 1 slice of mozzarella
cheese atop each crouton. Bake until soup is hot and cheese melts,
about 10 minutes.

Roasted Onion Soup

Special thanks to my dear friend, Beth, of Recitopia!

1/4 cup fresh Parmesan cheese, grated
3 Spanish onions, cut in half lengthwise
and thinly sliced
1/4 cup brandy
1 tablespoon fresh thyme, chopped
1/4 teaspoon freshly ground black pepper
1 garlic head, large, cloves separated,
peeled and cut in half
4 cups low-sodium chicken broth
2 teaspoons olive oil (preferably
extra-virgin olive oil)
1/4 teaspoon salt, or to taste
3 large shallots, cut in half lengthwise
and thinly sliced

Set oven rack at the lowest level; preheat to 450 degrees F.
Combine onions, shallots, garlic and oil in a large shallow roasting pan.
Roast for 20 to 25 minutes, stirring every 5 minutes, or until the onions
are golden.
Remove from oven and pour in one-fourth of the chicken stock. Stir
liquid in the pan, scraping the bottom to loosen and dissolve any cara-
melized bits. (The liquid will become quite dark.)
Transfer the onion mixture to a soup pot and add brandy, thyme and
the remaining chicken stock. Bring to a boil; reduce heat to low and
simmer, covered, for 30 minutes. Season with salt and pepper.
Top each individual bowl with Parmesan cheese and serve immediately.
Yield: approx 4 servings


Featured Archive Recipes:
Caramelized Onion Soup
Garlic Soup (Bayona, New Orleans)
Roasted Garlic and Brie Soup
Sweet Onion Soup with Fried
Cheese Tortellini (Emeril)


Soulful, Soothing Soup
Index - Soup Recipe Archives
Basic Stock Recipes
Index - Food Features
Daily Recipe Index
Recipe Archives Index
Recipe Search