Recipe of the Day Categories:
Recipe Home
Recipe Search
Fruit

Trattoria Do Forni, Venice
Art Print
Maloratsky, Igor
Buy at AllPosters.com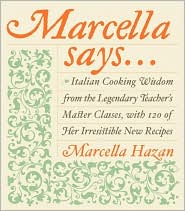 Marcella Says...:
Italian Cooking
Wisdom from the Legendary Teacher's Master Classes, with More Than 100 of Her Irresistible New Recipes

Pasta Still Life
with Tomato Sauce
Photographic Print
Buy at AllPosters.com


Your patronage of our affiliate partners supports this web site.
We thank you! In other words, please shop at LBC Gift Galerie!

Various Types of Pasta
Photographic Print
Iden, Karin
Buy at AllPosters.com


Pasta e Fagioli – Pasta and Bean Soup




Essentials of
Classic Italian Cooking

by Marcella Hazan, 1992,
Borzoi/Alfred A. Knopf
"The classic bean variety for pasta e fagioli is the cranberry or Scotch bean,
brightly marbled in white and pink or even deep red hues. When cooked, its
flavor is unlike that of any other bean, subtly recalling that of chestnuts.
In the spring and summer it is available fresh in its pod and many specialty
or ethnic vegetable markets carry it. When very fresh, the pods are firm and
brilliantly colored, but even if they are wilted and discolored, the beans inside
are likely to be perfectly sound. You can open one or two pods just to be sure.
Cranberry beans can be frozen with great success and are better than the dried
kind. If your market carries fresh cranberry beans in season, you could buy a
substantial quantity, and freeze the shelled beans in tightly sealed plastic
freezer bags. They can be cooked exactly like the fresh. When fresh cranberry
beans are not available, the dried are a wholly satisfactory substitute and, if
necessary, one may even use the canned. If you can't find cranberry beans
in any form, you can substitute dried kidney beans."
For 6 servings
1/4 cup extra-virgin olive oil
2 tablespoons chopped onion
3 tablespoons chopped carrot
3 tablespoons chopped celery
3 or 4 pork ribs, OR
a ham bone with some lean meat attached,
OR 2 little pork chops
2/3 cup canned imported Italian plum tomatoes,
cut up, with their juice, OR
fresh tomatoes, if ripe and firm, peeled and cut up
2 pound fresh cranberry beans, unshelled weight,
OR 1 cup dried cranberry or red kidney beans,
soaked and cooked as described below *
OR 3 cups canned cranberry or red kidney
beans, drained
3 cups (or more if needed) [beef stock]
OR 1 cup canned beef broth diluted
with 2 cups water
Salt
Black pepper, ground fresh from the mill
Either maltagliati pasta, homemade
[instructions included in cookbook],
OR 1/2 pound small, tubular macaroni
1 tablespoon butter
2 tablespoons freshly grated
Parmigiano-Reggiano cheese
* Put the beans in a bowl and add enough water to cover by at least 3 inches.
Put the bowl in some out-of-the-way corner of your kitchen and leave it
there overnight.
When the beans have finished soaking, drain them, rinse them in fresh cold
water, and put them in a pot that will accommodate the beans and enough
water to cover them by at least 3 inches. Put a lid on the pot and turn on
the heat to medium. When the water comes to a boil, adjust the heat so
that it simmers steadily, but gently. Cook the beans until tender, but not
mushy, about 45 minutes to 1 hour. Add salt only when the beans are al-
most completely tender so that their skin does not dry and crack while
cooking. Taste them periodically so you'll know when they are done.
Keep the beans in the liquid that you cooked them in until you are ready
to use them. If necessary, they can be prepared a day or two ahead of
time and stored, always in their liquid.
1. Put the olive oil and chopped onion in a soup pot and turn on the
heat to medium. Cook the onion, stirring it, until it becomes colored
a pale gold.
2. Add the carrot and celery, stir once or twice to coat them well, then
add the pork. Cook for about 10 minutes, turned the meat and the
vegetables over from time to time with a wooden spoon.
3. Add the cut-up tomatoes and their juice, adjust the heat so that the
juice simmer very gently, and cook for 10 minutes.
4. If using fresh beans: Shell them, rinse them in cold water, and put
them in the soup pot. Stir 2 or 3 times to coat them well, then add
the broth/stock. Cover the pot, adjust the heat so that the broth
bubbles at a steady, but gentle boil, and cook for 45 minutes to
1 hour, until the beans are fully tender.
If using cooked dried beans or canned: Extend the cooking time
for the tomatoes in Step 3 to 20 minutes. Add the drained cooked or
canned beans, stirring them thoroughly to coat them well. Cook for 5
minutes, then add the broth/stock, cover the pot, and bring the broth/
stock to a gentle boil.
5. Scoop up about 1/2 cup of the beans and mash them through a food
mill back into the pot. Add salt, a few grindings of black pepper, and
stir thoroughly.
6. Check the soup for density: It should be liquid enough to cook the
pasta in. If necessary, add more broth, or, if you are using diluted
canned broth, more water. When the soup has come to a steady,
moderate boil, add the pasta. If you are using homemade pasta,
taste for doneness after 1 minute. If you are using macaroni pasta,
it will take several minutes longer, but stop the cooking when the
pasta is tender, but still firm to the bite. Before turning off the heat,
swirl in 1 tablespoon of butter and the grated cheese.
7. Pour the soup into a large serving bowl or into individual plates, and
allow to settle for 10 minutes before serving. It tastes best when
eaten warm, rather than piping hot.
Variation with Rice
The same soup is delicious with rice. Substitute 1 cup of rice,
preferably Italian Arborio rice, for the pasta. Follow all other
steps as given above.
Ahead-of-time note: You can prepare the soup almost entirely in
advance but stop at the end of Step 5. Add and cook the pasta or
rice only when you are going to make the soup ready for serving.

Featured Archive Recipes:
Marcella's Tomato Sauce 101
Italian Tortellini Soup
Italian Wedding Soup
Lentil and Italian Sausage Soup
Minestrone with Sweet Sausage and Tortellini
Tuscan Ribollita (Union Square Cafe)

Index - Soup Recipe Archives
Basic Stock Recipes
Daily Recipe Index
Recipe Archives Index
Recipe Search