New Orleans Blues
Giclee Print
Millsap, Diane
Buy at AllPosters.com

La Belle Cuisine - More Pork Recipes
Fine Cuisine with Art Infusion
"To cook is to create. And to create well...
is an act of integrity, and faith."
Emeril's Mixed Grill with
Warm Potato and Chorizo Salad

"To retain respect for sausages and laws,
one must not watch them in the making."

~ Otto von Bismarck
---
Recipe of the Day Categories:
Recipe Home
Recipe Search
Appetizers
Beef
Beverage
Bread
Breakfast
Cake
Chocolate
Fruit
Main Dish
Pasta
Pies
Pork
Poultry
Salad
Seafood
Side Dish
Soup

Have a heart for
the Gulf Coast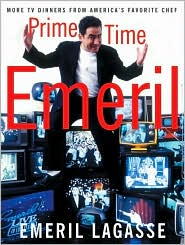 Prime Time Emeril: More TV Dinners
from America's
Favorite Chef

Your patronage of our affiliate partners supports this web site.
We thank you! In other words, please shop at LBC Gift Galerie!

Grill It!
Art Print
Dipaolo, Dan
Buy at AllPosters.com



Mixed Grill with Warm Potato
and Chorizo Salad



Emeril's TV Dinners
Kickin' It Up a Notch with
Recipes from Emeril Live
and Essence of Emeril
Emeril Lagasse with Marcelle Bienvenu and Felicia Willett
1998, William Morrow and Company, Inc.

"A meal of sausage is a meal made in heaven as far as I'm concerned. You
don't have to use the particular ones we have here. Go scout out a meat
market or super-duper supermarket and see what it has to offer. I recom-
mend using 'fresh' pork sausages rather than smoked ones for this treat-
ment, since they will take on an intense flavor while they are grilled. Just
remember that it's best to blanch or poach the sausages for a few minutes
in simmering water before putting them on the grill."

Makes 6 servings

2 pounds new potatoes, quartered
Salt
2 1/2 pounds assorted sausages, such as
fresh pork, venison, bratwurst, Italian,
andouille, or kielbasa, cut into
2-inch links
5 tablespoons olive oil
1/4 pound chorizo sausage, finely chopped
2 cups chopped yellow onions
Freshly ground black pepper to taste
2 tablespoons chopped garlic
2 tablespoons Creole or
whole-grain mustard
2 tablespoons finely chopped
fresh parsley leaves

Prepare the grill.
Put the potatoes in a large saucepan and add enough water to cover.
Season with salt and bring to a boil over medium-high heat. Reduce
the heat to medium and cook until the potatoes are fork tender, about
12 minutes. Remove from the heat, drain, then return the potatoes to
the pot. Set aside and keep warm.
Bring a large pot of salted water to a boil. Add the sausages (except for
the kielbasa and chorizo) and cook until they are plump, 3 to 5 minutes. Drain and place on a baking sheet. Brush the sausages, including the
kielbasa, with 4 tablespoons of the olive oil. Place the sausages on the
grill and cook for 3 to 4 minutes on each side.
Heat the remaining 1 tablespoon of the olive oil in a large sauté pan over medium heat. Add the chopped chorizo and cook, stirring, for 3 minutes. Add the onions. Season with salt and pepper, and cook, stirring, for 3 minutes. Stir in the garlic and mustard. Add the potatoes and cook until
the potatoes are heated through, about 3 minutes. Season with salt and pepper. Stir in the parsley.
To serve, mound the potato salad in the center of the platter. Arrange
the grilled sausages around the potato salad. Serve with crusty bread
and a side of Creole mustard.


Featured Archive Recipes:
MORE from Emeril's TV Dinners!
Emeril's Grilled Beef, Andouille Sausage and
Blue Cheese Roulades with Smothered Potatoes
Emeril's Louisiana Oyster and
Sausage Bake
Grilled Bratwurst


Index - Pork Recipe Archives
Summer Holiday Recipe Index
Do you know what it means
to miss New Orleans?
Daily Recipe Index
Recipe Archives Index
Recipe Search