Recipe of the Day Categories:
Recipe Home
Recipe index
Recipe Search
Appetizers
Beef
Beverage
Bread
Breakfast
Cake
Chocolate
Fruit
Main Dish
Pasta
Pies
Pork
Poultry
Salad
Seafood
Side Dish
Soup

Do you crave Dark Chocolate? Find it at Chocolate.com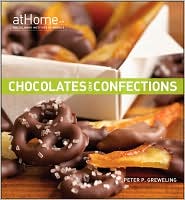 Chocolates and Confections at Home
with The Culinary
Institute of America

Your patronage of our affiliate partners supports this web site.
We thank you! In other words, please shop at LBC Gift Galerie!

Our Passion for Chocolate
Art Print
Arnold, Kerstin
Buy at AllPosters.com


Chocolate Marquise



In the Sweet Kitchen:
The Definitive Baker's Companion

(Winner of the IACP 2001
Cookbook of the Year Award)
by Regan Daley, 2001, Random House

"More like a cross between a dense mousse, a flourless chocolate cake and
a baked pudding, this is, as my mother so eloquently put it, 'a pure, direct,
intense and ethereal CHOCOLATE experience!'
I like to use a combination of bittersweet and semisweet chocolate for a
more complex and balanced flavour, but you can use one type alone, if
you prefer. Caster [superfine] sugar is used because it dissolves very
quickly in the mixture, leaving no doubt that the marquise will
be luxuriously smooth."
Serves 10 to 12
9 ounces excellent-quality semisweet or
bittersweet chocolate, or a combination
of the two, chopped
3/4 cup unsalted butter, in small pieces
1/4 cup strong black coffee, or 1 heaping
tablespoon espresso powder dissolved
in 3 tablespoons boiling water
1 cup less 2 tablespoons superfine sugar,
sifted
4 large eggs, lightly beaten
1/2 teaspoon pure vanilla extract
2 tablespoons Crème de Cacao, or
liqueur of your choice
Garnish:
3/4 cup very cold heavy cream (36%)
2 tablespoons superfine sugar
Candied violets or rose petals, optional
1. Preheat the oven to 350 degrees F. Line a 4 1/2- x 8 1/2-inch loaf pan with
a double thickness of aluminum foil: first fold the foil to fit the pan's width, leaving a few inches overhang on each side, then fold it to fit the length,
again leaving an overhang. The overhang will help unmould the marquise
when it comes time to serve it. Press the foil into the corners of the pan,
creating as smooth an interior as possible. Set aside.
2. In a stainless steel or glass bowl set over a pot of barely simmering water, combine the chopped chocolate, butter and coffee. Melt, stirring frequently, until the ingredients are smooth and blended. Remove the bowl from the
pot and wipe the bottom with a clean dry cloth to prevent even a drip of
moisture from settling in the chocolate. Immediately add the sugar and stir
to dissolve. Let the mixture cool slightly.
3. Add the eggs and beat with a wooden spoon until thoroughly blended.
The aim is to completely incorporate all the ingredients, but not to beat
in too much air, so use rapid horizontal strokes, as opposed to round
vertical strokes (think of blending a gravy, rather than whipping egg
whites). Beat in the vanilla and Crème de Cacao, then pour the batter
into the prepared pan.
4. Rap the filled pan on the counter 4 or 5 times to remove any air bubbles. Place the pan in a larger baking pan and add enough hot water to come
halfway up the sides of the loaf pan to create a bain marie. Carefully set
the pans in the centre of the preheated oven and bake for 1 hour and 10 minutes, or until a firm crust forms on the top. Cool the marquise on a
rack until room temperature, then chill until ready to serve, at least 4
hours, or preferably overnight. (The marquise can be made up to two
days ahead.)
5. To serve, invert the chilled marquise onto a serving platter and carefully
peel off the strips of foil. Whip the cream with the superfine sugar until
stiff peaks form, then spoon the cream into a pastry bag fitted with a star
or other decorative tip. Pipe a border around the base of the marquise,
and pipe decorative rosettes or coils down the centre of the terrine, one
each 3/4 inch or so. Place a candied violet between each rosette and serve
immediately. I find using a very thin-bladed knife dipped in hot water and wiped quickly with a dry cloth the best way to slice the marquise. Serve
slices of about 3/4 of an inch – the taste and texture are so intense, so
rich, a little can be savoured a long way!

Variations
Chocolate-Orange Marquise:
Substitute Grand Marnier or other orange-flavoured liqueur for the
Crème de Cacao and garnish with small strips of candied orange zest.
Chocolate-Coffee Marquise:
Substitute Kahlúa of other coffee-flavoured liqueur for the Crème
de Cacao and garnish with chocolate-covered espresso beans.
Chocolate-Almond Marquise:
Substitute Amaretto for the Crème de Cacao and garnish with lightly
toasted, coarsely chopped almonds and dark chocolate-covered almonds.
Chocolate-Raspberry Marquise:
Substitute Framboise or other raspberry eau-de-vie for the Crème
de Cacao and garnish with fresh raspberries.

Featured Archive Recipes:
More from 'In the Sweet Kitchen'
Black Chocolate Espresso Cake
with Bittersweet Glaze
Chocolate Voodoo Cake
Deep Chocolate Pudding (or, This
Ain't No Instant Pudding)


Index - Chocolate Recipe Archives
Index - Miscellaneous Desserts
Daily Recipe Index
Recipe Archives Index
Recipe Search