Recipe of the Day Categories:
Recipe Index
Recipe Search
Fruit

Coeur Amore
Roberta Ricchini
Buy This at Allposters.com


Italia
Masterprint
Buy at AllPosters.com

Flower Pots at Door, Assisi,
Umbria, Italy
Marilyn Parver
Buy This at Allposters.com


Delicatessen Shop, Norcia,
Umbria, Italy
Vincenzo ...
Buy This at Allposters.com


Tuscany Food and Wine,
Florence, Italy
Frank Chmura
Buy This at Allposters.com


Aphrodite: A Memoir
of the Senses

Your patronage of our affiliate partners supports this web site.
We thank you! In other words, please shop at LBC Gift Galerie!

Italy, Umbria, Perugia District, Autumnal Vineyards Near Montefalco
Francesco ...
Buy This at Allposters.com


Honeymoon:
The Romance of Umbria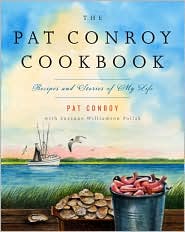 The Pat Conroy Cookbook:
Recipes and Stories of My Life

Copyright © Pat Conroy 2004
with Suzanne Williamson Pollak
(Nan A. Talese/Doubleday/Random House)
"You go to Tuscany because you must;
you go to Umbria because you can...
Umbria is Italy turned inward,
its prayer to itself."
~ Pat Conroy
" 'Tell about Italy,' my wife says, her voice sugared with her deep Alabama
accent. 'Tell me what you loved the most.'
I tell her two stories: In the house I once rented on the Via del Foraggi in
Rome, my landlord stood beneath a painting of St. Sebastian.
I asked the man, 'This house I'm renting, is it very old?'
'No, no, no, no,' he said quickly. 'You Americans love the old things, but
this house is not even five hundred years.'
Stunned, I said, 'It was built before Columbus set sail.'
'Yes,' my landlord said. 'But you don't understand. In Rome, she is a baby.'
That is how Italy taught me about time.
Then I tell my wife of the morning I left Rome to return to the South to help
my mother fight the cancer than would soon kill her. I walked to the small
piazza where my family did its shopping to say goodbye. My infant daughter,
Susannah, was radiant in her stroller, and everyone in the piazza knew 'la
famiglia americana' was leaving their city forever. When I rolled Susannah
to the center of the piazza, all the shopkeepers boiled out onto the cobblestones.
One woman scooped Susannah into her arms and cried out, 'You cannot take
Susannah 'tutta panna' from us. She was born here. She is a 'romanina.' She
belongs to Rome!'
The woman passed the baby back and forth, smothering her with tearful kisses. Adele, the vegetable lady, in a mournful, ancient voice, said through tears, 'We
did not do our jobs. We did not love your family enough. If we had done our
jobs better, you could never leave us. You would be Romans forever.'
Then the wine man handed me a bottle of Frascati for the journey, and the
cheese lady cut off an enormous wedge of Parmigiano-Reggiano. Sausages
and loaves of bread, 'pizza bianca', fragrant mozzarella, bunches of grapes
and olives: every shopkeeper in that piazza came forward bearing gifts,
generous as the Magi.
I always compare this completely unexpected scene with the time I was moving
to Rome and shopped in Atlanta's Kroger for the last time. For ten years I had shopped there and nowhere else in my hometown. I did not know the name of
a single sourpuss employee in that store, and not one knew mine.
That is how Italy taught me about being alive.
After I told my wife these two stories, she said. 'A honeymoon in Italy. It has
a ring to it, Southern boy...'
Fava Beans and Pecorino
Serves 4
2 pounds fresh unshelled fava beans (as young as possible)
Olive oil
Juice of 1 lemon (or 1 Roasted Lemon, recipe follows)
Coarse or kosher salt and freshly ground black pepper
8 ounces Pecorino, cut into small pieces
(approximately the size of the favas)
1. Shell the beans; you should have about 2 cups. Blanch the beans in a
pot of boiling water to loosen their skins, about 1 minute. Drain in a
colander. The beans should slip right out of their skins.
2. Transfer the beans to a mixing bowl and drizzle with a little olive oil.
Add the lemon juice and toss with salt and pepper to taste. Fold the
Pecorino cheese into the fava beans and serve.
Roasted Lemons
Preheat the oven to 425 degrees F. Cut the lemons (allow 1/2 to 1 per
serving) in half and brush with olive oil. Roast, cut side up, until the sur-
face is caramelized and the lemon is softened, 45 to50 minutes. Squeeze
the warm juice from the roasted lemons over [the food of your choice].
Pork and Rosemary Ragu
"My passion for all things Italian began with my two Italian roommates my sophomore year at The Citadel, Bo Marks and Mike Devito. The name Marks
inspires no special vision of Italy, but Bo's immigrant grandparents carried the surname Miercovincici "'mark of the winemakers') to the gatekeepers on Ellis Island. They entered into Manhattan with the Americanized moniker Marks.
Mike Devito considered that this capitulation to the authorities brought great
shame to Bo's family, who should have insisted on the right to keep their Italian name. Through them I would find myself immersed in the lives of two Italian-American families. Bo-Pig and Mike-Swine had learned that none of the other freshmen in "R" company wanted to room with me, so they came to my room
after exams to invite me to room with them our sophomore year. They embraced
me and called me 'paisan.' I had no idea what a paisan was, but I knew I wanted
to be one. Of course, Mike-Swine and Bo-Pig were the models for Mark Santoro
and Pig Pignetti in my novel 'The Lords of Discipline.'
From the first week of school until the last, Bo-Pig received packages of Italian
food from his girlfriend and her family. The ethereal Phyllis Parise came from a family that still remained true to the Old World and the old ways, and their gifts
of food were prodigal. In my childhood, my mother had served up Velveeta and whatever cheese came with the frozen macaroni, and, of course, the cheese of
cottage. I was ill-prepared for the arrival of Gorgonzola, five or six varieties of
goat cheese (I didn't know there was such a thing as goat cheese; hell, I didn't
know there was such a thing as goat's milk), provolone, and the divine
Parmigiano-Reggiano. There was an inexhaustible supply of hard sausages
and pepperonis, cans of tuna drenched in olive oil, anchovies, and packages
of Parodi cigars. What amazed me was that these gift packages were meant for
'the room,' all of us, and not just Bo-Pig. In the first month, I received a letter
from Phyllis thanking me for taking such good care of her fiancé. During the
second month, Phyllis's mother wrote me a letter thanking me for the same
thing. Before Christmas, Phyllis's father wrote me a letter promising to teach
me how to make pizza if I ever got up to his pizza shop in Greensburg,
Pennsylvania. I had a soft spot for the whole Parise family long before I ever
met them."
Makes 8 cups, enough for 2 to 3 pounds pasta
2 tablespoons olive oil
8 large garlic cloves, roughly chopped
8 sprigs fresh rosemary
One 3 1/2- to 4-pound pork bone-in rib roast,
ribs removed and tied onto a roast
1 red onion, roughly chopped (about 2 cups)
One 35-ounce can whole tomatoes,
preferably San Marzano
2 pounds pasta (preferably pappardelle), cooked
Freshly grated Parmigiano-Reggiano
1. In a large skillet over moderate heat, warm the olive oil. Add the garlic
and rosemary and sauté until the rosemary needles sizzle and turn crisp
and the garlic is golden, 2 to 3 minutes. Remove and reserve.
2. In the same pan, sear the pork in the hot flavored oil, turning it occa- sionally, until all sides are nicely browned. 5 to 7 minutes. Transfer
to a large stockpot and set aside.
3. Add the onion to the flavored oil and cook, stirring occasionally, until browned (adding more oil sparingly if the pan is too dry), about 3
minutes. Crush the tomatoes with your hands and add, with their
juice, stirring to scrape up any browned bits of pork stuck to the
bottom of the pan. Transfer the tomato mixture to the stockpot and
bring to a low boil over medium heat. Cover the pot, lower the heat,
and simmer until the pork is tender enough to shred (when scraped
with a fork), about 2 hours.
4. Cool the pork in the tomato sauce. (The cooled pork roast and sauce
can be transferred to a storage container and refrigerated overnight.
Wrap and store the garlic and rosemary separately.)
5. Remove the pork from the tomato sauce and reserve. In a food
processor fitted with a metal blade, process half the tomato sauce
with the fried garlic cloves and rosemary needles (discarding stalks)
until somewhat smooth. Stir the puréed sauce back into the pot with
the rest of the tomato sauce. The goal is a sauce with a rough,
chunky character.
6. Shred the pork and strip the meat from the bones. Discard the bones.
Chop the meat finely by hand, not in a food processor, and stir it into
the tomato sauce. Heat and serve over pasta, passing the cheese on
the side.
Wild Mushroom Sauce
"During Easter holiday of my sophomore year at The Citadel, I traveled to Greensburg, Pennsylvania to visit Bo-Pig's family. They lived in a suite atop
the Hotel Greensburg, but we would spend most of our time in Greensburg at
the home of the Parise family, where Bo's charming fiancée, Phyllis, resided.
When I walked into the Parise house, my induction as a full-fledged member of
the Italian household had taken place without my knowledge. Phyllis hugged
me and kissed me on both cheeks, as did her mother, father, and grandparents.
The family led us into the dining room, where a huge celebratory meal was in progress. What I came to love when I lived in Rome, I came to love in the
Parise household that Easter week – a freewheeling, rollicking love of family
and friends and a great simplicity, yet complete integrity, when it came to the preparation and eating of food. The table glistened with bowls of olives and
pickles, and an array of cheeses was lined up on the sideboard.
The grandfather eyed me with a discriminating and unnerving discernment
e before pronouncing, 'Irlandese.'
'Si, Irlandese,' Phyllis said. 'Irish.'
The grandfather handed me a bowl of olives and said, 'Mangia, Irlandese.' I
ate the olive, but the pit surprised me, and after I ate around it, I didn't know
what to do with it. I sat immobilized with every eye in the room observing me.
The grandfather lifted a relish plate to my lips and I deposited the pit on the
plate to cheers. The grandfather said. 'Buono.'
Phyllis nodded, and I said, 'Buono.'
He cut me a piece of cheese and said, 'Mangia.'
I ate the cheese and said, 'Buono.'
He said, 'E Italiano. Provolone.'
When the pasta dish arrived at the table, the grandfather said to me, 'Pappardelle. No spaghetti. Pappardelle,' opening up the mysteries and the shapes that Italian pasta could assume, all of them glorious.
The whole week was like that, the grandfather leading me on an idyllic voyage through the pronunciation and devouring of splendid food. In the afternoon,
Bo and Phyllis would slip away to be alone, and I would go over to her parents'
mom-and-pop pizza shop. Mr. Parise put me into an apron and taught me how
to make pizza dough. 'It's easy. You just do it,' he explained.
By the end of the day, they were selling the pizzas I was making from scratch,
which pleased me enormously. The Parises brought me out and introduced me
to the woman who had purchased me first pizza. In my exuberance, I kissed her
hand, thinking it was the Italian way. The woman was Irish, and she looked at
me like I was nuts."
Makes 6 cups, enough for 2 to 3 pounds pasta
3 ounces dried wild mushrooms (look for an Italian mix,
heavy on the porcini and easy on Asian mushrooms like
shiitakes, or use just porcini)
4 cups boiling water
1/2 cup dry vermouth
3 tablespoons olive oil
1 pound cremini mushrooms, cleaned,
stemmed, and thinly sliced
1 teaspoon coarse or kosher salt
1/2 teaspoon freshly ground black pepper
1 heaping tablespoon chopped fresh rosemary
1 garlic clove, finely minced
One 24-ounce can whole tomatoes, preferably San Marzano,
broken up into small pieces, with their juice
Pinch of sugar
2 pounds pasta (preferably pappardelle), cooked
1. Place the dried wild mushrooms in a bowl and cover with the boiling
water. Let soak until softened, at least 30 minutes. Remove the mush-
rooms with a slotted spoon and strain liquid through a double thickness
of cheesecloth, reserving 1 1/2 cups. Mix the reserved liquid with the vermouth.
2. In a small saucepan over moderate heat, bring the liquid to a boil,
then reduce the heat and simmer until reduced by half. Finely chop
the softened mushrooms and set aside. (This can be done in the food
processor, but do not pulverize them.)
3. In a medium stockpot over moderately high heat, heat the olive oil
until hot but not smoking. (A drop of water should sizzle immediately
upon contact when dropped in the oil.) Add the cremini mushrooms
and cook until golden brown, stirring occasionally, 5 to 7 minutes.
Lower the heat, sprinkle with salt, pepper, rosemary, and garlic;
cook for another 2 minutes, stirring frequently.
4. Add the chopped dried mushrooms and the mushroom broth, stirring
as the liquids simmer to scrape up any browned bits from the bottom
of the pot. Cook until slightly reduced, stirring frequently, about 2
minutes. Stir in the tomatoes with their juice, add the sugar, and
simmer over low heat until thickened, about 25 minutes.
Serve with the pasta.
Quick Pappardelle with Black Truffle Sauce
1 pound pappardelle
8 tablespoons (1 stick) unsalted butter
1 cup (4 ounces) mascarpone
1 medium fresh black truffle
1 cup freshly grated Parmigiano-Reggiano,
plus additional
1. Cook pappardelle according to package directions in abundantly
salted water.
2. Melt the butter and mascarpone together in a medium skillet over low
heat. Shave the truffle into the butter mixture, giving it a minute to
perfume the sauce, and sprinkle in the Parmigiano-Reggiano, gently
shaking the pan to incorporate.
3. Drain the pasta and add to the skillet, stirring gently to coat the
noodles. Transfer to a warm plate and sprinkle with additional
Parmigiano-Reggiano.
Sugared Blood Oranges
Slice the blood oranges as thinly as possible and spread out on a platter.
Sprinkle them with raw, or turbinado, sugar and let them sit at room
temperature until the sugar dissolves. Serve with biscotti and gelato.
The skin on real Italian blood oranges is typically very fragile and there-
fore difficult to peel without damaging the fruit. Leaving the skin on the orange makes it easier to pick up the slices with your fingers or a fork.

What, pray tell, turns you on?

Aphrodisiacs? You decide:
Almonds
Artichokes
Arugula
Asparagus
Avocado
Bananas
Basil
Carrots
Champagne
Chocolate
Coriander (cilantro seed)
Figs
Garlic
Ginger
Mustard
Nutmeg
Oysters
Pineapple
Strawberries
Truffles
Vanilla
And while we're at it, how about:
Cremini Mushroom Pasta with Wilted Arugula,
Goat Cheese, and Extra-Virgin Olive Oil
Farfalle with Asparagus, Roasted Shallots
and Blue Cheese
Pappardelle in Lemon Cream Sauce with
Asparagus and Smoked Salmon
Pasta Czarina (with salmon, vodka and caviar)
Pasta with Smoked Salmon and Lemon Crème Fraîche
Salmon and Asparagus Fettuccine

~*~*~*~*~*~*~*~*~*~*~*~
Be well, stay safe, enjoy yourselves. I wish for you, most of all, love.
And the ability to express and receive love. Makes the world go 'round,
does it not? Live with passion! Give a hoot!


"My own heart has been shaped like a boot since I lived in the city of
Rome for three years... If you cannot find happiness in Italy, then I
do not think you can find it in Eden."


~ Pat Conroy

"It seems to me that our three basic needs, for food and security and love,
are so mixed and mingled and entwined that we cannot straightly think
of one without the others. So it happens that when I write of hunger, I
am really writing about love and the hunger for it, and warmth and the
love of it and the hunger for it… and then the warmth and richness and
fine reality of hunger satisfied… and it is all one."
~ M.F.K. Fisher, The Art of Eating
Index - The Spice Cabinet
Valentine's Day Recipes
Index - Food Features
Daily Recipe Index
Recipe Archives Index
Recipe Search