Recipe of the Day Categories:
Recipe Home
Recipe Search
Appetizers
Beef
Beverage
Bread
Breakfast
Cake
Chocolate
Fruit
Main Dish
Pasta
Pies
Pork
Poultry
Salad
Seafood
Side Dish
Soup

Jazz in the Big Easy
Giclee Print
Millsap, Diane
Buy at AllPosters.com


New Orleans St Charles Streetcar
Giclee Print
Millsap, Diane
Buy at AllPosters.com


Outside Pat O'Briens Bar
Giclee Print
Millsap, Diane
Buy at AllPosters.com


Pirates Alley By Night
Giclee Print
Millsap, Diane
Buy at AllPosters.com


Your patronage of our affiliate partners supports this web site.
We thank you! In other words, please shop at LBC Gift Galerie!

Desire Oyster Bar on Bourbon Street
Giclee Print
Millsap, Diane
Buy at AllPosters.com


Tasty Traditions
Thanksgiving is the time to start
collecting those favorite family recipes
By Constance Snow
Thursday November 20, 2003
The Times-Picayune, New Orleans
"Whatever happened to Great Grandma's recipe file or the battered old cookbook full of her handwritten notes? How can such culinary treasures be preserved for generations to come? Who might help you recreate the lost favorites you remember from your childhood? And why don't they taste the same when you make them? You'll find some surprising answers, and plenty of old-fashioned comfort food, in
an intriguing new cookbook by kitchen sleuth Lari Robling, "Endangered
Recipes: Too Good to be Forgotten" (Stewart, Tabori & Chang, 2003).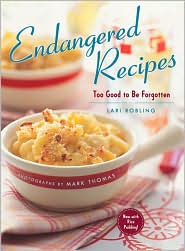 Endangered Recipes:
Too Good to Be Forgotten
Recipes become endangered, Robling explains, when no one bothers to show
a friend or family member how to make a particular dish, or the recipe card
gets lost, or the dish simply goes out of fashion."
'It happens to almost every family," she said. 'You sit down to a holiday meal
and realize that Grandma is the only one who knows all the secrets of her
biscuits or that special gravy. With each passing day, as the last generation
to truly cook from scratch grows older, we lose many recipes and cooking techniques."
It's not too late, however, and this is the ideal season to start a preservation
project of your own. Get the conversation started when the extended family
gathers for Thanksgiving. Talk about food memories. Find out who has what
recipe. Don't even attempt to get it all down on paper until later.
'If you're trying to learn the secrets to Aunt Whatever's chocolate fudge cake
while you're trying to get Thanksgiving dinner on the table, that's insanity,'
Robling said. 'I don't want people to be cursing my name.'
Instead of sending out the usual holiday form letters, she suggested, everyone
could collect a batch of recipes and enclose those in greeting cards for family
members. Or one person could start a culinary chain letter, with each recipient adding his own recipes before passing it on.
As for those prized treats from the great cooks who insist that they never
measure, follow her practical advice: Ask them to show you how to make the
dishes. If necessary, follow them around the kitchen with measuring cups,
measuring spoons and ruler.
'If they're the sort who are thrown by this, she said, 'you can always measure
all of the ingredients before they start to cook, let them do their thing, then
measure what's left . . . Make a note of how fast the boil is, the appearance
of the batter, or the feel of a dough. These little details often mean the dif-
ference between success and so-so . . . Too much information is better than
not enough.'
In her final chapter, "Passing Down the Plate: Collecting Your Own Family Recipes," Robling recounts the story of the family that always made an Easter
ham by cutting off the shank portion before roasting it. 'Finally someone asked
Mom why she did that and her response was 'because your grandmother did it.'
When Grandma was asked, her answer was that her pan was too small to accom-modate the whole ham. Although they had a bigger pan, the succeeding gener-
ations cut off the shank because that's what they knew.'
Sometimes trusty old traditions don't work out for more sinister reasons.
Maybe the batter overflows when you try to make the quick bread that your
mother always baked in coffee cans -- because many brands of coffee no
longer hold a full pound. Maybe a casserole is too soupy because it's bound
with crackers that are smaller than they were in Grandma's day. Maybe it's
too dry because a can of soup just ain't what it used to be.
'Cans aren't the same size. Crackers aren't the same size,' Robling said. "Manufacturers tinker so much now -- taking out an ounce here or a quarter-
ounce there. When they went to hydrogenated oils, that changed the whole
character of certain products. And now they're thinking about going back . . .'
When an older recipe calls for a 'tall can' or 'large box of a name-brand
ingredient, she recommends contacting the company web site or consumer
information line to ask about any changes in the product or the volume of
the packaging. That should also be kept in mind as you record the recipe for
future generations. Try to include detailed notes on precise weights and
measurements. And consider the disparity between past and current
kitchen equipment.
'Your oven might be calibrated differently, or insulated differently,' Robling
said. 'That affects temperature settings and air circulation. When home
cooks first went from wood stoves to gas, they complained that it was just
not as good, and now here we are, saying the same thing about microwaves
and other appliances. Who knows what we'll be cooking on in the next
20 years – maybe something that's not even invented yet.
'The fun part is getting to be the sleuth,' she said. 'That's when my dog-with-
a-bone personality really helps. After you've exhausted family sources, look
for similar dishes at local street festivals and bake sale tables. Check com-
munity cookbooks. Another place I've found a lot of recipes -- taxicab
drivers! There's even a New York cabbie cookbook.
'You'll also find plenty of leads in family pages on the Web, recipes for
Aunt Tootsie's whatever,' she said. 'How accurate they are, I don't know.
'Consider setting up your own family web site with a recipes section,' she
said. 'Keep the traditions alive.'
Meanwhile, here are a few tasty old traditions rescued from some of the
best cooks I know, including friends Kathy Boyd, Roy Finamore and
Times-Picayune food editor Dale Curry. We begin with a French Canadian
meat pie that's usually on Robling's own Thanksgiving table. The recipe
originally came from a Mrs. Holland, on one condition: that it was not to
be shared with Mrs. Holland's children. It seems she feared the only reason
her kids came home for the holidays was for a taste of this pie, and that
they wouldn't make the trip if they could bake it for themselves.

Mrs. Holland's Holiday Tukare Pie
Makes 6 to 8 servings
"Tukare is a name taken from tourtière, a meat
pie traditionally served on Christmas Eve."
1 pound white russet potatoes
(2 to 3 medium), peeled
and quartered
1 pound ground sausage meat,
or link sausage removed from
the casing (see note)
1 large onion, diced
8 ounces sharp cheddar
cheese, grated
Pastry for 2-crust pie
Preheat oven to 350 degrees F.
In a medium pot, bring potatoes to a boil and simmer until tender, about
20 minutes.
Meanwhile, heat a medium skillet over medium heat. Crumble sausage
into pan and cook, stirring frequently, until no more pink remains. Add
onion and continue cooking until onion is translucent and sausage is
cooked through.
Remove sausage from pan and set aside, leaving excess drippings in pan. When potatoes are cooked through, peel and press through a ricer or
mash with a fork. If they are dry, add a tablespoon or so of the cooking water. Toss potatoes and cheese with sausage.
Line a 9-inch pan with one round of unbaked pie pastry and spoon in
sausage mixture. Top with a second round of pie pastry and crimp
edges. Bake for 50 to 55 minutes, or until crust is browned. Remove
and let sit for 15 minutes before cutting.
Note: This recipe lends itself to all sorts of flavors. Try hot Italian sausage
with mozzarella and basil, or breakfast sausage with Gouda. It also is a
great place for leftovers. Throw in a handful of leftover peas or carrots
or use leftover mashed potatoes.
From "Endangered Recipes: Too Good to be Forgotten" by Lari Robling
(Stewart, Tabori & Chang, 2003)
Dale Curry's Spinach Casserole
Serves 6 to 8
"This recipe won first place in a pot luck competition at the New
Orleans Press Club more than 30 years ago. Curry, her mother
and daughter have been making it ever since."
2 packages frozen chopped spinach
1 can artichokes in water
1 stick butter or margarine
1 8-ounce package cream cheese
1 can water chestnuts, sliced
Bread crumbs
Cook spinach according to package directions and drain well.
Drain artichoke hearts and cut into fourths.
Melt butter in large saucepan. Add cream cheese and beat, off heat,
until smooth. Add drained spinach and water chestnuts and mix.
Line buttered baking dish (or a large pie plate ) with artichokes.
Cover artichokes with spinach mixture. Sprinkle with bread crumbs
and bake at 400 degrees F. for 20 to 25 minutes until bubbly.
Kathy Boyd's Eggplant and
Shrimp Casserole
1/4 cup olive oil
1 large onion, chopped
1 bell pepper, seeded and chopped
4 to 6 cups of cooked and drained eggplant
cubes (boiled in salted water)
1 can diced tomatoes, drained
1 can Ro-Tel tomatoes, drained
2 tablespoons tomato paste
2 teaspoons sugar or 1 teaspoon
Sweet 'n' Low
1/4 pound ground Italian sausage,
cooked and drained
2 pounds head-on shrimp, peeled
and deveined (or 1 pound cooked
crawfish tails)
1/2 cup grated Pecorino Romano cheese
Tony Chachere's Original Creole Seasoning
1 cup grated pepper jack cheese
Preheat the oven to 350 degrees F. Warm the olive oil in a large deep
skillet over medium heat. Sauté the onion and bell pepper until soft, but
not browned. Add the cooked eggplant; stir until most of the moisture is absorbed. Add the diced tomatoes, Ro-Tel tomatoes, tomato paste and
sugar. Cook until bubbly. Add the cooked Italian sausage and the shrimp
or crawfish. Cook for about five minutes, until the shrimp turn pink. Stir
in the Romano cheese and season to taste with Tony Chachere's. Stir in
half of the pepper jack cheese.
Turn the mixture into a large ungreased baking dish, such as a lasagna
pan. Top it with the remaining pepper jack cheese. Bake until the filling
is bubbly and the top is browned, 30 to 40 minutes.
Note: The unbaked casserole freezes well. Return it to room temperature
before baking.
Roy Finamore's Baked
Candied Sweet Potatoes

One Potato, Two Potato:
300 Recipes from Simple to Elegant-
Appetizers, Main Dishes, Sidedishes, and More

by Roy Finamore (Houghton Mifflin, 2001)
Makes 4 to 6 servings*
2 pounds sweet potatoes, scrubbed
Coarse salt
3 to 4 tablespoons light brown sugar, to taste
Freshly ground white pepper
4 tablespoons unsalted butter
Put the sweet potatoes in a large saucepan with a large amount of cold
water, add a small pinch of salt, and bring to a boil. (If the potatoes are
too long to fit in the pan, cut them in half.) Reduce the heat to medium
and simmer until the potatoes are just tender but not at all mushy. Drain
on a rack set in the sink and let cool.
Heat the oven to 350 degrees F. Butter a large casserole or a 9-by-13-inch baking dish.
When the potatoes are cool enough to handle, peel and cut them into 3/4-
inch slices or one-inch chunks. Spread them in the casserole and sprinkle
with the brown sugar. Grind in a little white pepper and dot the top with
the butter. (The sweet potatoes can be prepared up until this point and
kept refrigerated overnight.)
Bake, stirring gently a few times, until the sweet potatoes are glazed and
the sugar is caramelized and bubbly around the edges of the pan, about
an hour. Serve warm, scooping out some of the syrup with each serving
of potatoes.
*These sweet potatoes have the advantage that you can prepare them ahead and
then just slide them into the oven an hour before dinner. If you want to double
this recipe for a holiday crowd, layer the sweet potatoes in the casserole, adding
some of the butter and sugar between layers. Then pour one-fourth cup of apple cider or water over the top, cover tightly with foil, and bake until tender and
syrupy, about an hour. The candied glaze won't be as caramelized, but the
sweet potatoes will be delicious and you won't have to stir as they bake.
©2003 NOLA.com. All Rights Reserved.

Featured Archive Recipes:
Down Home Thanksgiving
Holiday Dressing/Stuffing Recipes
Louisiana Firefighters Give Thanks (2001)
Louisiana Thanksgiving Feast
Thanksgiving Side Shows


Thanksgiving Recipe Index
Holiday Central
Do you know what it means
to miss New Orleans?
Index - Favorite Recipe Archives
Daily Recipe Index
Recipe Archives Index
Recipe Search