Nice, Soleil
Giclee Print
Buy at AllPosters.com
La Belle Cuisine - More Seafood Recipes
Fine Cuisine with Art Infusion
"To cook is to create. And to create well...
is an act of integrity, and faith."
Scallops Niçoise "Just for Julia"
"Happy and successful cooking doesn't rely only on know-how;
it comes from the heart, makes great demands on the palate and
needs enthusiasm and a deep love of food to bring it to life."
~ Georges Blanc, in "Ma Cuisine des Saisons"
---
Recipe of the Day Categories:
Recipe Home
Recipe index
Recipe Search
Appetizers
Beef
Beverage
Bread
Breakfast
Cake
Chocolate
Fruit
Main Dish
Pasta
Pies
Pork
Poultry
Salad
Seafood
Side Dish
Soup

Your patronage of our affiliate partners supports this web site.
We thank you! In other words, please shop at LBC Gift Galerie!

Promenade Des Anglais, Nice, Cote D'Azur, France
Photographic Print
Bibikow, Walter
Buy at AllPosters.com


Jacques Pepin's Scallops Niçoise
"Just for Julia"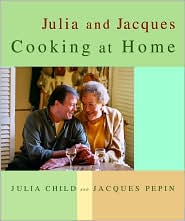 Julia and Jacques
Cooking at Home

by Julia Child and Jacques Pepin
1999, Alfred A. Knopf

2 or 3 ripe tomatoes (1 pound total)
3 tablespoons unsalted butter
2 or 3 cloves garlic, peeled, crushed,
and chopped (1 1/2 teaspoons)
1/2 cup dry white wine
1 teaspoon salt
1/2 teaspoon freshly ground black pepper
1 1/2 pounds medium-size sea scallops
1 cup shredded basil leaves

Plunge the tomatoes into a pan of boiling water and hold them under the water for 15 to 20 seconds. Drain and cool under cold water. Peel off the skin and cut the tomatoes in half crosswise, parallel to the stem. Squeeze gently, pressing out the seeds and excess juice (which can be reserved
along with the skin, if desired, for use in a stock or sauce). Cut the
tomato flesh into 1/2-inch to 1-inch pieces.
In one very large saucepan (or two slightly smaller skillets), melt the
butter. Add the garlic and sauté it for 5 to 10 seconds. Then add the
wine, and salt and pepper, cover and cook approximately 1 minute. Add
the scallops and tomatoes, and bring the mixture to boil over high heat, shaking the pan occasionally. Continue cooking just until the scallops are cooked through, about 1 1/2 minutes. Toss in the basil and divide the mixture among 6 warm plates. Serve immediately.



A Tribute to Julia Child
Index - Seafood Recipe Archives
Daily Recipe Index
Recipe Archives Index
Recipe Search