Your patronage of our affiliate partners supports this web site.
We thank you! In other words, please shop at LBC Gift Galerie!

Warm Pie
Nicole Katano
Buy This at Allposters.com


"Cakes are fancy-ass, honey. Pie is home."
- Idella Johnson, Veteran Pie Baker, as quoted in
Classic Home Desserts
by Richard Sax, Chapters Publishing Ltd, 1994
NEW!!! Flakiest Pie Crust Ever!

Julia Child's Pastry Dough -
Pâte Brisée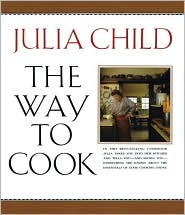 The Way to Cook

by Julia Child, 1994, Alfred A. Knopf
"B.T.F.P. – Before The Food Processor – it was only the practiced cook who produced decent pastry dough. And what a to-do it was: first making a fountain
of flour on a clean board, the clearing of a space in its center for the butter and liquids, and the working of them together with cool, deft fingers – all done by
that practiced cook with an infuriatingly calm smile of superiority. Now, in less than 5 minutes, that wonderful F.P. machine enables any one of us to make
perfect pastry dough every time. We are thus, with our own triumphant smiles, instantly masters of the quiche, the tart, the turnover, countless hors d'oeuvre niblets, to say nothing of the chicken pot pie."

A Note on Flour and Tender Pastry Crusts

Low-gluten pastry flour [such as White Lily], the kind you find in biscuit-
making Southern states or in some health-food stores, makes tender pie
crusts while plain all-purpose flour usually makes brittle crust. To tenderize
all-purpose flour, I include some cake flour [such as Swans Down] – approx-
imately 1 part cake flour to 3 parts all-purpose, and as a further tenderizing
agent, I use 1 part vegetable shortening to 3 parts butter.
Dietary Note

The most delicious, tender, buttery pastry doughs contain 4 parts butter
to 5 parts flour. In other words, the following dough, which will make
two 9-inch tarts serving 12 people, contains 14 tablespoons of butter,
meaning that each serving will provide 1 1/6 tablespoons of butter –
not bad for a heavenly indulgence.

Master Recipe
To Make a Butter Dough for Pastries and Pie Crusts:
Pâte Brisée Fine
For two 9-inch tart shells or a 14- by 4 1/2-inch rectangular crust
1 1/2 cups all-purpose flour,
preferably unbleached
(scooped and leveled)
1/2 cup plain bleached cake flour
1 teaspoon salt
(or, for dessert tarts, 1/4 teaspoon salt and
2 tablespoons sugar)
6 ounces (1 1/2 sticks) chilled unsalted
butter, quartered lengthwise and diced
1/4 cup (2 ounces) chilled vegetable shortening
1/2 cup ice water, plus droplets more, if needed
Special Equipment Suggested: A food processor with steel blade
Blending flour and butter. Have all the ingredients measured out and
ready to use (mise en place, mise en place, mise en place!]. Put the flour,
salt (or salt and sugar), and diced butter in the container of the processor
and pulse (on-off half-second clicks) 5 or 6 times to break up the butter
roughly. Add the shortening, turn on the machine, and immediately pour
in the 1/2 cup of ice water, then pulse 2 or 3 times. Remove the cover
and feel the dough – it should look like a bunch of small lumps, and will
just hold together in a mass when you press a handful together [illustra-
tion in cookbook]. (It's important not to overmix; it should not mass on
the blade of the machine.) If to dry, pulse in droplets more water. From
now on, work rapidly to keep the dough cold and manageable.
Final Blending. Turn the dough out onto your work surface; press it into
a rough mass. For the final blending, rapidly and roughly, with the heel
(not the palm) of your hand, push egg-size clumps of dough out in front
of you in a 6-inch smear [illustrated in cookbook].
Resting and Chilling. Form the dough into a cake [illustrated] – it should
be fairly smooth and pliable. Wrap in plastic, slide it into a plastic bag, and refrigerate. Freshly made dough should chill 2 hours at least, allowing the flour particles to absorb the liquid, as well as to firm the butter and relax
the gluten.
Julia Child's Pâte Sablée
(Sweet Pastry Dough)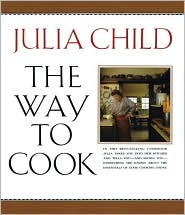 The Way to Cook

by Julia Child, 1989, Alfred A. Knopf, Inc.
For a 9- to 10-inch tart shell
3/4 cup all-purpose flour
1/4 cup plain bleached cake flour
1/4 teaspoon salt
4 ounces (1 stick) chilled unsalted butter,
cut into 16 pieces
3 tablespoons granulated sugar
1 egg yolk
1 teaspoon pure vanilla extract
1 tablespoon cold water, plus droplets
more water, if needed
Measure the flours, salt and butter into the container of a food processor
and process about a minute, until the butter is thoroughly blended. Add
and process in the sugar, then the egg yolk, vanilla and water. Continue processing for several seconds, until the dough masses. Turn it out onto
your work surface, form into a rough ball, then push out 2-tablespoon
bits with the heel of your hand in 6-inch smears. Gather together into a
cake, enclose in plastic wrap, and refrigerate until cold and hard - 2
hours at least. (The dough will keep 2 to 3 days in the refrigerator before
it may turn grayish, but will keep perfectly for weeks in the freezer.)
Perfect Pie Crust
by Christopher Kimball
from Cook's Illustrated
September/October 1994
Cook's Illustrated - One Year Subscription
"To meet the home cook's most difficult challenge, we tested thirty-five
variations of all-purpose pie pastry and came up with a no-fail Master
Recipe." "Making a good pie crust can be a home cook's worst nightmare.
Despite your best efforts, the crust can turn out hard, soggy, flavorless,
over-salted, under-baked, too short, or totally unworkable. One expert
tells you butter is the secret to perfect crust, another swears by vegetable
shortening, still others, for health reasons, use only canola oil. Some
cooks work the dough by hand, others do everything in a food processor.
After hundreds of pie crusts and twenty years of mixed results, I felt like
an addicted gambler at the racetrack, seeking out that magical piece of
information that would make me a winner."

The BEST Pie Dough


(9-inch single pie shell)

1 1/4 cups all-purpose flour
1/2 teaspoon salt
1 tablespoon granulated sugar
6 tablespoons chilled unsalted butter,
cut into 1/4-inch pieces
4 tablespoons chilled vegetable shortening
3 to 4 tablespoons ice water

Mix flour, salt and sugar in bowl of food processor fitted with steel blade. Scatter butter pieces over flour. Cut butter into flour with five 1-second pulses. Add shortening and continue pulsing until flour is pale yellow and resembles coarse corn meal, with butter bits no larger than small peas,
about 4 more 1-second pulses. Turn mixture into medium bowl. Sprinkle
3 tablespoons ice water over mixture. With blade of a rubber spatula, use folding motion to mix. Press down on dough with broad side of spatula
until dough sticks together, adding up to 1 tablespoon more ice water if
dough will not come together. Shape dough into ball with your hands,
then flatten into a 4-inch-wide disk. Dust lightly with flour and wrap in
plastic. Refrigerate 30 minutes before rolling.
For 10-inch regular or 9-inch deep dish:
add 1/4 cup flour and 2 tablespoons butter
For double crust 10-inch or deep dish:
2 1/2 cups flour, 1 teaspoon salt, 2 tablespoons sugar,
13 tablespoons butter, 7 tablespoons shortening,
4 to 5 tablespoons ice water

Rose Levy Beranbaum's
Basic Flaky Pie Crust
Pie and Pastry Bible
Considered to be one of the most
definitive works on pie and pastry.

Pastry for a 9-inch pie shell, a 9 1/2- to 10- by 1-inch tart shell,
or about 3 dozen 1-inch tartlets

4 ounces (8 tablespoons) unsalted butter, cold
1 1/3 cups plus 4 teaspoons pastry flour
or
1 1/3 cups bleached all-purpose flour
1/4 teaspoon salt
optional: 1/8 teaspoon baking powder
(if not using double the salt)
2 1/2 to 3 1/2 tablespoons ice water
1 1/2 teaspoons cider vinegar

Divide the butter into two parts, about two thirds to one third, in this
case 5 tablespoons and 3 tablespoons Cut the butter into 3/4-inch cubes. Wrap each portion of butter with plastic wrap. Refrigerate the larger
amount and freeze the smaller for at least 30 minutes. Place the flour,
salt and optional baking powder in a reclosable gallon-size freezer bag
and freeze for at least 30 minutes.
Place the flour mixture in a food processor with the metal blade and
process for a few seconds to combine. Set the bag aside. Add the larger amount of butter cubes to the flour and process for about 20 seconds or
until the mixture resembles coarse meal. Add the remaining frozen butter
cubes and pulse until all of the frozen butter is the size of peas. (Toss
with a fork to see it better.)
Add the lowest amount of ice water and the vinegar and pulse 6 times.
Pinch a small a mount of the mixture together between your fingers. If it
does not hold together, add half the remaining water and pulse 3 times.
Try pinching the mixture again. If necessary, add the remaining water,
pulsing 3 times to incorporate it. The mixture will be in particles and
will not hold together without being pinched.

Flaky Pastry


Desserts
by Nancy Silverton, 1986, Harper & Row
Makes 1 3/4 pounds dough, enough for a 2-crust pie

"Many veteran pie makers swear that really flaky pastry is made only with
vegetable shortening, while others prefer to use butter for its flavor. This
recipe, developed by Dana Farkas, is a compromise – it's got shortening
for flakiness and butter for flavor."

3 1/2 cups pastry flour (cake flour
is an acceptable substitute)
3/4 teaspoon salt
4 ounces unsalted butter (1 stick)
8 tablespoons chilled vegetable shortening
3/4 cup water plus ice to measure 1 cup

Sift together the flour and salt into a large mixing bowl. Cut the butter into 1/2-inch cubes and toss with the vegetable shortening and the flour until
the cubes are coated. Crumble the butter into the flour by rubbing your thumbs and fingertips together, lifting the pieces and letting them fall back down again. Continue until the mixture resembles coarse cornmeal. Add
the water a little at a time, starting with about 1/2 cup, and mix just until
the mixture comes together. Add the remaining 1/4 cup water if the flour
is not absorbed. The amount of water the dough needs will depend on
the moisture in the flour and the humidity.
Gather the dough together and knead briefly on a lightly floured board
until it forms a smooth ball. You will be able to see streaks of shortening
in the pastry when it's done. Chill at least 2 hours before rolling out.
(In a food processor, using the metal blade, or in an electric mixer,
combine ingredients in the same order. Be sure that you stop the
machine as soon as the mixture reaches the cornmeal stage and
again after the addition of the liquid.)


The pastry will keep for a week in the refrigerator, or up to 3 months
frozen. Any scraps saved after rolling the dough out once can be reused
for the bottom crust of a pie, but they are not flaky enough for the
top crust.

Sweet Tart Dough
Simply Sensational Desserts
by François Payard, 1999, Broadway Books

"This recipe for the rich, sweet short dough known as pâte sucrée is the only
one you will need for the tarts in this book. In addition to its use as the pastry
shell for tarts and tartlets, pâte sucrée is frequently used in petits fours, for
filled cookies, and as a thin sweet crust under mousse desserts. This recipe
makes enough pastry for two tart shells. You can freeze half for another time,
or you can roll out and shape both shells and freeze one of them, well
wrapped, ready to use."

Makes two 9 1/2-inch tart shells

1 cup plus 1 tablespoon (122 grams)
confectioner's sugar
1 3/4 cup (254 grams) all-purpose flour
Pinch of salt
9 tablespoons (127 grams)
unsalted butter, softened
1 large egg

1. Sift together the confectioner's sugar, flour and salt into a bowl.
2. Place the butter in a food processor and process until smooth, about
15 seconds. Scatter the flour mixture over the butter, add the egg, and
process just until the dough forms a mass; do not overmix. Turn the
dough out onto the counter and divide it in two. Shape each half into
a disc, wrap in plastic wrap, and refrigerate for at least 2 hours or up
to 24 hours. Half of the dough may be well wrapped and frozen for
up to 1 month.
3. Let the dough stand at room temperature for 30 minutes to soften.
Lightly butter two 9 1/2-inch fluted tart pans with removable bottoms.
4. Dust a work surface lightly with flour. Dust one of the discs lightly
with flour and, using a floured rolling pin, roll it out into a rough
12-inch circle. Lift the dough often, making sure that the work
surface and dough are lightly floured at all times. Roll the dough
up onto the rolling pin and gently unroll it over one of the prepared
tart pans. Press the dough into the pan and roll the pin over the top
of the pan to remove the excess dough. Repeat with the remaining
dough and tart pan. Prick the bottom of the tart shells all over with
a fork. Chill the tart shells for 20 minutes. (The tart shells can be
refrigerated for up to 24 hours.)

To Partially Bake the Tart Shells:
Preheat the oven to 325 degrees F. Lightly butter two pieces of aluminum
foil large enough to generously line each tart pan. Line the tart shells with
the foil, buttered side down, and fill with dried beans, rice, or pie weights.
Bake the tart shells for 15 minutes. Remove the foil and beans and con-
tinue baking for 5 minutes, until just set; the tart shells should have little
or no color. Cool completely on a wire rack.

To Prebake the Tart Shells:
Preheat the oven to 325 degrees F. Lightly butter two pieces of aluminum
foil large enough to generously line each tart pan. Line the tart shells with
the foil, buttered side down, and fill with dried beans, rice, or pie weights.
Bake the tart shells for 15 minutes. Remove the foil and beans and
continue baking for 8 to 10 minutes longer, until evenly golden brown.
Cool completely on a wire rack.

~*~*~*~*~*~*~*~

What is the difference between Pâte Sablée and Pâte Sucrée, please?

They are very similar. The primary difference is that pâte sablée is
somewhat "shorter" than pâte sucrée (in other words, it has a higher fat
ratio) and is generally used as cookie dough....shortbread! Pâte sucrée is typically used to make tart shells, but can be used for cookies as well..



Featured Archive Recipes:
Cream Cheese Pastry
Flakiest Pie Crust Ever!
Julia Child's Tarte Tatin
Pastry Techniques and Sweet Tart
Pastry (Nancy Silverton
Pâte à Choux
Puff Pastry
Sweet Tart Pastry from "Paris Sweets"
(Dorie Greenspan)
Thanksgiving Pies, Two Essential Recipes
Scrumptious Apple Pie (Pioneer Woman)
Throwdown Pumpkin Pie (Bobby Flay)





The Essentials!
Index - Pie Recipe Archives
Index - Thanksgiving Recipes!
Holiday Central!
Daily Recipe Index
Recipe Archives Index
Recipe Search