Recipe of the Day Categories:
Recipe Index
Recipe Search
Fruit

"Freedom From Want",
March 6,1943
Norman Rockwell
Buy This at Allposters.com


Maize, or Indian Corn Plant
Giclee Print
Buy at AllPosters.com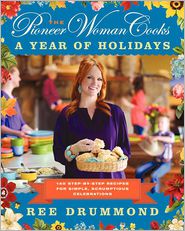 The Pioneer Woman Cooks: A Year of Holidays: 140 Step-by-Step Recipes for Simple, Scrumptious Celebrations

My granddaughter Kylie's Pumpkins!

Your patronage of our affiliate partners supports this web site.
We thank you! In other words, please shop at LBC Gift Galerie!

The Landing of the Pilgrims at Plymouth, Massachusetts,
December 22nd 1620 by Currier & Ives
Giclee Print
Buy at AllPosters.com


Have a heart! Help your fellow man...

Just because...
November 2007

"Just because!"
Didn't you just hate it when your mother said that in reply to your per-
fectly reasonable questions? Or worse yet, "Because I said so!"
This year I find myself with an excellent reason not to cook Thanksgiving dinner. Lots of folks would find themselves heaving a great sigh of relief! I mean after all, MissSophieDog and I are not expecting any company, and
we are not about to punish ourselves by getting out there in the middle of
the chaotic Holiday traffic. Why cook???
Well, just because! Just because I feel like it. Just because I don't really
want to go to Shoney's (please, no hate mail or lawsuits, okay?) and I'm
not about to eat a frozen turkey dinner, no matter what brand it may be. Actually, Sophie loves turkey, so there will be no problem with leftovers.
I enjoy the ritual of roasting the turkey much more than I enjoy eating
turkey, so that should work out quite well!
And no, I'm not about to do the whole 9 yards this year. There will be no
3-day cooking and baking marathon, although I really used to enjoy doing
that. Thanksgiving Eve is meant to be spent baking 3 or 4 pies, cutting and drying out bread for dressing, sautéing onions and celery for an assortment
of dressings, all to the tune of a great pot of turkey stock simmering on the back burner. Those were the days!
So. In honor of days gone by, and so that MissSophieDog and I will know
for sure that this is not just another Thursday, I'm going to roast a small turkey surrounded by leeks, carrots, celery, parsley, whatever other fresh herbs I can manage. I will of course, douse it and baste it with white wine
and butter just as I've been doing for decades now. That's what makes it
so much fun!
And to accompany said fabulous turkey? Well, I'm determined to do some Brussels sprouts because I dearly love them, and my sons did not. And
some andouille cornbread dressing because, after all, LaPlace is The
Andouille Capitol of the World, and because there is no such thing as
too many corn bread dressing recipes.
Dessert? Hey, we're talking about THANKSgiving here, are we not? Can
you even imagine no dessert??? So I'm doing this no-brainer Pumpkin Pie Cake. Why? Just because! Just because I love the tradition of serving pumpkin on Thanksgiving, and because I just don't feel like baking a pie!
Here goes...
Sautéed Brussels Sprouts with Pecans
Saveur
Issue #62
Saveur - One Year Subscription

Serves 6

"This recipe comes from the Bear Cafe in Bearsville, New York.
They occasionally substitute roasted hazelnuts for the pecans in
this autumn side dish."

1/4 cup shelled pecans
Salt
1 1/2 pounds Brussels sprouts, trimmed
4 tablespoons butter
1 tablespoons olive oil
1 small yellow onion, peeled and chopped
2 cloves garlic, peeled and chopped
Freshly ground black pepper

1. Preheat oven to 400 degrees F. Spread pecans out on a small baking
sheet and toast in oven until fragrant and deep brown, about 8 minutes. Meanwhile, bring a medium pot of water to a boil over high heat. Add 2 generous pinches salt, then add Brussels sprouts and boil until just soft
when pierced with the tip of a sharp knife, 3–5 minutes. Drain and set
aside until cool enough to handle. Cut Brussels sprouts in half lengthwise
and set aside.
2. Heat butter and oil together in a large heavy-bottomed skillet over
medium-high heat. Add onions and sauté, stirring often, until golden,
about 5 minutes. Add garlic and Brussels sprouts and sauté, stirring
often, until Brussels sprouts are golden brown in spots, about 5
minutes. Stir in pecans. Season to taste with salt and pepper.
[Sausage] Corn Bread Dressing
Saveur
Issue #88
Saveur - One Year Subscription

This recipe comes from a true Kentuckian, Rena McClure, who has lived there
her whole life. She doesn't fuss over her turkey and doesn't bake her dressing in
the bird; instead, she cooks it in a baking dish alongside. Kentuckians generally
don't put sugar into their corn bread, and, like most Southerners, they use white
cornmeal, never yellow. Also, tradition calls for baking it in a cast-iron skillet.
Rena, who has been making corn bread since she was a child, measures most
ingredients by handfuls and scoops."

Serves 12 – 14

For the Corn Bread:
1 tablespoon vegetable oil
1 tablespoon butter
1 egg
2 cups buttermilk
2 cups self-rising white cornmeal
1⁄4 cup self-rising flour
For the corn bread dressing:
1 pound ground sausage, such as Old Folks or
Jimmy Dean [I am using andouille.]
1 head celery, trimmed and finely chopped
2 yellow onions, peeled and finely chopped
[Because I live in the "greater New Orleans
area" I will throw in some bell pepper and garlic]
1 skilletful of corn bread, crumbled
4 cups seasoned bread crumbs
4 tablespoons chopped fresh sage or
2 tablespoons dried crumbled sage
1 cup turkey stock (made with neck and giblets)
or chicken stock
Salt and freshly ground black pepper
[and cayenne!]
2 tablespoons butter, softened

1. For the corn bread: Preheat oven to 400 degrees F. Add oil and butter
to a well-seasoned 9-by-12-inch cast-iron skillet, then put the skillet
into the oven as the oven is heating. [This is essential for a deliciously
crunchy crust!]
2. Beat egg and buttermilk together in a large bowl. Add corn meal and
flour and mix together until just combined. Add about 1⁄3 cup water
to thin the batter. Carefully remove the hot skillet from the oven;
swirl the oil and butter to coat the bottom and sides. Pour batter
into hot skillet and bake corn bread until golden on top and firm to
the touch in the center, about 35 minutes. Corn bread may be cut
into wedges and served from the skillet at this point, if you like.
Otherwise, to make Thanksgiving corn bread dressing, let corn
bread cool completely.
3. For the corn bread dressing: Fry the sausage in a large skillet over
medium heat, using a wooden spoon to break up and crumble the
meat. When the meat has lost its pink color, about 8 minutes, add
the celery and onions and cook, stirring often, until onions are soft,
about 10 minutes more.
4. Mix the corn bread, bread crumbs, and sage together in a large
bowl. Add the sausage mixture and, using 2 big spoons, toss
mixture together. Add stock and continue tossing until well
combined. Season to taste with salt and lots of pepper.
Transfer to a large buttered baking dish and set aside. Bake
uncovered in a preheated 350-degree oven for the last hour
while the turkey roasts.
Pumpkin Pie Cake

This is one of those recipes that is sort of scribbled on a 3x5 card with
very little in the way of instructions. Could have come from any number
of sources… It is so ridiculously simple that the purists among you may
be tempted to turn up your nose. That is probably not a brilliant idea,
because if you give it a try, you will be absolutely amazed at the raves
it brings - even from die-hard Mammy's Pumpkin Pie fans! The first
Thanksgiving I was brave enough to test it (because I just did not
FEEL like baking yet another pumpkin pie, OKAY?!?) I was prepared
for a family showdown. They loved it! What can I say?
Very few recipes in my collection bring so much appreciation for so
little time and effort in the kitchen.

One 29-ounce can pumpkin
(NOT pumpkin pie filling!)
One 12-ounce can evaporated milk
1 cup sugar
3 eggs
1 teaspoon ground cinnamon
1 teaspoon pumpkin pie spice
1 teaspoon salt
One 18.5-ounce package yellow cake mix
3/4 cup butter, melted
1 cup (more, if you prefer) chopped
walnuts or pecans
Lightly oil a 9-by-13-inch baking pan. Preheat your oven to 350 degrees F.
In a medium bowl, mix together the pumpkin, evaporated milk, sugar, eggs, cinnamon, pumpkin spice and salt. Pour the mixture into the baking dish. Sprinkle the cake mix evenly over the pumpkin mixture. Drizzle the melted butter over the cake mix layer and then top with the chopped nuts. Bake 50
to 60 minutes and cool before serving.

Featured Archive Recipes:
Julia Child's Roast Turkey
Good Eats Roast Turkey
Brown-Sugar-Glazed Carrots
Chou Glorieux
Delicious Creamy Mashed Potatoes (PW)
Gratinée of Cauliflower
How green is your bean?
Mac & Cheese
Mushrooms and Onions Gratin
South Fork Succotash
Ultimate Potato Gratin
Louisiana Firefighters Give Thanks (2001)
Sweet Stuff:
Bourbon Pecan Pound Cake
Caramel Cake
Chess Pie
Gigi's Deep-Dish Apple Pie
Hummingbird Cake
Prize-Winning Pumpkin Praline Pie
Pumpkin Bread Pudding
Pumpkin Squares with White Chocolate
Cream Cheese Frosting
Texas State Fair Pecan Pie
White Chocolate Bread Pudding

Be well, stay safe, enjoy yourselves. Make the most of every day, be
grateful for every breath you take. Live with passion! Give a hoot!
And until next time, remember,
"If the only prayer you say in your life is 'Thank You'
that would be enough."
~ Meister Eckhart

"It seems to me that our three basic needs, for food and security and love,
are so mixed and mingled and entwined that we cannot straightly think
of one without the others. So it happens that when I write of hunger, I
am really writing about love and the hunger for it, and warmth and the
love of it and the hunger for it… and then the warmth and richness and
fine reality of hunger satisfied… and it is all one."
~ M.F.K. Fisher, The Art of Eating
Index - The Spice Cabinet
Favorite Recipes
Thanksgiving Recipe Index
Daily Recipe Index
Recipe Archives Index
Recipe Search