Recipe of the Day Categories:
Recipe Home
Recipe Index
Recipe Search
Fruit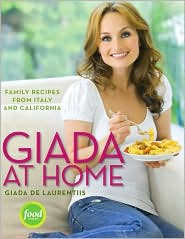 Giada at Home:
Family Recipes from Italy and California

Harvest Moon
Art Print
Brauer, Bill
Buy at AllPosters.com


Your patronage of our affiliate partners supports this web site.
We thank you! In other words, please shop at LBC Gift Galerie!

Wild Turkey Males Displaying, Texas, USA
Photographic Print
Nussbaumer, Rolf
Buy at AllPosters.com


Sweet and Savory Bread Pudding
Recipe courtesy Giada De Laurentiis, 2008
Food Network: Giada at Home
Episode: A Family Thanksgiving
Serves: 6 to 8 servings
2 tablespoons butter, plus extra
for greasing the pan
1 pound butternut squash, peeled, and
cut into 3/4-inch pieces
4 parsnips, peeled, and cut into 3/4-inch pieces
Kosher salt for seasoning, plus 2 teaspoons
Freshly ground black pepper for seasoning,
plus 1 teaspoon
1 (1 pound) loaf brioche, challah,
or sourdough bread, cut or
torn into 1-inch pieces
1/4 cup vegetable oil
3 tablespoons brown sugar
2 tablespoons cinnamon
1 tablespoon fresh thyme leaves, chopped
3 cups heavy cream
8 eggs, beaten
3/4 cup brandy

Set an oven rack in the center of the oven. Preheat the oven to 400
degrees F.
Grease a 9 by 13-inch glass baking dish. Set aside.
In a large skillet, melt the butter over medium-high heat. Add the butter-
nut squash and parsnips. Season, to taste, with salt and pepper. Cook,
stirring occasionally, for 5 minutes until slightly softened. Set aside
to cool.
In a large bowl toss together the bread cubes and vegetable oil. Add the
brown sugar, cinnamon, 2 teaspoons salt, and 1 teaspoon pepper. Toss
the ingredients together until well coated.
In another bowl mix together the heavy cream, eggs, and brandy. Pour
the cream mixture over the bread mixture. Add the cooled vegetables
and toss until the bread is coated.
Spoon the mixture into the prepared pan. Bake for 40 to 45 minutes
until the bread pudding is puffed and golden.
Twice Baked Potato Casserole
Recipe courtesy Emeril Lagasse
Food Network Show: Emeril Live
Episode: Ultimate Thanksgiving
Emeril's Potluck: Comfort Food
with a Kicked-Up Attitude

William Morrow Publishers, New York, 2004
Serves: 12 servings
10 large russet baking potatoes
(about 7 pounds total)
8 tablespoons (1 stick) plus 1 tablespoon
unsalted butter, at room temperature
1 cup sour cream
1/2 cup heavy cream
2 teaspoons salt
1 1/2 teaspoons freshly ground black pepper
3/4 pound bacon, cooked until
crisp and crumbled
1/2 pound sharp white Cheddar,
cut into 1/2-inch cubes
3/4 pound mild Cheddar,
grated (3 cups)
1/2 cup finely chopped green onions
3 eggs, lightly beaten

Preheat the oven to 400 degrees F.
Scrub the potatoes well and rinse under cool running water. Pat dry with
paper towels and prick the potatoes in several places with a fork. Place
the potatoes in the oven and bake for 1 hour to 1 hour and 15 minutes,
or until tender. Remove from the oven and set aside on a wire rack until
cool enough to handle.
When the potatoes have cooled, cut each potato in half and, using a spoon
or a melon baller, scoop the flesh out of the skins, leaving as little flesh as
possible. Place the potato flesh in a large bowl and add one stick of the
butter, the sour cream, heavy cream, salt, and pepper and mash until
chunky-smooth. Add the bacon, cubed white Cheddar, half of the grated
Cheddar, the green onions, and eggs and mix thoroughly.
Butter a 9 by 13-inch casserole with the remaining tablespoon of butter
and reduce the oven temperature to 375 degrees F. Place the seasoned
potato mixture in the prepared casserole and top with the remaining
grated Cheddar. Bake for 35 to 40 minutes, or until bubbly around the
edges and heated through and the cheese on top is melted and lightly
golden. Serve hot.
Cornbread Stuffing
Recipe courtesy Michael Symon
Dear Food Network: Turkey Day Disasters
Serves: 6 to 8 servings
4 tablespoons butter
2 cups chopped yellow onions
1 cup chopped celery
2 cups fresh corn kernels
2 tablespoons minced garlic
1 cup diced red pepper
1/2-pound diced smoked ham
2 eggs
3 cups chicken stock
1/2 cup heavy cream
2 tablespoons freshly chopped cilantro leaves
2 tablespoons freshly chopped flat-leaf parsley
Salt and freshly ground black pepper
8 cups cubed and toasted cornbread

Preheat oven to 375 degrees F.
Melt butter and sweet vegetables until tender. Add ham and cook over low heat for 2 more minutes. Set aside to slightly cool. Whisk together eggs,
stock, cream and herbs and season with salt and pepper, to taste. Combine
all items, including cornbread, in a 4-quart lasagna pan and cook covered
for 30 minutes. Uncover and cook for additional 20 minutes or until crusty.
Sweet Corn Bread Pudding
Recipe courtesy Alton Brown
(Food Network: Good Eats)
Serves: 6 to 8 servings
1/2 onion, diced fine
1-ounce unsalted butter
1/2 teaspoon thyme
1/2 teaspoon rosemary
1 (15-ounce) can creamed style sweet corn
1 cup heavy cream
2 eggs
1 teaspoon baking powder
1/2 cup yellow cornmeal, whole grain,
stone ground
1/2 cup shredded Parmesan cheese
1 teaspoon kosher salt
Ground black pepper to taste
2 cups French bread, cubed

Heat oven to 350 degrees. Sweat onions with butter and herbs in an
ovensafe skillet until translucent.
Combine corn, cream, eggs, baking powder, cornmeal, Parmesan, salt,
and pepper in a large mixing bowl. Add cubed bread and fold to com-
bine. Pour batter into skillet, right on top of the onion mixture. Bake
50 minutes, or until set. Cool slightly before serving.

Featured Archive Recipes:
All-American Corn Pudding
Cornbread Dressing with Sausage
Cornbread Dressing with Variations
Delicata Squash, Potato and Celery Root Puree
Italian Sausage, Cornbread and Fennel Stuffing
Oyster and Spinach Stuffing
Polenta with Mascarpone and Roasted Garlic
Ultimate Potato Gratin
Wild Mushroom Bread Pudding
Winter Squash, Chanterelle, and Red Wine Panade
Winter Squashes with Dried Cranberries
and Toasted Pecans

Index - Side Dish Recipe Archives
Thanksgiving Recipe Index
Holiday Central!
Daily Recipe Index
Recipe Archives Index
Recipe Search