Recipe of the Day Categories:
Recipe Home
Recipe Search
Fruit

Banana Leaf
Art Print
Davies, Susan
Buy at AllPosters.com


Flower on a Banana Tree,
Louisiana
Adam Jones
Buy This at Allposters.com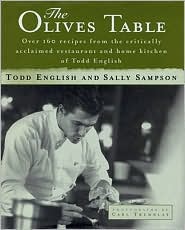 The Olives Table:
Over 160 Recipes
from the Critically Acclaimed Restaurant and Home Kitchen of Todd English

Your patronage of our affiliate partners supports this web site.
We thank you! In other words, please shop at LBC Gift Galerie!

Banana Samba
Art Print
Brown, Greg
Buy at AllPosters.com


White Chocolate Banana Bread Pudding
with Caramel Semi-Freddo and Boozy
Caramel Sauce

The Olives Dessert Table:
Extraordinary Restaurant Desserts
You Can Make at Home
by Todd English, Paige Retus and Sally Sampson,
2000, Simon & Schuster
Best of the Best, Vol. 4:
100 Best Recipes from
the Best Cookbooks of the Year
Editor in Chief Judith Hill, 2001,
American Express Publishing Corp.
serves 8 to 10
"The back room at Olives is used for private functions and meetings.
More often than not, the size of the group grows or shrinks at the last
minute. We needed an adaptable fall and winter dessert (ice cream is
easy for summer): Our criteria were that it needed to keep for more
than one day and be put together with no last-minute fussing. Without
any real plan, we made batches and batches of banana bread. But now
what? We made banana bread pudding – special but not quite special
enough. When we added white chocolate to the custard, we felt that
we were getting somewhere, but we still wanted to really wow our
guests. A creamy Caramel Semi-Freddo was the perfect answer espe-
cially when complemented by Boozy Caramel Sauce. We cook the
sugar a bit longer than usual, giving it a lingering, smoky edge that
is not as sweet as most caramels."
Toasting nuts
Preheat the oven to 350 degrees F. Place the nuts in a single layer on
a baking sheet and bake until lightly toasted, about 15 to 20 minutes.
Cool before using.
Banana Bread
"Inspired by a recipe by the mother of Linda Bedrosian, Paige's childhood
friend, Paige has reworked the original recipe by reducing the amount of
sugar and changing the method. Of course, you can make just the
Banana Bread. Make two; it has a way of disappearing."
3 to 4 overripe bananas
("the nastier the better")
1 1/4 cups sugar
1/3 pound (1 1/3 sticks) unsalted butter,
melted and slightly cooled
2 large eggs, at room temperature
1 teaspoon vanilla extract
1 1/2 cups all-purpose flour
1/2 teaspoon salt
1 1/2 teaspoons baking soda
1/2 cup toasted walnuts (optional)
Preheat the oven to 350 degrees F. Lightly grease an 8- to 9-inch loaf
pan. Place the bananas and sugar in the bowl of a mixer fitted with a
paddle or whisk attachment and whip the [heck] out of them, about
2 to 3 minutes. Add the butter, eggs, and vanilla, beating well and
scraping down the sides after each addition. Add the flour, salt,
baking soda, and nuts, if using; mix to combine and scrape down
the sides.
Place in the prepared pan and transfer to the oven. Bake until golden
brown and firm in the center, about 1 hour. Set aside to cool for 10
to 15 minutes and then invert on a rack.
Wrap and store at room temperature up to 3 days or freeze up to
2 months.

White Chocolate Banana Bread Pudding
"Banana bread plus white chocolate custard makes banana bread
pudding, which can stand alone: no caramel, no semi-freddo. It's
special enough for even a very significant dinner party. Or better
yet, breakfast. If you have leftover custard or simply want custard
rather than bread pudding, you can place the custard mixture in
small ovenproof dishes and bake them in a water bath at 325
degrees F for about 30 minutes."
makes 8 to 10 servings
2 cups milk
1 cup heavy cream
3 large eggs
2 large egg yolks
1/2 cup plus 2 tablespoons sugar
1/2 teaspoon salt
1 teaspoon vanilla extract
12 ounces white chocolate, melted
1 loaf Banana Bread, cubed
(fresh, day old, or frozen)
Preheat the oven to 325 degrees F. Lightly grease an 8-inch-square cake
pan. Place the milk and 1/2 cup of the cream in a saucepan and bring to
a boil over medium-high heat. Place the eggs, egg yolks, 1/2 cup of the
sugar, salt, and vanilla in a bowl and gradually add the milk mixture,
whisking all the while. Add the melted chocolate and mix until it is fully
incorporated.
Place the bread cubes in the prepared pan and pour the custard over it,
pressing down to dunk them. Let rest at least 15 minutes and up to 1
hour. Put the remaining 1/2 cup cream over the top and sprinkle with the
remaining 2 tablespoons sugar. Place in a hot-water bath and transfer to
the oven. Bake until the pudding is firm and a knife inserted comes out
clean, about 1 hour.
Serve warm or at room temperature as is, with Boozy Caramel Sauce,
or sweetened whipped cream and sliced bananas.

Caramel Semi-Freddo
"Semifreddo literally means "half frozen"; it's fluffy and aerated,
and it has the same mouth feel but is lighter in texture than
either ice cream or frozen mousse. It doesn't involve an ice
cream machine, just a mixer and your freezer.
Makes 1 1/2 to 2 quarts
3 1/2 cups heavy cream
1 1/2 teaspoons vanilla extract
1 3/4 cups sugar
1/2 cup water
1/2 cup heavy cream
5 large eggs
10 large egg yolks
1/2 teaspoon salt
1/4 cup prepared strong coffee
In a large bowl, whip the cream and the vanilla until it holds stiff
peaks. Set aside.
To make the caramel: Place the sugar and water in a saucepan and
cook over medium heat until it turns a deep mahogany color, about 4
to 5 minutes. Do not stir. Gently swirl to even out the color. Slowly
add the cream and stir very gently. Be careful, it will splatter. Set
aside but keep warm.
Place the eggs, egg yolks, salt and coffee over a hot water bath and
whisk until warmed. Add the caramel and whisk until the mixture is
homogenous, thick, light in color, and has the consistency of soft
whipped cream, about 4 to 5 minutes.
Immediately pour the mixture into the bowl of a mixer fitted with a
whisk and whip on high speed until it cools to room temperature,
about 5 to 8 minutes. Fold one quarter of the caramel-egg mixture
into the whipped cream. Add all the whipped cream to the caramel
-egg mixture and gently fold to combine. Pour into a 6- to 8-cup
freezer container and freeze at least 4 hours and up to 5 days.
To finish and assemble
1. Portion White Chocolate Banana Bread Pudding into 8 to 10
servings and garnish with sliced bananas, if desired.
2. Top with a generous scoop of Caramel Semi-Freddo.
3. Drizzle with Boozy Caramel Sauce.
Food & Wine Test-Kitchen Tips
"The recipe suggest soaking the bread in the custard for 15 minutes to an hour. The longer the better, so that the liquid is fully absorbed and the bread distributes evenly throughout the pudding rather than resting on top.

You get a lot of semi-freddo from this recipe. You can cut it in half. Or make the whole batch and figure on serving it on its own, or with the Boozy Caramel Sauce, later in the week.

The authors of this book are wisely playing it safe by saying the sauce will keep for three days. We kept it for a week in the test-kitchen refrigerator, and
it was still delectable.

As with the other recipe from 'The Olives Dessert Table' [in this book], divide and conquer is the order of the day. You can spread out the preparation of the components of this elaborate dessert over several days.

Also, to quote the introduction to this book, 'It is not necessary to make any
of these desserts in their entirety.' "

Featured Archive Recipes:
Emeril's Chocolate Bread Pudding
with Spiced Cream
Commander's Bread Pudding Soufflé
with Whiskey Sauce
White Chocolate Bread Pudding

More Lagniappe Recipes!
Miscellaneous Dessert Recipes
Holiday Central!
Daily Recipe Index
Recipe Archives Index
Recipe Search