Lighthouse at Sunset,
Mattapoisett, MA
Photographic Print
Lemass, James
Buy at AllPosters.com

La Belle Cuisine - More Soup Recipes
Fine Cuisine with Art Infusion
"To cook is to create. And to create well...
is an act of integrity, and faith."
Fenway Chowder
(Fish & Seafood Chowder - Ted Williams)
"Chowder breathes reassurance.
It steams consolation."
~ Clementine Paddleford
---
Recipe of the Day Categories:
Recipe Home
Recipe Search
Fruit

Ted Williams

Buy This at Allposters.com


Your patronage of our affiliate partners supports this web site.
We thank you! In other words, please shop at LBC Gift Galerie!

Fenway Park
Robyn Ducharme
Buy This at Allposters.com


Fenway Chowder (Ted Williams)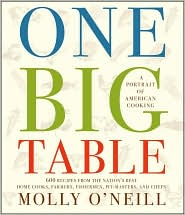 One Big Table:
600 Recipes from the
Nation's Best Home Cooks,
Farmers, Fishermen, Pit-Masters,
and Chefs

© 2010 by Molly O'Neill, Simon & Schuster, Publisher

Hernando, Florida

"In the world according to the late Ted Williams, there was no reason to bother hitting a ball, casting a fishing line, or cooking a meal if you didn't do it right.
Life is full of things you can't control, he said in an interview in his home
kitchen in 1999. The winners pay attention to the sliver of effort they can
control: their timing at the plate, the arc of their bats, and the heat of their
skillets. For the high-strung perpetual perfectionist, cooking became a singu-
lar solace. 'The only thing I remember as a young player coming close to
comfort was a good meal.'
Growing up in San Diego, California, with a mother who marched with the Salvation Army, a brother who rebelled, and a father who eventually marched
away from the family, Williams ate eggs. 'My mother wasn't much of a cook.
I'd make eggs for myself – it was the Depression and eggs were cheap and
plentiful, you see.'
[More about Ted Williams and cooking in 'One Big Table'] "…He [Williams]
is partial to fish, a taste born in the years he played for the Boston Red Sox.
For fifty years he fished around the globe. Every fish, he said, like every pitch,
is different. Recipes can't replace the feel for a thing, the instinct to meet either ingredient or ball with the certainty of a home run. 'Except for my chowder, a
thing that a recipe can come close to approximating, a thing of beauty.' As the aroma of the fish and seafood simmering gently on his stove reached him, he
smiled. 'Chowder,' he said, 'is my number one lingering desire.' "

3 tablespoons rendered pork fat or olive oil
1/2 cup finely chopped red onion
1 large shallot, finely chopped
1/4 cup finely chopped red bell pepper
1/4 cup finely chopped green bell pepper
2 teaspoons Lawry's Seasoned Salt
2 teaspoons Old Bay Seasoning
2 teaspoons dried thyme
1 1/2 teaspoons dried garlic flakes
One 4-ounce skinless grouper fillet,
cut into 1/2-inch cubes
One 4-ounce skinless red snapper fillet,
cut into 1/2-inch cubes
1/4 pound bay scallops
1/2 cup chopped shucked clams
4 cups whole milk
2 cups half-and-half
1/4 cup dry Sherry
1/4 cup clam juice
3/4 pound mussels, scrubbed and
beards removed
1/2 cup chopped shucked oysters
with their juice
2 small white potatoes, peeled and
cut into 1/4-inch pieces
1/2 cup fresh or frozen corn kernels
2 teaspoons fresh lemon juice
1/2 cup heavy cream
Kosher salt and freshly ground black pepper

1. In a large Dutch oven, heat the fat over medium heat. Add the onion, shallot, and bell peppers and cook about 4 minutes, until soft. Stir in
the seasoned salt, Old Bay, thyme, and garlic flakes and cook about
1 minute, until aromatic. Add the grouper, snapper, scallops, and
clams, and cook for 3 minutes.
2. Stir in the milk, half-and-half, Sherry, and clam juice and bring to
a simmer.
3. Stir in the mussels, oysters, potatoes and corn, and simmer very
gently for 5 to 8 minutes, until the mussels open and the potatoes
are tender. (If desired, remove the mussels, discard the shells, and
return the meat to the chowder.) 4. Stir in the lemon juice and
cream. Season to taste with salt and pepper and serve. Serves 10.


Featured Archive Recipes:
Corn Chowder:
The All-American Summer Soup
Fish Chowder with Herbed Oyster Crackers
Fish Soup with Shrimp and Lobster
Smoked Salmon and Corn Chowder
Smoky Salmon Chowder with
Lemon Pepper Crackers


Index - Soup Recipe Archives
Basic Stock Recipes
Daily Recipe Index
Recipe Archives Index
Recipe Search