Recipe of the Day Categories:
Recipe Search
Fruit

Summer Vegetables
Art Print
Buy at AllPosters.com


Back from the Market
Art Print
Archambault,...
Buy at AllPosters.com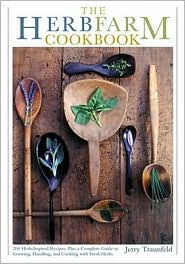 Herbfarm Cookbook:
A Guide to the Vivid Flavors of Fresh Herbs

Your patronage of our affiliate partners supports this web site.
We thank you! In other words, please shop at LBC Gift Galerie!

Farmer's Market
Art Print
Carter Holman,...
Buy at AllPosters.com


Platter Salads

Local Flavors:
Cooking and Eating from
America's Farmers' Markets
© 2002 by Deborah Madison, Broadway Books/Random House
"A large Italian platter has long provided the answer. The question is: How can
I use everything I see at the market?
Platter salads are a blessing for those of us who can't make up our minds what
to focus on when faced with abundance. Following the maxims that foods in
season together taste good together, and that botanical families offer a unique
coherence of flavor, platter salads are bound to turn chaos into success. These
salads are simply collections of compatible vegetables, cooked when appropriate,
left raw when not, arrange on a large platter, showered with herbs, and bathed
with a fine olive oil. The herbs can be as common as parsley, dill and chives,
but the effect of combining them produces such as layering of flavor that you
may hear yourself say as one guest did, 'Every bite tastes different!' Of course
you can stray toward more exotic herbs as well.
No matter what combination you come up with, platter salads always make
a painterly tableau for the eye. My preference is for the big, bright, baroque arrangements, but sometimes I yield to more minimalist leanings. A salad
for mid-August might include several varieties of potatoes, green and yellow
Romano beans, filet beans, Sun Gold and Green Grape tomatoes, lemon basil,
capers, and fresh red onions bathed in olive oil and spiked with aged red wine
vinegar. One of my favorite salads was finished with thin rounds of purple
peppers and sprays of tiny currant tomatoes from a children's farmers' market
in St. Paul. A different version, inspired by the market in Ithaca, might in-
clude grilled small eggplants and zucchini with fresh sheep's milk cheese. In
late August shelling beans and roasted peppers could go on the platter, while
by late October you might turn to shredded kohlrabi and turnips, slivered
sweet Jersey Wakefield cabbage, and steamed cauliflower, all drizzled with
a mustardy vinaigrette and garnished with leafy accents of arugula or tatsoi.
Sometimes I select a color as a guiding principle. Gold Rush zucchini or rich
yellow Sunburst, orange peppers, yellow wax beans, golden beets, and yellow
and orange tomatoes of various kinds together make a dazzling sea of yellow,
orange and gold. Opal basil leaves or amaranth greens make irresistibly
gorgeous accents.
Bright flavor elements to include on platter salads are capers, olives, anchovies,
and pickled vegetables. Cold roasted meats, grilled chicken, tuna packed in oil, smoked albacore, hard-cooked eggs, or wedges of frittata turn a platter salad
into a complete meal.
The process of making these salads is very fluid and far more difficult to
describe than actually to do. First of all, let the market guide the composition. Washing, tipping beans, and that sort of thing can be done ahead of time. The
most important consideration for me is to dress cooked vegetables while they're
warm, which is the most flavorful way, and to try to cook them as close as I can
to serving so that they keep their colors and aromas. Other than that, you're on
your own, improvising madly and always assured of success."
June Platter Salad of Green Beans,
Potatoes and Tuna
Serves 4 as a main dish
"It's pre-tomato season in June, at least in Santa Fe, but the first green beans,
tender little carrots, and French Breakfast radishes fit quite nicely with a few
handfuls of lettuce, herbs, and fleshy purslane leaves. Tuna packed in oil or
smoked fish – salmon, tuna, albacore, which can often be found at farmers'
markets – makes the salad into a meal."
1 sweet onion, thinly sliced into rounds
1/4 cup aged red wine vinegar
1 pound small potatoes, any waxy-fleshed variety
(fingerlings are always choice)
Sea salt and freshly ground pepper
1 1/2 pounds green beans, one variety or several
1 bunch little carrots
Several handfuls salad greens or small head lettuces
A handful purslane sprigs or big sunflower sprouts
Several herb sprigs, such as chervil, marjoram,
lovage, chives
2 garlic cloves
1 can anchovies, packed in olive oil
1 teaspoon Dijon mustard
1/3 cup extra virgin olive oil
Two 6-ounce cans tuna packed in oil, drained,
or an 8-ounce chunk smoked albacore, thinly sliced
3 tablespoons smallest capers, rinsed
1 bunch radishes
1. Heat a large pot of water for the vegetables. Toss the onion with 2
tablespoons of the vinegar and set in the refrigerator.
2. Wash the potatoes, then put them in a small saucepan, cover with
cold water, add 1 teaspoon salt, and bring to a boil. Simmer until
tender when pierced with a knife, about 25 minutes, then drain.
Cut the stem ends off the beans, along with the tails if they're
tough. If the carrots are small and tender, you don't need to
peel them. Leave them whole or halve length-wise with about
an inch of the stems. Wash and dry the lettuces and herbs.
3. Mash the garlic with 1/2 teaspoon salt and 2 anchovies in a mortar.
Whisk in the mustard, the remaining 2 tablespoons vinegar, and the
oil, making a thick, emulsified dressing.
4. When the water boils, season well with salt, then add the beans and
cook until tender but still a little firm, 4 to 8 minutes, depending on
the varieties. Scoop them out and put them on a towel to dry briefly,
then toss them, while still hot, with half of the dressing. Season with
salt and pepper and heap them in the center of the platter. Boil the
carrots until tender-firm, 4 to 6 minutes or so, then drain and
dress lightly.
5. Arrange the lettuces on the platter. Place the tuna at either end, break-
ing it up slightly. Halve the potatoes and arrange them on the platter.
Spoon the remaining dressing over the lettuce and potatoes and scatter
capers over all, along with the onions, drained of their vinegar. Lay
the remaining anchovies over the potatoes. Tuck in the radishes and
carrots; add the purslane and herb sprigs. Season everything with
pepper. Present the salad arranged. Toss it before serving.

Featured Archive Recipes:
Gigi's Favorite Vegetable Salad
Three Bean and Potato Salad with
Horseradish Vinaigrette
Potato Salad with Cherry Tomatoes,
Bacon and Avocado
La (Vraie)Salade Nicoise
Niçoise Potato Salad
White Bean and Tuna Salad


Index - Salad Recipe Archives
Index - Salad Dressing Recipes
Daily Recipe Index
Recipe Archives Index
Recipe Search