Pasta
Art Print
Buy at AllPosters.com

La Belle Cuisine - More Pasta Recipes
Fine Cuisine with Art Infusion
"To cook is to create. And to create well...
is an act of integrity, and faith."
Bucatini with Chanterelles,
Spring Peas, and Prosciutto


Thousands of premium wines and gourmet gifts
"Life is a combination of magic and pasta."
~ Federico Fellini
---
Recipe of the Day Categories:
Recipe Home
Recipe Search
Fruit

Your patronage of our affiliate partners supports this web site.
We thank you! In other words, please shop at LBC Gift Galerie!

Freshly Podded Peas on Old Green Chair
John Hay
Buy This at Allposters.com


Bucatini with Chanterelles,
Spring Peas, and Prosciutto
(Bucatini con Finferle e Prosciutto)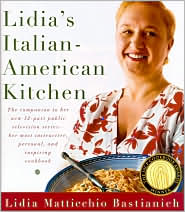 Lidia's Italian-American Kitchen

by Lidia Matticchio Bastianich,
2001, Alfred A. Knopf
Makes 6 servings
1 cup shelled fresh peas or frozen peas,
defrosted and drained
Salt
1 pound fresh chanterelle mushrooms
5 tablespoons extra-virgin olive oil
3 cloves garlic, peeled
2 ounces thinly sliced prosciutto di Parma
or San Daniele prosciutto, chopped
Freshly ground black pepper
1 1/2 pounds ripe fresh plum tomatoes,
peeled, seeded, and crushed, or
2 cups canned Italian plum tomatoes
(preferably San Marzano) with their
liquid, seeded and crushed
1/4 cup chopped fresh Italian parsley
1 pound bucatini or perciatelli pasta
1/2 cup freshly grated Parmigiano-Reggiano cheese
If using fresh peas, parboil them in a small saucepan of boiling salted water until softened, 3 to 5 minutes. Drain them and set aside. Trim the tough
ends and wilted spots from the mushrooms. Wipe them clean with a damp paper towel, or wash them quickly and dry them well. Slice them thin and
set aside.
Bring 6 quarts of salted water to a boil in an 8-quart pot over high heat.
Heat the olive oil in a large skillet over medium heat. Whack the garlic
cloves with the flat side of a knife and add them along with the prosciutto
to the oil. Cook, stirring, until lightly browned, about 4 minutes. Stir in
the mushrooms, season them lightly with salt and pepper, and cook, stir-
ring, until they are lightly browned and wilted, about 7 minutes. Pour in
the tomatoes, season them lightly with salt and pepper, and bring sauce
to a boil. Lower the heat so the sauce is at a lively simmer and cook 5 minutes. Stir the peas and chopped parsley into the sauce and cook until
the peas are tender, about 3 minutes.
While the sauce is simmering, stir the bucatini into the boiling water.
Return to a boil, stirring frequently. Cook the pasta, semi-covered, stir-
ring occasionally, until done, about 10 minutes.
Drain the pasta, return it to the pot, and pour in about three-quarters of
the sauce. Bring the sauce and pasta to a boil, tossing to coat the pasta
with sauce. Check the seasoning, adding salt and pepper if necessary. Remove the pot from the heat and stir in the grated cheese. Transfer
the pasta to a warm platter, top with the remaining sauce, and serve
immediately.

Featured Archive Recipe:
Lidia's Fresh Egg Pasta
Pasta Primavera
Rigatoni in a Woodman Sauce


Index - Pasta Recipe Archives
Rites of Spring Index
Daily Recipe Index
Recipe Archives Index
Recipe Search