Loafs of Bread,...
Walter Bibikow
Buy This at Allposters.com

La Belle Cuisine - Index Bread Recipes
Fine Cuisine with Art Infusion
"To cook is to create. And to create well...
is an act of integrity, and faith."
"[Breadmaking is] one of those almost hypnotic businesses, like a dance from
some ancient ceremony. It leaves you filled with one of the world's sweetest smells...there is no chiropractic treatment, no Yoga exercise, no hour of
meditation in a music-throbbing chapel. that will leave you emptier of bad
thoughts than this homely ceremony of making bread."
~ M.F.K. Fisher, The Art of Eating (50th Anniversary Edition)
---
Recipe of the Day Categories:
Recipe Home
Recipe Index
Recipe Search
Appetizers
Beef
Beverage
Bread
Breakfast
Cake
Chocolate
Fruit
Main Dish
Pasta
Pies
Pork
Poultry
Salad
Seafood
Side Dish
Soup

Traditional Bread

Buy This at Allposters.com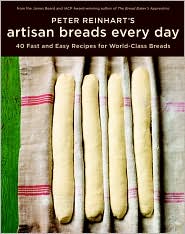 Peter Reinhart's
Artisan Breads Every Day: Fast and Easy Recipes for World-
Class Breads

Boulangerie, Ile Rousse,
Corsica, France
Photographic Print
Levy, Yadid
Buy at AllPosters.com


Tomatoes, Pate and Baguette
Picnic in Vineyard, Epernay, Champagne-Ardenne, France
Photographic Print
Strewe, Oliver
Buy at AllPosters.com


Olive Sprig with Black Olives
on White Bread...
Buy This at Allposters.com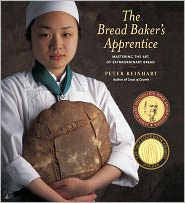 Bread Baker's Apprentice:
Mastering the Art of Extraordinary Bread

Your patronage of our affiliate partners supports this web site.
We thank you! In other words, please shop at LBC Gift Galerie!

Loaf of Bread in Bakery, Le Brusc, Var, Cote d'Azur. France
Per Karlsson
Buy This at Allposters.com



Quick Breads
Apple Butter Nut Bread
Apricot Coconut Bread
Apricot Nut Bread
Apricot and Orange Cranberry Breads
Avocado Bread, Kaye Lindauer's
Bacon Bread with Cheddar and Dill
Banana Macadamia Nut Bread
Batter Bread, Old Dominion
Biscuit Bread, Marsala and Fruit
Biscuit Muffins, Southern
Biscuits, Buttermilk, Southern, with
5 Variations
Biscuits, Corn, with Bacon and Sage
Biscuits, Drop, Scallion
Biscuits, Drop, Three-Cheese
Biscuits, Nancy Silverton's Buttermilk-Orange
Biscuits, Parmesan Sesame, Laurie Colwin's
Blueberry Tea Bread, Mary Margaret's
Bourbon Pecan Loaf
Carrot Bread, Marion Cunningham's
Chocolate Nut Bread (Marion Cunningham)
Coconut Bread, Key West
Coconut and Macadamia Nut Banana Bread
Coffee Doughnut Holes
Coffee and Spice Bread, Michele's
Corn Bread (Regina Schrambling)
Corn Bread with Basil, Roasted Red
Peppers and Monterey Jack Cheese
("The Ultimate Corn Bread")
Corn Bread, Blue Serrano-Chile
Corn Bread, Chili
Cornbread, Crawfish
Cornbread, Double-Corn Tex-Mex,
with Cheese and Green Chiles
Cornbread, Fontina and Poblano
Corn Bread, Mama's (Marcelle Bienvenu)
Corn Bread, Mammy's
Corn Bread "Pudding", Jalapeño
Corn Bread, Red Pepper and Dill
Corn Bread, Zucchini
Corn Sticks, Southern, Satsuma Tea Room
Cranberry Bread, Chef Keegan's Favorite
Cranberry-Pecan Bread (Emeril)
Cranberry and Pumpkin Pie Spice Tea Cake
Date and Walnut Loaf, Gigi's
Doughnuts, Cake, Spiced
Fresh Fig Quick Bread
Fresh-Ginger Pain d'Epice, Martha Stewart
Fruit and Orange Bread, Irish
Gingerbread, Blueberry
Gingerbread, Cranberry, with Brown
Sugar Whipped Cream
Gingerbread, How to Make
Gingerbread, Prune Armagnac
Ginger Breads, Raisin
Gingered Pear and Currant Breads
Ginger Loaf, Triple
Honey Date Nut Breads
Irish Soda Bread
Kahlúa Fruit Nut Bread, Kaye Lindauer's
Italian Bread with Cheese - Two Ways!
Gigi's Cheese-and-Herb Bread
Gina's Gorgonzola-Stuffed Italian Bread
Lemon Bread, Luscious
Lemon Poppy Seed Breads
Muffins - Index to Recipes
Olive Cheddar Bread
Orange Bread, Grandmother Craft's
Orange Poppy Seed Bread
Parmesan, Provolone and Herb Bread
Peanut Butter Banana Bread
Peanut Butter Chocolate Chip Breads
Pecan Harvest Loaf
Pineapple Nut Bread
Pineapple Zucchini Bread, Mammy's
Provolone, Sun-dried Tomato and Basil Bread
Pumpkin Walnut Bread
Scones, Buttermilk Almond, Café Latte
Scones, Coffee Cake, with Pecan Streusel
Scones, English, Orange-Scented with
Mock Devonshire Cream
Scones, Orange-Currant
Scones, Poppy Seed, Sarabeth's
Southern Biscuit Muffins
Spoon Bread, Buttermilk, Miss Susie's
Tea Bread (Bara Brith)
White Chocolate Cranberry Quick Bread
Zucchini Bread, Gigi's
---
Yeast Breads
Ali Baba
Angel Biscuits, Lee Bailey's
Apple Pull-Apart Bread
Babas au Calvados with Glazed Apple Rings
Bagels (Lauren Groveman, in Baking with Julia)
Baguettes, Serious, from King Arthur Flour
Basil Bread, chefmike's
Batter Bread, Summer Squash
Bauernbrot, German, Authentic
Beignets (Bacco, New Orleans)
Beignets, French Market
Bienenstich Parkrestaurant Schloss Rosenau
Bienenstich (Bee Sting), SERIOUS!
Black Bread, Martha Stewart Living Cookbook
Bran Bread (French Country Bread Series)
Bran Bread with Cinnamon and Currants
Bread, Home-Baked, Best and
Easiest (Nick Malgieri)
Breadsticks, Herb and Buttermilk
Bread Sticks with Tabasco Butter
Breakfast First (from Christmas
Memories with Recipes)
Hazelnut Cheddar Bread
Sweet Dough for Christmas Breads
Cranberry-Walnut Bubble Rings
Brioche
Basic brioche dough
Têtes (Parisienne)
Loaves (Nanterre)
Buns, Hamburger, City
Buns, Hot Cross
Buns, Lotus, Steamed
Butter Cake, Breton (Kouign Amann)
Butter Cake, German
Buttermilk Garlic Bread
Cheese-Filled Torta
Cinnamon Raisin Bread
Cinnamon Rolls, Glazed, Gigi's
Cinnamon Twists, Gigi's
Coffeecake Meyerson
Coffee Cake, Sourdough Sour Cream
Coffeecake, Strawberry Pocket
Country Hearth Loaf
Cranberry-Walnut Bubble Rings
Crawfish Bread, Emeril's
Croissants, Butter, Quick
Currant Rye Bread, Salt-Crusted
Curried Poppy Seed Crackers
Doughnuts, Deep-Fried Israeli
(Sufganiyot)
Doughnuts, Mardi Gras (Faschingkrapfen)
Doughnuts, New Year's Eve (Silvesterkrapfen)
Easter Sweet Bread from Civitavecchia
English Muffins
English Muffin Loaves
Fennel and Saffron Bread (Pain de Fenouil
et Saffran Jacques Collet)
Fig and Pear Bread
Flat Breads, Moroccan Chickpea
Focaccia, Basil, Rosemary and Tomato
Focaccia, Farm Stand, White Dog Cafe
Focaccia, Harvest
Focaccia, Parmesan, White Dog Cafe
Fouace aux Noix (Walnut Hearth Loaf)
French Bread, New Orleans
French Bread, Sourdough
French Country Bread Series: Bran Bread
French Country Bread Series: Hazelnut Bread
French Country Bread Series: Olive Bread
French Country Bread Series: Raisin and Millet Rolls
French Country Bread Series: Rye and Walnut Rolls
French Country Bread Series: Sunflower Seed Bread
French Mixed-Grain Bread
French Lemon Spirals, Gigi's
Garlic Bread, Commander's Palace
Garlic Bread, Louisiana (Emeril Lagasse)
Garlic, Herb and Cheese Pot Bread
German Bauernbrot, Authentic
Greek Sweet Bread (Tsourekia)
Hazelnut Bread (French Country Bread Series)
Hazelnut Cheddar Bread
Herb Bread with Sweet Sausage
Holiday Breakfast Bread, Michele's
Holiday Rye Bread, Swedish
Hot Cross Buns
Italian Bread - Two Great Recipes
King Cake
Kouign Amann (Breton Butter Cake)
Kugelhupf, Alsatian
Kugelhupf, Chocolate-Raisin-Filled
Lemon Butter Crust Buns
Let them eat bread! With lots of stuff on top...
Tomato Bread
Mean Garlic-Olive Bread
Onion Bread
Italian Bread with Olives and Cheese
Mincemeat Bread, Braided
Monkey Bread, Margaret's
Moravian Sugar Bread, Bill Neal's
Muffins, English, Sourdough
Oatmeal Bread, Laurie Colwin's
Olive Bread (French Country Bread Series)
Pane alla Contadina (Peasant Bread)
Panettone (Italian Christmas Bread)
Pâte à Brioche (Lutece)
Pecan Coffee Ring, Favorite
Pepperoni Bread
Pesto Bread (Pane al Pesto)
Philadelphia Sticky Buns
Pineapple Cheese Crumb Coffee Cake
Pistolettes, Country
[Pita] Syrian Bread
Plunder Brot (Braided Butter Bread)
Poppy Seed Bread
Potato Bread, Sour Cream and Chive
Pumpernickel Loaves
Roasted Garlic Bread with Gorgonzola
Rolls, Black Olive-Basil
Rolls, Crescent, Sesame-Onion
Rolls, Crescent, Viennese
Rolls, Dinner, Focaccia
Rolls, Dinner, Poppy Seed
Rolls, Fluffy, Georgene's
Rolls, Hard (like
German Broetchen)
Rolls, Icebox, Hoppin' John's
Rolls, Pan, Kansas
Rolls, Parker House
Rolls, Parker House
(Colicchio & Sons)
Rolls, Pecan, Becky's
Rolls, Pepper, Onion and Poppy Seed
Rolls, Potato Yeast
Rolls, Raisin and Millet (French
Country Bread Series)
Rolls, Rye, Onion-Shallot
Rolls, Rye and Walnut (French
Country Bread Series)
Rolls, Sun-Dried Tomato, with Garlic
Rolls, Yeast, Best-Ever
with Varuations
Rye Bread, Havarti
Rye Bread, Holiday, Swedish
Sally Lunn, Classic
Savarin, Almond, with Dried Apricot
and Raisin Compote
Savarin with Blueberries
Scotch Unkneaded Bread, Lee Bailey's
Silvesterkrapfen (New Year's
Eve Doughnuts)
Sourdough Starter, Francese Bread and
Focaccia, Iggy's Bakery
Sourdough Starter, Sourdough French Bread
Sourdough Whole Wheat Bread
Stollen, Chocolate-Laced Holiday
(Alice Medrich)
Stollen (Martha Stewart)
Sufganiyot (Israeli Doughnuts)
Sunflower Seed Bread (French
Country Bread Series)
Sweet Bread, Greek (Tsourekia)
Sweet Dough for Christmas Breads
Syrian [Pita] Bread
Tomato Bread, Lee Bailey's
Walnut Hearth Loaf (La Fouace aux Noix)
Walnut Wheat Bread
Wheat Bread, Herbed, Suzanne Corbett's
Whole Wheat Buttermilk Bread


Index - Breakfast Recipe Archives
Yummy Muffin Recipes!
Daily Recipe Index
Recipe Archives Index
Recipe Search