Your patronage of our affiliate partners supports this web site.
We thank you! In other words, please shop at LBC Gift Galerie!

Limes
Tamara Shurling
Buy This at Allposters.com


"…we have thought of writing a book called
'Everything Tastes Better with Limes'."
~ Alice Waters, in Chez Panisse Fruit
Lovely, Luscious Limes!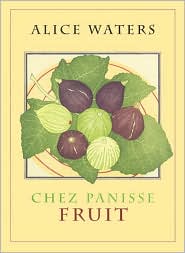 Chez Panisse Fruit

Copyright © 2002 by Alice Waters (HarperCollins)
by Alice Waters and the Cooks of Chez Panisse
in collaboration with Alan Tangren and Fritz Streiff
How could I possibly have waited so long? Lime is, after all, my favorite fruit of
all time. Period. So. Here, at long last, are some exquisite Chez Panisse recipes
making optimal use of this delectable fruit.
To me, the aroma of a freshly-cut lime is nothing short of intoxicating. And, as
Alice Waters opines, "Authentic margaritas, guacamole, and chutney are all impossible without Mexican limes." Amen! And we have salsa, the Daiquiri,
Cuba Libre (nothing more than rum and coke with lots of lime), Bloody Mary,
Key Lime Pie... Where to stop??? On to the recipes...
Samantha's Lime and Mint Cocktail
"When the price of limes gets down to seven cents apiece, I harvest our backyard mint, break out the rum, and invite friends over. This recipe is a casual variation
on the mojito, Cuba's quintessential cocktail. For an authentic mojito, use more mint and four times as much sugar (2 teaspoons per cocktail) and finish with soda water instead of tonic. Stir the sugar in a glass with a small handful of mint leaves and perhaps a splash of soda, lightly crushing the mint and dissolving the sugar. (This is called muddling, by the way, and is allegedly best done with a muddler, a small wooden baton made for this very purpose. Try using the handle of a wooden spoon and muddle until it smells powerfully of mint.) Squeeze in the juice of a
lime, leaving one of the juiced lime halves in the glass for more lime oil flavor.
Add 1/4 cup light rum, stir, fill with ice, top with soda water, garnish with more mint leaves and serve."
1 handful fresh mint leaves
2 teaspoons sugar
5 limes (cut 1 into 4 wedges for serving)
1 cup light rum
1 1/3 cups tonic water
Chill 4 highball glasses. When the glasses are cold, take them out of the refrigerator. In the bottom of each one, put 4 or 5 mint leaves, 1/2 teaspoon sugar, and the juice of 1 lime. Fill the glass with ice and pour in 1/4 cup light rum and 1/3 cup tonic water. Stir each cocktail briskly with a long spoon so the sugar dissolves and the mint releases its flavor. Garnish each drink with
a lime wedge and serve immediately. Makes 4 cocktails.
Scallop Ceviche
."If you can get live scallops still in their shells at the market,
you will find that they make this dish even more delicious."
1 1/4 pounds very fresh scallops
Salt
1 cup lime juice (about 8 limes)
1 tomato
1 small red onion, finely chopped
2 jalapeño or serrano chiles, thinly sliced
6 to 8 sprigs cilantro, chopped,
plus more for garnish
1 head Romaine lettuce
1 avocado
Lime wedges
Slice the scallops horizontally into 2 or 3 disks about 1/4 inch thick. Cut
the disks into 1/4-inch sticks and the sticks into 1/4-inch dice. Put the
diced scallops in a nonreactive dish and season well with salt. Cover with
3/4 cup lime juice and refrigerate for 2 hours, until the lime juice has "cooked" the scallops. [Lime juice "cooks" and tenderizes raw fish in
Ceviche and tartare preparations.] Meanwhile, peel and seed the tomato
and cut into 1/4-inch dice.
When the scallops are cooked, drain off and discard the lime juice. Add
the diced tomato, chopped onion, sliced chilies, chopped cilantro, and
remaining 1/4 cup lime juice. Marinate, refrigerated, for a couple
of hours.
To serve, wash and dry the prettiest Romaine leaves, make a nest with
them, and arrange the Ceviche over it. Garnish with slices of avocado, cilantro sprigs, and lime wedges. Serve with tortilla chips. Serves 6.
[Alternatively, ceviche can be a very welcome addition to a cocktail buffet, presenting the scallops on a large platter lined with Romaine and/or
radicchio leaves and garnished as above.]
Halibut Tartare with Lime,
Coriander, and Shallots
3/4 pound halibut (Alaskan halibut is the best)
Hook and line caught Alaskan Halibut at SeaBear.com

2 limes
1 shallot, chopped fine
1/4 teaspoon coriander seeds, crushed
Extra-virgin olive oil
Salt
2 tablespoons chopped cilantro
A few sprigs cilantro
Toasted brioche or pain de mie triangles
Slice the halibut very thinly across the grain, removing any fibrous con-nective tissue. Cut the slices into narrow strips and cut the strips crosswise into small dice. Grate the zest of 1 lime on the finest grater you have. Juice both limes into a bowl and add the zest, chopped shallot, and coriander
seeds. Whisk in 2 tablespoons extra-virgin olive oil and season with salt.
When ready to serve, toss the diced halibut with a little salt. Add the sauce
and toss again. Stir in the chopped cilantro and taste, adding more salt or
lime juice, if necessary. Garnish with sprigs of cilantro and serve immed-iately with toasted triangles of brioche or pain de mie. Serves 6.
Sweet Potatoes with Lime and Cilantro

Chez Panisse Vegetables
Copyright © 1996 by Tango Rose, Inc. (HarperCollins)
By Alice Waters and the Cooks of Chez Panisse
"This recipe is an eye-opener to those who find sweet potatoes cloyingly
sweet and unappealing. It is very fine served with Spinach and Yogurt
Raita [recipe included in cookbook] and grilled fish."
Bake the sweet potatoes whole, in their skins, until tender, about 1 hour. When done, slit open the skin, and scoop out the flesh onto a serving dish. Season with salt, dot with a few pieces of butter if you like, squeeze fresh lime juice over, and shower with cilantro leaves.

Featured Archive Recipes:
More Chez Panisse Recipes
Margarita Collection
Refreshing Lemon Libations
Carmen's Infamous Avocado Salsa
Focus on Citrus Fruit
Fruit Salsa Collection
Oodles of Oranges
Grilled Tequila-Lime Chicken
Red Snapper Veracruz
Scallop Seviche with Avocado Dressing
Tequila-Marinated Beef Fajitas
Key Lime Pie Three Ways
Lime Bars with Coconut Crust
Lime Curd and Toasted Almond Tart
Lime Filling for Gigi's Meringues Glacées

Index - Fruit Recipe Archives
Index - Miscellaneous Dessert Recipes
Daily Recipe Index
Recipe Archives Index
Recipe Search