Your patronage of our affiliate partners supports this web site.
We thank you! In other words, please shop at LBC Gift Galerie!

Cozy Kitchen Setting
Photographic Print
Buy at AllPosters.com


Paula's Ultimate Oatmeal Cookies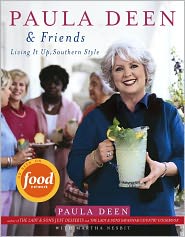 Paula Deen & Friends:
Living It Up, Southern Style
"I created this recipe on my television show. I could have
eaten the whole plateful myself - and I just about did!"
1/2 cup (1 stick) butter, softened
1/2 cup vegetable shortening
1 1/2 cups packed light brown sugar
2 eggs
1/2 cup buttermilk
1 3/4 cups all-purpose flour
1 teaspoon baking soda
1/2 teaspoon salt
1 teaspoon baking powder
1 teaspoon ground ginger
1 teaspoon freshly grated nutmeg
1 teaspoon ground cinnamon
1/4 teaspoon ground cloves
1/2 teaspoon ground allspice
2 1/2 cups quick-cooking oatmeal
(not instant!)
1 cup raisins
1 1/2 cups chopped walnuts
1 teaspoon vanilla extract
Brown Butter Icing:
1/2 cup (1 stick) butter
3 cups sifted confectioners' sugar
1 teaspoon vanilla extract
1. Preheat the oven to 350 degrees F. Line cookie sheets with parch-
ment paper or nonstick baking mats.
2. Using an electric mixer, cream together the butter, shortening, and
sugar at low speed until fluffy. Add the eggs and beat until the mixture
is light in color. Add the buttermilk and mix to combine.
3. Sift together the flour, baking soda, salt, baking powder, ginger, nut-
meg, cinnamon, cloves, and allspice. At low speed, gradually add the
dry ingredients. Using a spatula, fold in the oatmeal, raisins, walnuts,
and vanilla, blending well. Drop by rounded teaspoonfuls 1 1/2 inches
apart onto the prepared cookie sheets. Bake for 12 to 15 minutes.
4. While the cookies are baking, make the icing: In a small saucepan,
heat the butter over medium heat until golden brown, stirring
occasionally. Remove the saucepan from the heat; stir in the
sugar and vanilla. Stir in enough water (3 to 4 tablespoons) to
make an icing of drizzling consistency.
5. Remove the cookies to wire racks to cool. Drizzle with Brown Butter
Icing while the cookies are still warm.

Featured Archive Recipes:
Paula's Monster Cookies
Irish Lace Cookies
Oatmeal Cookies, Butterscotch Chip
Oatmeal Cookies, Icebox, Mammy's
Oatmeal Cookies, Megan's Favorite
Oatmeal Cranberry Cookies
(Martha Stewart)
Oatmeal Chocolate Chip Cookies
(Martha Stewart)
Oatmeal Raisin Cookies, Big Chewy
Oatmeal Trail Mix Cookies
~*~*~*~*~*~*~*~*~*~*~*~
German Spice Icebox Cookies
Mississippi Molasses Cookies
Pfeffernuesse
Ruth Moulton's Spice Balls
Speculaas (Dutch Spice Cookies)
World's Greatest Cookie


Index - Cookie Recipe Archives
Holiday Central!
Daily Recipe Index
Recipe Archives Index
Recipe Search