Ciabatta, Fennel Bulb and
Pepper Shaker...
Photographic Print
Leplat, Véronique
Buy at AllPosters.com

La Belle Cuisine - More Main Dish Recipes
Fine Cuisine with Art Infusion
"To cook is to create. And to create well...
is an act of integrity, and faith."
Portobello Mushrooms Stuffed with Italian
Sausage, Peppers, Onions, and Fennel

Shun U2 Ultimate Utility Knife - Shop Now at Sur La Table
"Nature alone is antique and the oldest art is mushroom."
~ Thomas Carlyle
---
Recipe of the Day Categories:
Recipe Home
Recipe Index
Recipe Search
Fruit
Expanded Edition - 25
delicious new recipes!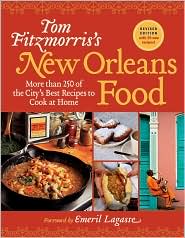 Tom Fitzmorris's
New Orleans Food:
More Than 250 of the
City's Best Recipes
to Cook at Home

Your patronage of our affiliate partners supports this web site.
We thank you! In other words, please shop at LBC Gift Galerie!

Portobello (Agaricus Bisporus), Edible Large Cremini Mushrooms
Photographic Print
Lucas, Ken
Buy at AllPosters.com


Portobello Mushrooms Stuffed with Italian
Sausage, Peppers, Onions, and Fennel
Tom Fitzmorris
"I'm often asked for recipes for portobello mushrooms other than straight
grilling. That's easy to understand: the mushrooms look so good even in
a plastic-wrapped package that you want to figure out new things to
do with them.
As did I. This recipe starts with a light, dry grilling to take some of the
moisture out of the mushrooms so they'll hold together better. The Italian
sausage is then broken up with some classic savory vegetables for a Creole-
Italian take on stuffed mushrooms. The filling is quite loose, but avoid the temptation to stick it back together with cheese or bread crumbs."
4 large (three- or four-inch diameter)
portobello mushrooms
3 links Italian sausage, removed
from casing
1/2 tablespoon olive oil
1 medium onion, coarsely chopped
1 red bell pepper, seeded and
coarsely chopped
1/2 bulb fennel (anise) or 2 ribs celery,
coarsely chopped
1/4 cup dry white wine
1/2 teaspoon lemon juice
Dash soy sauce
1/2 bunch flat-leaf parsley, chopped
1/3 cup plain bread crumbs
1/2 teaspoon salt
4 leaves fresh basil, julienne
1. Brush the dirt off the mushrooms and place them cap side down on a medium-hot skillet or griddle for about a minute, until they flatten out
slightly. Remove to an oven pan or cookie sheet.
2. Break the sausage into a skillet and sauté until completely cooked.
Keep stirring to keep the sausage from clumping up. Turn off the
heat. Remove the sausage and drain.
3. Pour off the fat and wipe the skillet lightly with a paper towel. Heat
the olive oil in the same pan over medium heat. When it shimmers,
add the onion, bell pepper, and fennel or celery, and cook until just
beginning to soften.
4. Add the wine, lemon juice, and soy sauce, and bring to a boil while
stirring now and then. After a minute, add the sausage and the parsley
back and cook until nearly dry.
5. Remove the pan contents to a bowl. Add the bread crumbs and salt
and stir in with a kitchen fork to loosen up the mix.
6. Spoon the mixture very loosely into the mushrooms and run under
the broiler until the mixture starts to sizzle and the bread crumbs are
toasted--about two or three minutes. Top with the julienne basil.
Serves four.
[Serve with the pasta of your choice and plenty of
good-quality Parmigiana cheese.]

Featured Archive Recipe:
Baked Ziti with Italian Sausage and Fennel
Grilled Portobello Mushrooms with Red
Peppers and White Bean Purée
Orecchiette with Broccoli Rabe and
Sausage (Rao's)
Orzo and Portobello Casserole
Portobello Napoleon of Grilled Vegetables


Index - Main Dish Recipe Archives
Do you know what it means
to miss New Orleans?
Daily Recipe Index
Recipe Archives Index
Recipe Search