Your patronage of our affiliate partners supports this web site.
We thank you! In other words, please shop at LBC Gift Galerie!

Lemons and Blossoms
Art Print
Hall, Hampton
Buy at AllPosters.com


Grilled Lemon Chicken with Satay Dip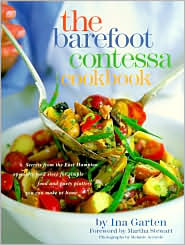 Barefoot Contessa
Cookbook

by Ina Garten, 1999, Clarkson Potter
Serves 8 to 10
"This is a famous Barefoot Contessa recipe. I'd hate to have to add up how
many millions of pounds of grilled lemon chicken we have made over the
years. We use this as an appetizer, as shown here with a peanuty satay dip,
but we also mix it with vegetables and a fresh lemon vinaigrette for lunch
or serve whole grilled chicken breasts for a delicious and healthy dinner.
The longer you marinate the chicken, the better.
Serve warm with Satay Dip."
3/4 cup freshly squeezed lemon juice
(4 lemons)
3/4 cup good olive oil
2 teaspoons kosher salt
1 teaspoon freshly ground
black pepper
1 tablespoon minced fresh thyme leaves
(1/2 teaspoon dried)
2 pounds boneless chicken breasts,
halved and skin removed
Whisk together the lemon juice, olive oil, salt, pepper, and thyme. Pour
over the chicken breasts in a nonreactive bowl. Cover and marinate in
the refrigerator for 6 hours or overnight.
Heat a charcoal grill and cook the chicken breasts for 10 minutes on
each side, until just cooked through. Cool slightly and cut diagonally in
1/2-inch-thick slices. Skewer with wooden sticks.
Satay Dip
Makes 1 1/2 cups
"Inspiration for this recipe came from a wonderful caterer
in Philadelphia who wrote The Frog Commissary Cookbook
.
I love the complexity of the flavor in this recipe, which is
so quick to make."
1 tablespoon good olive oil
1 tablespoon dark sesame oil
2/3 cup small-diced red onion (1 small onion)
1 1/2 teaspoons minced garlic (2 cloves)
1 1/2 teaspoons minced fresh ginger root
1/4 teaspoon crushed red pepper flakes
2 tablespoons good red wine vinegar
1/4 cup light brown sugar, packed
2 tablespoons soy sauce
1/2 cup smooth peanut butter
1/4 cup ketchup
2 tablespoons dry Sherry
1 1/2 teaspoons freshly
squeezed lime juice
Cook the olive oil, sesame oil, red onion, garlic, ginger root, and red
pepper flakes in a small, heavy-bottomed pot on medium heat until
the onion is transparent, 10 to 15 minutes. Whisk in the vinegar,
sugar, soy sauce, peanut butter, ketchup, Sherry, and lime juice;
cook for 1 minute more. Cool and use as a dip…
We use Kikkoman soy sauce.

Freshly squeezed lime juice makes all the difference.

You can find dark sesame oil in Asian stores, It tastes just
like roasted sesame seeds rather than a plain, flavorless oil.

This dip will last for a month in the refrigerator.

Featured Archive Recipes:
The Barefoot Contessa's
Indonesian Ginger Chicken
The Barefoot Contessa's
Parmesan Chicken Sticks
Beef Saté with Spicy Szechwan Sauce
Cajun Chicken Morsels
Grilled Tequila-Lime Chicken
Hot Pepper Wings with Cilantro Sour Cream



Index - Appetizer Recipe Archives
Index - Poultry Recipe Archives
Daily Recipe Index
Recipe Archives Index
Recipe Search