Recipe of the Day Categories:
Recipe Home
Recipe Search
Appetizers
Beef
Beverage
Bread
Breakfast
Cake
Chocolate
Fruit
Main Dish
Pasta
Pies
Pork
Poultry
Salad
Seafood
Side Dish
Soup

Salmon

Buy This at Allposters.com


Fresh Vegetables, Dill and Limes
Photographic Print
Buy at AllPosters.com


Cucumber, Sweet Success
Wally Eberhart
Buy This Allposters.com



Your patronage of our affiliate partners supports this web site.
We thank you! In other words, please shop at LBC Gift Galerie!

Leaping Salmon in the Ballysadare River in Ireland
Paul Nicklen
Buy This at Allposters.com


Gravlax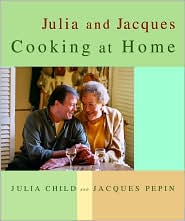 Julia and Jacques
Cooking at Home

by Julia Child and Jacques Pépin with David Nussbaum,
1999, a Borzoi Book, Alfred A. Knopf
Julia
"I use the traditional seasonings of salt, sugar, and dill, as well as cognac, in both my long-cure and quick gravlax. The proportions are the same – 1 1/2 teaspoons
of salt and 3/4 teaspoon of sugar per pound of salmon. I don't like to use a lot of
salt to begin with – you can always add more during the cure if needed. The sugar
keeps the salmon reasonably soft; otherwise it tends to stiffen. The cognac, while
not essential, adds some pizzazz to the cure.
Following this formula, you can cure any amount of salmon that you want. For a large party, it's as easy to cure two fillets (two halves of a whole salmon) as it is to
do one. You'll need only spoonfuls more sugar, salt, and cognac, a few more dill sprigs, and a larger dish to hold the fish. The cure will still take four to five days. With the quick method, you can cut a whole, skin-on fillet into slices – removing them from the skin – season them on both sides as in the recipe, then reassemble
the slices on the skin, instead of arranging them on a platter.
Not to worry if you end up with extra gravlax. The long-cured dilled salmon will
last for a week – the quick gravlax for several days – and both will freeze nicely.
I had never heard of gravlax before I went to Norway in the 1950s, where we lived
for two years. At the Grand Hotel in Oslo, we had a memorable lunch at which
gravlax was served with creamed potatoes and scrambled eggs. I have been
making it ever since."

Julia's Traditional Gravlax
Yield: 2 to 2 1/2 pounds, serving 15 to 20 as an appetizer
One 2 1/2- to 3-pound salmon fillet, skin on,
all bones removed [illustration in cookbook]
1 1/2 tablespoons salt, plus more if needed
2 1/4 teaspoons sugar
4 tablespoons cognac, plus more if needed
Fresh dill sprigs, about 1 cup packed
For serving
Fresh dill and parsley
Cucumber Ribbons, optional (recipe follows)
Breads and other accompaniments, as noted below
Special equipment
A glass, enamel, or other non-reactive baking dish to hold the salmon
(about 10 inches long); plastic wrap; a plate or cutting board, and 5
pounds to weight it (such as canned goods)

Curing the fillet
Trim the salmon fillet, cutting away any thin, uneven edges and the thin
end of the tail. (You can use the fleshy trimmings for Salmon Tartare…)
Cut the fillet in half crosswise, so you have 2 pieces of the same length
and about the same width, and lay them skin down on the work surface.
Stir the salt and sugar together in a small bowl. Sprinkle half the mix over each fillet and rub in it with your fingers. Drizzle about 2 tablespoons of cognac over each piece and rub in. Spread the dill sprigs over on fillet,
then set it in the baking dish. Lay the other fillet on top, align the sides
neatly, and cover with a sheet of plastic wrap [photos in cookbook].
Lay a pan or board on top of the fish (be sure it isn't resting on the rim
of the dish), weight the top with cans or other heavy objects to compress
the fillets, and place in the refrigerator. After one day of curing, remove
the weights and top tray, and turn the fish over (so the top fillets is on
the bottom), baste with the liquid that has accumulated in the dish, and
replace the weights. Turn and baste after the second day, and slice off a
sliver of the salmon. Taste, and sprinkle more salt or cognac on the flesh
if needed. Cure for another day, turn, and baste once more. After the
fourth full day, the cure will be complete and you can serve the gravlax.
Slicing the gravlax
Clean the dill from the flesh of one fillet and wipe dry with paper towels.
With a long thin-bladed slicing knife, held at a very flat angle, start slicing
a few inches from the narrow end of the fillet. Cut with a back-and-forth
sawing motion, toward the narrow end, to remove a thin slice of fish. Start
each succeeding slice a but farther in from the end of the fillet; always cut
at a flat angle, to keep the slices long and as thin as possible. When the
blade reaches the skin, shave the slice off – don't cut through the skin.
You may trim away and discard the dark flesh that was next to the skin.
The Norwegians leave it on.
After cutting as many slices as you wish to serve, fold the attached flap
of skin over the remaining fish and wrap well in plastic. The gravlax can
be stored in the refrigerator for about a week.
Serving suggestions
Serve sliced gravlax as a first course on individual plates, or as an hors d'oeuvre on a serving platter. If the slices are large, you may wish to
cut them into smaller, canapé-sized pieces. Garnish individual plates
or serving platters with sprigs of dill and parsley, or [see below]
seasoned Cucumber Ribbons.
Accompany the salmon with thin slices of dark bread, such as dense European-style rye or pumpernickel. Toasted and buttered slices of
brioches, and/or an assortment of crisp rye and wheat crackers may
also be served.

Julia's Quick Gravlax
Yield: 10 to 12 slices, serving 8 or more an as hors d'oeuvre
1 pound salmon fillet, trimmed and boned
1 1/2 teaspoons salt
3/4 teaspoon sugar
1 tablespoon cognac, in a small dish,
or more if needed
1 bunch fresh, clean dill sprigs
For serving
Cucumber Ribbons, optional (recipe follows)
Breads and other accompaniments [as noted above]
Special equipment
A large serving platter; plastic wrap
Slice the salmon as thinly as possible [photo in cookbook]. You should
have 10 or more slices, each about 1 1/2 ounces. Or maybe you can
cajole your fish man – the way I do – into slicing the salmon for you.
Stir together the salt and sugar in a small bowl. Lay all the salmon slices
flat on a large cutting board or clean work surface. Sprinkle each slice
with a pinch or two of the salt-sugar mix – you should use half the mix,
about a teaspoon in all.
Then moisten the slices with cognac, dipping your finger into the dish
and rubbing a few drops over the surface of each. When all the slices
are coated, turn them over and, after drying your finger, season the
second side with the remaining salt-sugar mix, then rub with cognac.
Chop several of the dill sprigs quite fine, to yield a tablespoon or two.
Spread the rest of the sprigs on the serving platter. One by one, arrange
the salmon slices flat, in an overlapping pattern, covering the dill. Sprinkle
the chopped dill over the slices, cover tightly with plastic wrap, and refrig-erate for 2 hours. (After 1 hour, taste a small piece of the salmon, and
season with more salt, sugar, or cognac if needed.)
To serve, simple uncover the platter. Garnish with cucumber ribbons,
if you like, and serve with any of the breads and other accompaniments suggested above.

Jacques's Cucumber Ribbons
"These thin strips of lightly dressed cucumber are a fine garnish for all of
our salmon appetizers.
With a sharp vegetable peeler, remove the skin from a large, preferably 'seedless' (or English) cucumber. Then, still using the vegetable peeler,
shave lengthwise strips from one side of the cucumber, until you can see
the interior layer of seeds. Rotate the cucumber 90 degrees, shave off
more long ribbons until you reach the seeds, then rotate and remove
strips twice more. (Now you can discard the rectangular center of the
cucumber, with all the seeds.)
You should have about 2 cups of ribbons. Season with 1/4 teaspoon each
of salt, sugar, and freshly ground black pepper, and about 1 teaspoon of
white-wine vinegar. Toss to distribute the seasonings.
For more delicate, spaghettilike ribbons, neatly lay 4 to 6 unseasoned cucumber strips on top of each other, then fold or roll the pile over several times, making a many-layered stack. Cut down through the layers length-
wise, every 1/8 inch or so, creating long thin strips, like spaghetti. Loosen
the strands gently and season as above.
You can garnish with the ribbons in many ways: lay them flat in decora-
tive, crisscross patterns on serving plates; form them into small mounds
and drape them with slices of gravlax, for individual servings; or spread
a loose tangle of ribbons into a ring or nest around a platter of gravlax
or salmon tartare."
Featured Archive Recipes:
Savory Puffs with Smoked Salmon Mousse
and Mascarpone-Vegetable Medley
Salmon en Papillote from Julia and Jacques
Charlie Trotter's Smoked Salmon Canapés

Index - Appetizer Recipes
Index - Fish Recipe Archives
Holiday Central!
Daily Recipe Index
Recipe Archives Index
Recipe Search