Your patronage of our affiliate partners supports this web site.
We thank you! In other words, please shop at LBC Gift Galerie!

Great EgretReflected in Foggy Cypress Swamp, Lake Martin, Louisiana, USA
Arthur Morris
Buy This at Allposters.com


Eggplant and Shrimp Beignets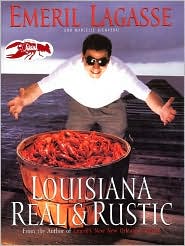 Louisiana Real
and Rustic

by Emeril Lagasse and Marcelle Bienvenu,
1996, William Morrow and Co.
"A beignet makes most people think of the sweet doughnuts or fritters served
in the French Quarter with café au lait, but there are all kinds of beignets
in Louisiana. When shrimp season opens and gardens yield plump, purple
eggplants, I crave anything cooked with these two favorites of mine. These
crunchy tidbits are addictive when dipped in Creole Tartar Sauce."
Makes about 2 dozen
1 medium eggplant, peeled and
chopped (about 1 pound)
1 1/2 teaspoons salt
1/2 teaspoon cayenne
2 tablespoons vegetable oil
1/2 cup chopped onions
1/2 pound large shrimp, peeled,deveined,
and cut into 1/2 inch pieces
3 eggs, beaten
1 1/2 cups milk
2 teaspoons baking powder
3 1/4 cups flour
Solid vegetable shortening for deep-frying
1 teaspoon Rustic Rub
1. Season the eggplant with 1/2 teaspoon of the salt and 1/4 teaspoon of
the cayenne. Heat the oil [shortening] in a skillet over medium-high heat.
Sauté the eggplant until slightly soft, 2 to 3 minutes. Add the onions and
sauté, for about 3 minutes, or until slightly wilted. Add shrimp and sauté
until the shrimp turn pink, 2 to 3 minutes. Remove and set aside to cool.
2. Make a batter of the eggs, milk, baking powder, the remaining tea-
spoon salt, and 1/4 teaspoon cayenne. Add the flour, 1/4 cup at a time,
beating and incorporating until the batter is smooth. Add the eggplant-
shrimp mixture and fold to mix. Heat the shortening to 360 degrees F.
Drop in the batter, a heaping tablespoon at a time. When the beignets
pop to the surface, roll them around in the oil with a slotted spoon to
brown them evenly. Remove and drain on paper towels.
3. Sprinkle the beignets with the Rustic Rub and serve.

These beignets are just as addictive when dipped in:
Emeril's Rémoulade
"Traveling around the state, you will no doubt encounter many different
rémoulade sauces. Some are very spicy, others are tamer. Some are red,
made so with ketchup, others are white, made with mayonnaise. Which
is best? Which is right? If you ask a local, he'll probably tell you, the
one that is best, or right, is the one you like.
Rémoulade is traditionally served over cold boiled shrimp or chilled
lump crabmeat on a bed of shredded lettuce as an appetizer…"
2 cups
1/4 cup fresh lemon juice
3/4 cup vegetable oil
1/2 cup chopped onions
1/2 cup chopped green onions
1/4 cup chopped celery
2 tablespoons chopped garlic
2 tablespoons prepared horseradish
3 tablespoons Creole or whole-grain mustard
3 tablespoons prepared yellow mustard
3 tablespoons ketchup
3 tablespoons chopped parsley
1 teaspoon salt
1/4 teaspoon cayenne
1/8 teaspoon freshly ground black pepper
Put all the ingredients in a food processor and process for 30 seconds.
Use immediately or store. Will keep for several days in an airtight con-
tainer in the refrigerator.

More Party Ideas:
Baked Crab, Brie, and
Artichoke Dip
Cajun Chicken Morsels
Cajun Popcorn (Paul Prudhomme)
Crawfish Beignets with
Spicy Tartar Sauce
Hot Pepper Wings with
Cilantro Sour Cream
Marinated Pork Tenderloin with
Jezebel Sauce
Pepper Biscuits with Cheddar
Pecan Spread
Salsa Collection
Ultimate Nachos
Union Square Cafe Bar Nuts


Index - Appetizer Recipes
Do you know what it means
to miss New Orleans?
Daily Recipe Index
Recipe Archives Index
Recipe Search