Your patronage of our affiliate partners supports this web site.
We thank you! In other words, please shop at LBC Gift Galerie!

Olive Tree Branch and Chateau Mont-Redon,
Chateauneuf-Du-Pape, Vaucluse, Provence, France
Karlsson, Per
Buy This Allposters.com


Crostini with Tuna Tapenade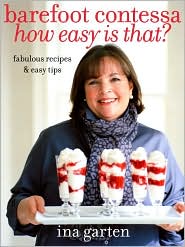 Barefoot Contessa
How Easy Is That?:
Fabulous Recipes and Easy Tips
This recipe also appeared on
Food Network Show: Barefoot Contessa
Episode: Easy French
Makes 16 appetizers
"When I'm grilling, it's fun to have crostini to serve with drinks.
This is a classic Mediterranean combination of tuna, olives, and
lemon zest. Italian tuna and mascarpone make all the difference."
10 to 12 ounces canned or jarred
Italian tuna packed in olive oil
2 teaspoons anchovy paste
1 teaspoon fresh thyme leaves
2 tablespoons minced fresh parsley,
plus extra for garnish
1 tablespoon grated lemon zest [use rasper]
2 teaspoons minced garlic (2 cloves)
3 tablespoons freshly squeezed
lemon juice
3 tablespoons good olive oil, plus
extra for brushing bread
1/3 cup Italian mascarpone cheese
1/4 cup pitted and chopped
kalamata olives
1 tablespoon drained capers
1 teaspoon kosher salt
1 teaspoon freshly ground black pepper
36 slices French bread, cut diagonally
Drain all but a tablespoon of olive oil from the tuna and then flake the
fish into the bowl of a food processor fitted with the steel blade. Add the
anchovy paste, thyme, parsley, lemon zest, and garlic and pulse a few
times. Add the lemon juice, 3 tablespoons of olive oil, and the mascar-
pone and process until almost smooth. Add the olives, capers, salt, and pepper and pulse just to incorporate. Transfer the mixture to a bowl,
cover with plastic wrap, and refrigerate for at least 1 hour.
Meanwhile, heat a gas or charcoal grill or preheat the oven to 375
degrees [F]. Brush the bread lightly on one side with olive oil. Grill the crostini on both sides until lightly browned or arrange the bread on a
sheet pan and bake for 6 to 8 minutes. Allow to cool slightly.
Mound the tapenade on each toast, sprinkle with parsley, and serve.

More from The Barefoot Contessa:
Grilled Lemon Chicken with Satay Dip
Parmesan Chicken Sticks
Roasted Vegetable Torte
Featured Archive Recipes:
Antipasto-Stuffed Baguettes with Tapenade
Bruschetta with White Beans,
Tomatoes and Olives
Crostini con Peperoni (Red and
Yellow Bell Pepper Toasts)
Grilled Linguica Crostini with Red Onion
Marmalade (Mario Batali)
Mushroom Tapenade on Toasted
Baguette Slices



Index - Appetizer Recipe Archives
Party Central!
Daily Recipe Index
Recipe Archives Index
Recipe Search