Turkey Chef I
Art Print
Chiu, T. C.
Buy at AllPosters.com
La Belle Cuisine - More Lagniappe * Recipes
Fine Cuisine with Art Infusion
"To cook is to create. And to create well...
is an act of integrity, and faith."
*Lagniappe (lan-yap) - a little something extra,
that little unexpected pleasant surprise.
Tom's Louisiana Thanksgiving (cont.)

TABASCO(R) t-shirts and caps now on sale! Internet only!
"Next to eating good dinners, a healthy man with a benevolent
turn of mind must like, I think, to read about them."
.~ William Makepeace Thackeray
---
Recipe of the Day Categories:
Recipe Home
Recipe Search
Fruit

Mushrooms...

Buy This at Allposters.com


Expanded Edition - 25
delicious new recipes!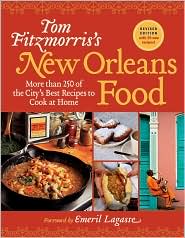 Tom Fitzmorris's New Orleans Food: More Than 250 of the
City's Best Recipes
to Cook at Home

Grapes Ready for Harvest, Napa Valley, CA
Photographic Print
Houser, Robert
Buy at AllPosters.com


"Thanksgiving Day Blues"
Norman Rockwell
Buy This at Allposters.com

Your patronage of our affiliate partners supports this web site.
We thank you! In other words, please shop at LBC Gift Galerie!

Bayou Plantation
Giclee Print
Millsap, Diane
Buy at AllPosters.com


"Tom Fitzmorris is New Orleans' leading restaurant critic and the writer
and publisher of the New Orleans Menu. Tom was born on Mardi Gras in
New Orleans and has never left town for more than three weeks at a time.
His passion for eating began with his mother's classic Creole cooking and
grows in intensity every day.
Writing about restaurants has been the focus of his 30-year career in
journalism. Tom's first restaurant review was published in 1972, and
they've come out at least weekly ever since. They're currently found in
New Orleans City Business. He also writes regularly for many local
and national publications.
In 1986, Tom achieved the distinction of Certified Culinary Professional
from the International Association of Culinary Professionals, a national
association of food writers and cooking instructors. He is one of only two
CCPs in the state of Louisiana."
We trust Tom's opinion implicitly. We've relied on his judgment for many, many years and have never been disappointed. We hope you'll have the same success
and that his recommendations (and his recipes!) will bring you at least as many
hours of dining pleasure as we've experienced.
Tom Fitzmorris's Thanksgiving Feast (cont.)
"Here are the Thanksgiving recipes everybody always asks me for.
(And which I cook for my own family every year.) Now get that
turkey thawed and get started!"
Smoke-Roasted Turkey
Italian Sausage, Cornbread and Fennel Stuffing
Turkey Giblet Gravy

Savory Mushroom Bread Pudding
Root Beer-Glazed Ham
Sweet Potato Cheesecake

Savory Mushroom Bread Pudding
"In New Orleans, we know bread pudding as a dessert. This is a bread pudding
made with all the traditional ingredients except the sweet ones: sugar, vanilla,
raisins, and cinnamon. In their place are mushrooms and cheese. As peculiar
an idea as this may sound, a number of local chefs have been creating some-
thing like this as a side dish. At our house, my wife created a savory bread
pudding to replace either a starch or a stuffing, and we've had it at Thanks-
givings ever since.
This is at its best with meaty, wild-tasting mushrooms: portobellos, criminis, shiitakes, chanterelles, porcinis, etc. The best cheeses are the ones that melt
well and have an interesting tang: Gruyere, Fontina, Swiss, Provolone,
mozzarella. (If you use the latter two, use a little Parmesan, too.)"
Serves eight
3 cups half-and-half
4 eggs, beaten
1 teaspoon Worcestershire
1/4
teaspoon Tabasco
1/4
teaspoon salt
1 tablespoon butter
18 inches of a loaf of stale poor boy bread
[or other French or Italian Bread]
1 1/2 cups sliced mushrooms
3/4 cup thinly sliced green onions
1 1/2 cup shredded Gruyere, Fontina,
or other easy-melting white cheese
1. Preheat the oven to 300 degrees [F].
2. Combine the half-and-half, eggs, Worcestershire, Tabasco, and salt
in a bowl and blend well.
3. Slice the bread into thin (about 1/4 inch) slices. Butter the inside of a
9 x 5 x 4 baking dish or casserole. Place a layer of bread along the
bottom. Sprinkle one-third each of the cheese, mushrooms, and green
onions over the bread. Pour one-fourth of the milk-egg mixture over
this, enough to soak it well. Push down gently until the bread is soaked.
4. Repeat the layers in the same order as above, following with a dousing
of liquid. Finish with a layer of bread and the last of the liquid.
5. Place the baking dish in a pan of warm water and put the entire
assembly into the preheated oven. Bake for an hour and 15 minutes
at 300 degrees. Let it cool for at least a half-hour before serving.
It can be sliced, but it's perfectly fine to spoon it right out of the
dish at the table.
Root Beer-Glazed Ham
"Baked ham is every bit as traditional as turkey on Thanksgiving. We always
have both on our table. The starting point is a first-class quality ham; we're
lucky in New Orleans to have the carefully-cured, old-fashioned hams pro-
duced by Chisesi, which I would choose over any other ham out there. My
glaze is made with some familiar local products."
1/2
teaspoon dry mustard
3/4 cup dark brown sugar
Two 12-ounce bottles Barq's root beer
1 1/2 tablespoons pepper jelly
1 bay leaf
1 1/2 tablespoons Tabasco Caribbean-style
steak sauce or Pickapeppa
Shop for TABASCO(R) sauces and specialty foods.

6 cloves
1 stick (or 1/2 teaspoon ground) cinnamon
Peel and juice of one-half an orange
Peel of half a lemon
1. Preheat oven to 350 degrees [F].
2. Place the ham in a broiling pan and cut shallow gashes in a criss-
cross pattern across the top half. Combine the brown sugar and
the dry mustard and pat it all over the ham. Put the ham in the oven.
3. Combine all the other ingredients in a saucepan. Bring the mixture
to a boil, then lower to a simmer, and cook until the liquid volume
is reduced to about one cup. Strain.
4. Spoon some of the glaze over the top of the ham. Spoon more
glaze, at 15-minute intervals, until it's all used up. Try to get some
glaze on all parts of the ham. Continue baking until the ham reaches
an internal temperature of 160 degrees on a meat thermometer. Re-
move from the oven and allow to rest for one hour before carving.
Sweet Potato Cheesecake
"We always have a cheesecake at our Thanksgiving dinner,
and it's always different."
2 sweet potatoes (about 1 1/2 pounds)
2 packets of graham crackers (out of
the standard box of three)
1 stick melted butter
1/2
teaspoon cinnamon
Two 8-ounce packages cream
cheese,
softened
1 1/2 cups sugar
4 eggs
8 ounces sour cream
1 tablespoon cinnamon
Pinch nutmeg
Grated peel (colored part only)
of one orange
Juice of half an orange
1. Boil the sweet potatoes for 40 minutes, till quite soft. Drain com-
pletely and cool.
2. Meanwhile, make the crust by grinding the graham crackers into a
coarse meal in a food processor. Add the cinnamon and the butter and
dump into a springform pan. Press a thick wedge into the seam of the
bottom of the pan. Then form the rest of the crust up the sides and
along the bottom.
3. When the sweet potatoes are cool, peel them and puree them, adding
a little milk to help things along. Strain through a sieve or food mill to
remove the strings.
4. In a mixing bowl, combine the cream cheese and the sugar and blend
until the sugar is no longer gritty. Add the eggs, one at a time, breaking
them in a cup outside the bowl to avoid getting a bad egg in your filling.
5. Add the sour cream, cinnamon, nutmeg, orange peel, orange juice,
and 1 1/2 cups of sweet potato puree. Scrape down the sides of the
bowl and be sure everything is well blended. If the mixture is unpour-
ably thick, add a little cream or half-and-half to lighten it.
6. Pour the mixture into the springform pan. Place the pan in a larger
pan with a half-inch of water in the bottom. Put the entire assembly
in the 250-degree oven. Bake for one hour and twenty minutes, or
until the lightest browning is seen on the top.
7. Turn the oven off. Allow the cheesecake to remain in the oven for
30 minutes. Crack the oven door and prop it open slightly, and let
the cheesecake cool another hour. Remove the cheesecake from
the oven and cool at room temperature for yet another hour.
Unbuckle the sides of the pan and refrigerate the cheesecake.
(The slow cooling will prevent a crack from forming in the top.)

The best way to slice a cheesecake is with dental floss! (Unflavored,
of course - and make sure everyone sees you pulling it out of the
container, or else they get some strange ideas.)
© 2001 Tom Fitzmorris. All rights reserved.

Louisiana Thanksgiving Feast, Part 1
Featured Archive Recipes:
Camembert-Asparagus Bread Pudding
Brioche and Oyster Pudding
Ginger-Rum-Glazed Ham
Monte's Ham
Spiced Baked Ham with Sweet
Potatoes (Emeril)
Bananas Foster Cheesecake
Pumpkin Cheesecake in a
Gingersnap Crust

More Lagniappe Recipes!
New Orleans Recipe Index
Thanksgiving Recipe Index
Holiday Central!
Daily Recipe Index
Recipe Archives Index
Recipe Search