Spices
Art Print
Buy at AllPosters.com

La Belle Cuisine - More Pork Recipes
Fine Cuisine with Art Infusion
"To cook is to create. And to create well...
is an act of integrity, and faith."
Spiced Baked Ham with Sweet Potatoes
"Carve a ham as if you were shaving the face of a friend."

~ Henri Charpentier
---
Recipe of the Day Categories:
Recipe Index
Recipe Search
Fruit

Spices of Life
Art Print
Soulayrol,...
Buy at AllPosters.com



From Emeril's Kitchens: Favorite Recipes from Emeril's Restaurants

Your patronage of our affiliate partners supports this web site.
We thank you! In other words, please shop at LBC Gift Galerie!

Floral Centerpiece with a Lit Christmas Tree in a Dining Room
Photographic Print
Buy at AllPosters.com


Spiced Baked Ham with Sweet Potatoes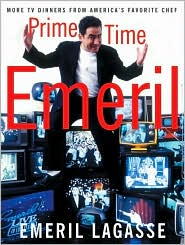 Prime Time Emeril:
More TV Dinners from
America's Favorite Chef

Copyright © 2001, Emeril Lagasse (HarperCollins)
This recipe was featured on Good Morning America,
Christmas 2000.
"When you bake a ham like this, you can count on about 10 to 15 minutes
baking time per pound, but make sure your instant read thermometer reaches
an internal temperature of 170 degrees to guarantee that the ham is baked
through. Not only is this good straight out of the oven, the ham makes
amazing sandwiches the next day."
One cooked, bone-in, butt portion ham,
6 to 7 pounds
1 loosely packed cup dark brown sugar
3/4 cup fresh orange juice
3/4 cup Creole mustard, or other spicy,
whole-grained mustard
1/2 cup dark molasses [or Steen's cane syrup!]
3 tablespoons prepared horseradish
1/2 teaspoon ground allspice
1/2 teaspoon cayenne
For the potatoes:
7 small sweet potatoes (about
3 pounds), peeled
1 tablespoon vegetable oil
1/2 teaspoon salt
1/2 teaspoon ground cinnamon
1/4 teaspoon ground allspice
2 teaspoons dark brown sugar
1. Rinse the ham under cold running water. Pat dry and place on a work surface. With a sharp knife, score parallel lines, 1 inch apart and 1/4
inch deep, across the rounded, skin side of the ham. Turn the ham
180 degrees and score in a similar fashion to create a grid pattern
across the ham. Put the ham in a two-gallon plastic storage bag.
2. Combine the remaining ingredients in a large mixing bowl, whisking to
mix. Pour the mixture into the bag with the ham and seal. Gently
squeeze the bag to evenly distribute the marinade around the ham.
Refrigerate for 24 hours.
3. Preheat the oven to 350 degrees F.
4. For the potatoes: Cut the potatoes in quarters lengthwise and put in a
large mixing bowl. Toss with the vegetable oil, salt, cinnamon, all-
spice, and the sugar. Arrange the potatoes in a layer on the bottom
of a large roasting pan. Remove the ham from the bag and reserve
the marinade. Set the ham, scored side up, on top of the potatoes.
Bake for 45 minutes.
5. Pour the marinade into a medium saucepan and bring to a gentle boil
over medium-high heat. Reduce the heat to low and simmer, un-
covered, until it has thickened and will coat the back of a spoon,
about 20 minutes.
6. Remove the ham from the oven and evenly baste all sides with the
marinade. Return to the oven and bake for 15 minutes. Remove
the ham from the oven and baste again.
7. Turn the sweet potatoes that are along the side of the ham. Return
the ham to the oven and bake, basting very 15 minutes, for 1 1/2
hours. Remove from the oven and allow to stand for 15 minutes
before carving. Serve with the sweet potatoes. Yield: 8 servings
Recipe courtesy of Emeril Lagasse, © 2000

Featured Archive Recipes:
Emeril's Creole Christmas
Emeril's TV Dinners
High on the Hog
Monte's Ham
Nigella's Ham in Coca-Cola
Tom's Famous Ham


Index - Pork Recipe Archives
Holiday Central!
Daily Recipe Index
Recipe Archives Index
Recipe Search