Your patronage of our affiliate partners supports this web site.
We thank you! In other words, please shop at LBC Gift Galerie!

Ginger Jar and Ivory
Art Print
Eriksen, Gloria
Buy at AllPosters.com
Ginger Glazed Ham
Recipe courtesy Nigella Lawson, 2007
Food Network: Nigella Express
Episode: Holiday Snaps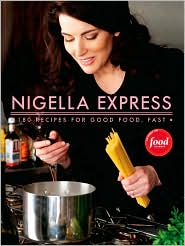 Nigella Express:
Good Food Fast

Serves: 8 servings
1 (12-pound) joint (mild cure boneless) ham
7 quarts dry ginger ale
1 cup chunky ginger preserves
2 tablespoons hot English mustard
1/2 cup soft dark brown sugar
1/2 teaspoon ground cloves
Cook's Note: If you can not get hold of ginger preserves,
you can use ordinary orange marmalade and add 1 teaspoon
of dry, ground ginger.
Place the joint in a large pan over the hob, or burner, and add 7 quarts of
dry ginger ale. Bring the pan to the boil then lower the heat slightly so that
it keeps bubbling steadily for 4 1/2 hours.
Towards the end of the 4 1/2 hours, preheat the oven to 425 degrees F
and begin the glaze.
In a bowl, add 1 cup of chunky ginger preserves. Stir in 2 tablespoons of
hot English mustard. Add 1/2 a cup of soft, dark brown sugar and sprinkle
in 1/2 a teaspoon of ground cloves.
After 4 1/2 hours, gently lift the ham out of the pan and place on a foil-
lined baking tray. Carefully cut away the skin, leaving a thin layer of fat.
There is no need to score the surface, simply slap on the glaze and place
the tray with the ham into the oven for 20 minutes.
Serve hot or cold.

Featured Archive Recipes:
Ginger-Rum-Glazed Ham
Nigella's Ham in Coca-Cola
Famous Root-Beer Glazed Ham
Monte's Ham
Marmalade-Glazed Ham with
Pineapple Relish
Vicksburg Stuffed Baked Ham


Index - Pork Recipe Archives
Holiday Central!
Daily Recipe Index
Recipe Archives Index
Recipe Search