Your patronage of our affiliate partners supports this web site.
We thank you! In other words, please shop at LBC Gift Galerie!

Red Haven Peach, Prunus Persica, Growing on Tree
Gerald & Buff...
Buy This at Allposters.com


Ruston Peach Crumb Pie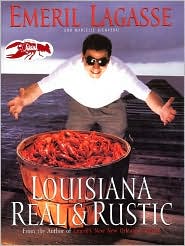 Louisiana Real
and Rustic

Emeril Lagasse with Marcelle Bienvenu,
1996, William Morrow & Co.
"Sweet, ripe peaches flavored with brown sugar, cinnamon
and nutmeg, then topped with crunchy pecans, make for a
delectable summertime pie."
One 9-inch pie
Crust
1 1/4 cups flour
1 teaspoon sugar
1/2 teaspoon salt
1 stick (1/4 pound) butter,
cut into small pieces
1 tablespoon ice water
1. Combine the flour, sugar, and salt in a mixing bowl. Add the butter
and work it into the dry ingredients using your hands until the mix-
ture resembles coarse crumbs. Mix in the water. Form into a flat-
tened ball, wrap in plastic wrap, and refrigerate for about 1 hour.
2. Pat out the dough on a lightly floured surface and dust it lightly with
flour. Roll the dough into a circle, 12 inches in diameter and 1/8
inch thick. Place the crust in a 9-inch pie pan. Crimp the edges.
Refrigerate until ready to use.
Filling:
1 1/2 cups water
1/4 cup (packed) light brown sugar
2 tablespoons cornstarch
1/2 teaspoon salt
1 teaspoon ground cinnamon
1/2 teaspoon grated nutmeg
Pinch of black pepper
2 pounds peaches, peeled, pitted, and
cut into wedges (about 3 cups)
3. Combine the water, brown sugar, cornstarch, salt, cinnamon,
nutmeg and pepper in a saucepan over high heat. Bring to a
boil and whisk until smooth. Remove from the heat.
4. Put the peaches in a bowl and pour the syrup over them. Toss
to coat evenly. Let cool for about 10 minutes.
Topping:
1/2 cup (packed) light brown sugar
1/2 cup flour
1 cup pecan pieces
1/2 stick (4 tablespoons) butter,
cut into small pieces
1/4 teaspoon ground cinnamon
1/4 teaspoon grated nutmeg
5. Preheat the oven to 350 degrees F.
6. Combine the sugar, flour, pecans, butter, cinnamon, and nutmeg
in a mixing bowl. Using your fingers, work the mixture together.
Form into a ball.
7. Remove the pie crust from the refrigerator. Pour in the peach
mixture and spread evenly. Crumble the topping evenly over
the top of the peaches.
8. Bake for 1 hour, or until the crust and top are nicely browned.
9. Cool for 10 to 15 minutes before slicing to serve.

Featured Archive Recipes:
Fabulous Fruit Pies
Grandma Potter's Peach Cobbler
More from 'Louisiana Real & Rustic
Perfectly Peachy


Index - Pie Recipe Archives
Basic Pie Crust Recipes
Index - Summer Holiday Recipes
Daily Recipe Index
Recipe Archives Index
Recipe Search