Still Life with White Bread,
Bread Rolls & Bread Sticks
Photographic Print
Buntrock, Gerrit
Buy at AllPosters.com

La Belle Cuisine - More Bread Recipes
Fine Cuisine with Art Infusion
"To cook is to create. And to create well...
is an act of integrity, and faith,"
Hard Rolls
(similar to German Broetchen)

Bodum French Press Coffee Makers
"The smell of good bread baking, like the sound of lightly flowing
water, is indescribable in its evocation of innocence and delight..."
~ M.F.K. Fisher, The Art of Eating
---
Recipe of the Day Categories:
Recipe Index
Recipe Search
Fruit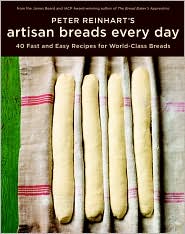 Peter Reinhart's Artisan Breads Every Day: Fast and Easy Recipes for World-Class Breads

Your patronage of our affiliate partners supports this web site.
We thank you! In other words, please shop at LBC Gift Galerie!

Brotzeit, Bread Rolls, Bavaria, Germany
Photographic Print
Gillham, Ken
Buy at AllPosters.com


Hard Rolls
Bon Appetit Archives
Bon Appetit - One Year Subscription
This is as close as I've been able to come to German Broetchen.
Without access to German flour and water, it may be as close
as I'll ever come... [MG]
6 tablespoons warm water
(105 to 115 degrees F.)
1 envelope dry yeast
1 teaspoon granulated sugar
3 1/2 to 4 cups flour (use half bread flour
and half unbleached all-purpose flour)
1 1/4 cups warm water
(105 to 115 degrees F.)
1 1/2 teaspoons salt
1 egg, beaten with 1 teaspoon water
Generously grease a large mixing bowl and baking sheet. Set aside.
Combine 6 tablespoons warm water with yeast and sugar in another large bowl and stir until yeast is dissolved. Let stand until foamy and proofed,
about 10 minutes. Add flours to yeast mixture alternately with remaining
warm water, stirring until well-blended. Mix in salt. Turn dough out onto
floured surface and knead until dough is smooth and elastic, about 10 to
12 minutes (or mix with dough hook of electric mixer 6 minutes). Form
into ball. Transfer to greased bowl, turning to coat entire surface. Cover
lightly and let stand in warm draft-free area until doubled in volume, about
1 1/2 to 2 hours.
Punch dough down. Cover and let stand in warm, draft-free area 15
minutes. Transfer dough to floured surface. Cut into six 5-ounce pieces -
use scales to make sure pieces are of equal weight). Roll into balls. Cover
and let stand in warm, draft-free area until doubled, about 45 minutes to 1 hour. Tops will get crusty and dry.
Flatten each ball and fold in half, crusty side in. Roll in palms of hands
to form "petit pain", about 5 1/2-by-1 1/2 inches, tapering ends. Arrange
rolls seam side down on prepared baking sheet, spacing 2 inches apart.
Cover and let stand in warm draft-free area until doubled, about 1 hour.
Preheat the oven to 425 degrees F. Position one rack in center of oven
and one in lower third. Place large shallow pan of water on lower rack.
Make slash 1/2 inch deep and 4 inches long down center of each roll.
Brush gently with egg wash. Set baking sheet on center oven rack and
bake, spraying rolls frequently with water to form crisp crust, about
20 minutes. Transfer to rack to cool. These rolls can be prepared
ahead and frozen.


Featured Archive Recipes:
Country Hearth Loaf
Country Pistolettes
French Mixed Grain Bread
Herbed Wheat Bread
New Orleans French Bread
Pepper, Onion and Poppy Seed Rolls
Rye and Walnut Rolls
Walnut Hearth Bread


Index - Bread Recipe Archives
Index - Breakfast Recipe Archives
Index - Classic German Recipes!
Daily Recipe Index
Recipe Archives Index
Recipe Search