Recipe of the Day Categories:
Recipe Search
Fruit

Bon Appetit
Keith Mallett
Buy This at Allposters.com


Vino
Joe Esquibel
Buy This Allposters.com



Julia's Kitchen Wisdom: Essential Techniques and Recipes from a Lifetime in Cooking

A Glass of Red...
Armin Faber
Buy This at Allposters.com


Mastering the Art of French Cooking Boxed Set: Volumes 1 and 2

Your patronage of our affiliate partners supports this web site.
We thank you! In other words, please shop at LBC Gift Galerie!

The Kitchen Table
Giclee Print
Chardin,...
Buy at AllPosters.com


Pot Roast of Beef
Master Recipe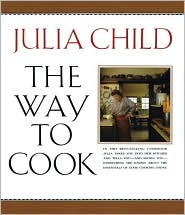 The Way to Cook

by Julia Child, 1994, Alfred A. Knopf

Braised Beef: Pot Roasts
"A pot roast is definitely home cooking, the leisurely fragrant long-simmering kind known affectionately in France as 'la cuisine mijotée' – slow-simmered cooking. One rarely sees anything like it in a restaurant any more. [Other esteemed chefs do appreciate this food, though. See Charlie Trotter's Red Wine-Braised Short Ribs with Garlic Mashed Potatoes.] The two terms, braised meat and pot roast, by the way, are synonymous, meaning meat that is browned then simmered in a fragrant liquid – just like the preceding stews and ragouts. But a pot roast makes a more dramatic appearance than a stew. It looks important, it makes fine cold meat for
the picnic sandwich, and its leftovers can make the dressy beef salad [included
in cookbook]."
The Beef to Choose
"The most attractive cuts are either the top round or the bottom round because they are solid pieces of meat with no muscle separations, meaning that they slice nicely. Other possibilities are the boneless chuck shoulder, and the chuck eye roast with
its mixture of fat and lean. Both the good-looking eye of the round and the more modest middle-cut brisket can be stringy when braised, but may be used success-fully if you cook them ahead so they will compact themselves before you reheat
and carve them into slanting slices. Whichever cut you choose, the cooking
method is the same."
Special Note
"Timing for pot roasts: You'll usually need a good 3 to 4 hours for the actual cooking, but it's wise to allow at least 5 so that the meat may rest and firm
itself up. Then it will carve nicely when reheated."

"This is the master recipe for braising a whole piece of meat, especially beef.
Lamb, Pork, and veal are done in the same way, but you would choose white
wine for braising rather than red. Although it is a detailed recipe you will
note that the technique is the same as that for the preceding ragouts – in
other words, it's just another version of Beef Stew in Red Wine."
For 10 to 12 servings
A 5-pound fully-trimmed bottom round of beef,
all but an 1/8-inch layer of top fat removed
2 to 3 tablespoons fresh olive oil or peanut oil
2 to 3 cups young red wine such as zinfandel,
a good jug red, or Mâcon, or Chianti
1 cup each chopped carrots and onions
Salt and freshly ground pepper
2 to 3 cups beef stock, plus more if needed
1 1/2 cups chopped ripe red unpeeled tomatoes
and/or sufficient fresh tomatoes and drained
canned Italian plum tomatoes
An herb bouquet [bouquet garni]: 6 parsley sprigs
with stems; 6 peppercorns; 3 whole cloves; 4 allspice
berries; 1 teaspoon thyme; 2 or 3 large cloves of garlic,
smashed; 1 large imported bay leaf – tied together in
washed cheesecloth
Salt to taste
2 tablespoons cornstarch blended with
2 tablespoons red wine or
dry white vermouth, plus
more if needed
Special equipment suggested: White butcher's twine, if needed;
a jelly-roll pan, for browning the meat; a covered casserole or
roaster just large enough to hold the roast comfortably
Browning the beef. Dry the meat in paper towels. If it has not been tied, secure loops of string around the circumference at 1 1.2-inch intervals [illustration included in cookbook]. Paint the roast with oil, lay it in the
jelly-roll pan, and place 2 to 3 inches from a hot broiler element; turn
every several minutes to brown all sides nicely – 10 to 15 minutes in all.
(Note: If your broiler is not efficient, brown the beef in a large frying pan.)
Arrange the meat in the casserole or roaster; deglaze the pan with a little
of the wine and pour over the meat.
Assembling. Meanwhile, preheat the oven to 400 degrees F. Sauté the chopped vegetables in a frying pan with a little oil to brown lightly, and
turn them into the roaster with the browned beef. Pour in the rest of the
wine and enough broth so the liquid comes a third of the way up the
meat. Add the tomatoes and herb bouquet, step 2.
Ahead-of-time note: May be prepared a day or two in advance; cover
and refrigerate, turning the meat every several hours. This will give
the beef added flavor, since it is in fact a wine marinade.
Braising – 2 1/2 to 3 1/2 hours or more. Bring to the simmer on top of
the stove, lay a sheet of aluminum foil over the beef, cover the roaster,
and set on the lower rack of the oven. (Or, if your casserole is not
flameproof, set in a 425-degree-F. oven until the simmer is reached.) In
10 to 15 minutes, when the liquid in the casserole starts to bubble, reduce
the thermostat to 325 degrees F. Baste and turn the meat several times,
salt lightly in an hour, and maintain the liquid at a slow simmer through-
out the cooking.
When is it done? The beef is done when a sharp-pronged fork will go through it fairly easily – cut off and eat a piece to check: it will be some-
what chewy but reasonably tender. Remove the meat to a board or tray.
Strain the braising liquid into a sauce-pan, pressing juices out of the
vegetables. Return the beef to the roaster.
The cornstarch-thickened sauce. Thoroughly degrease the braising juices (see Special Note) and bring to the simmer, skimming off any additional fat that rises. Taste very carefully for strength and seasoning; if the liquid is
weak in flavor, boil down rapidly to concentrate it. You should have 2 to
2 1/2 cups of deliciously winey meat juices. Correct the seasoning, remove from heat, and whisk in the cornstarch mixture. When blended, return to
the heat and simmer 2 minutes. The sauce should just coat a spoon lightly, meaning it will coat the meat lightly – if too thin, thicken with another spoonful or so of cornstarch and wine. Pour the sauce over and around
the beef.
Ahead-of-time-note: You may now cover the casserole loosely and keep
it warm. Or let it cool, then cover and refrigerate it; reheat for a good 1/2
hour either on top of the stove or in a 325-degree-F. oven.
Serving. Remove the meat to a carving board or hot platter, and discard
the trussing strings. Either carve it in the kitchen or bring it to the table for carving. In this case spoon a little sauce over the meat to glaze it, decorate
the platter with parsley sprigs, watercress, or vegetables, and pass the
sauce separately.
Suggested accompaniments. The simple earthy accompaniments are often
those the most appreciated with braised beef – noodles, mashed potatoes,
or the carrot and potato puree…for instance; these make an attractive
bed for slices of meat and sauce. You'll also want a green vegetable, like
beans, peas, broccoli, or Brussels sprouts. Or you could have a bouquet
of such homey vegetables as steamed turnips, carrots, onions, and
potatoes… An uncomplicated young red wine, such as that used in
the cooking, or a zinfandel or Beaujolais would be your best choice.
Special Note
Further Remarks on Sauces for Pot Roasts, Braises and Stews
"When meat is stewed or braised it is cooked so long that its juices have
combined with and enriched the braising liquid – giving the braising liquid
its wonderful flavor but leaving the meat dry. It most definitely wants a
sauce cover of some sort. The same is true of [preceding recipes]; their
sauces are the cooking juices thickened with a beurre-manié flour-butter
paste, or the ragout type, where the meat was floured lightly before
browning. You may use either of these two systems for any of the
braised meats…but here are three more ideas to fill you out on the
complete sauce picture. [Isn't she wonderful?]
Thickening with cornstarch. This is the easiest and quickest of the sauce
methods: the thickened juices look like a real sauce, and it has the advantage
of being fat-free… The disadvantage is that cornstarch is at times les stable
than flour, meaning it may once in a while break down during reheating, but
you can always repeat the process with more cornstarch. Proportions: 1 table-
spoon of cornstarch blended to a paste with 1 tablespoon of wine or stock
[notice she does not say water!] per cup of sauce.
The slurry sauce – a flour and wine thickener. This old-fashioned method is not considered chic, but it has its place [this is the way my grandmother always made
her gravy]. I first ran into the slurry during one of the National Beef Cook-offs, where contestants made stews and braises that had to sit around for several hours
on their platters, waiting for the decisions of the judges. Unthickened cooking
juices dried up, leaving the meat parched and naked. Roux-thickened and starch-thickened sauces coagulated on top of the meat, looking gluey and unappetizing.
It was only the slurry sauces that retained an agreeably moist and fluid appear-
ance throughout the long wait. The disadvantages are that flour slightly whitens
the sauce, and that if you add too much the sauce tastes floury. Used like corn-
starch but with great care, it produces a fine sauce. [My grandmother had it
down to an art - from years of practice!]
The classic brown sauce. After browning the meat, you make a brown roux
(flour and oil or fat slowly browned together in a saucepan), and combine
the roux with the wine and stock for the braise. Your sauce is ready-made
when the meat is done. The Paupiette Gargantua version…is an example.

More Pot Roast:
Comforting Shredded Beef and
Softly Simmered Onions
Neapolitan Pot Roast and
Creamy Pasta Sauce
Pot Roast, The Major's
Pot Roast Pasta (Stracotto)
Pot-Roasted Pork Loin in Red Wine
More Julia:
American-Style Potato Salad
(Authentic) Caesar Salad
Mayonnaise - Master Recipe
Michele's Potage d'Hiver
(with gratitude to Julia!)
Pâte à Choux
Pâte Sablée (Sweet Pastry Dough)
Sauce Hollandaise
Soulful Chicken Soup
Velouté Cream Soup (Master Recipe)
We love Julia!

A Tribute to Julia Child
Index - Beef Recipe Archives
Daily Recipe Index
Essentials!
Recipe Archives Index
Recipe Search